Cary SLP-05 in Verb's House!
verb
Posts: 10,313
Woo Hoo! I feel like a kid at Christmas! Just unpacked this baby, installed the 8 Sophia Electrics 6SN7 tubes! Gotta get my read on, before I power it up!
In the meantime, I've got Juno Reactor playing, via my EAR 834L pre!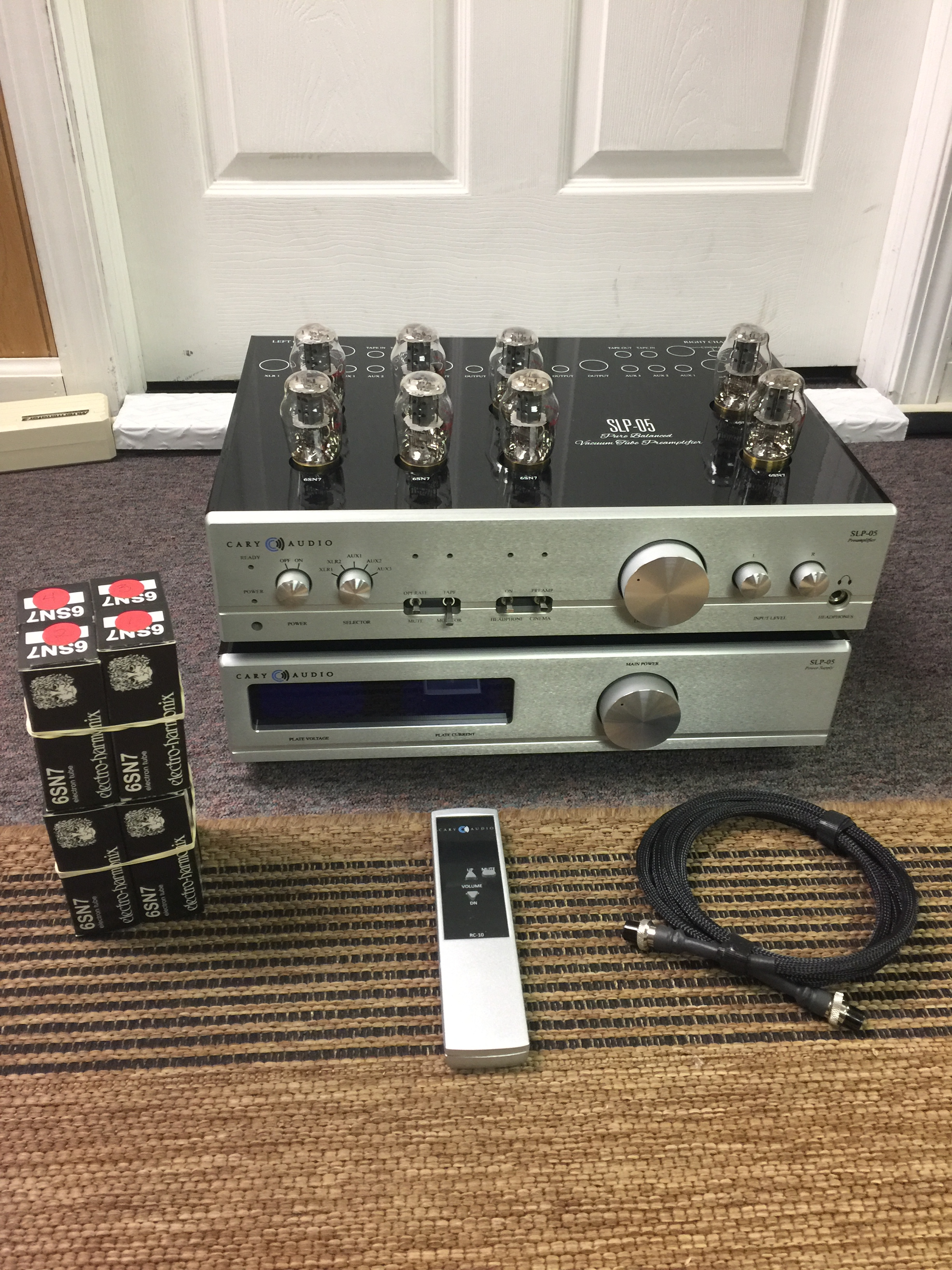 Basement: Polk SDA SRS, Cary SLP-05 Pre with ultimate upgrade,Enlightened Audio Designs CD Transport, Northstar Designs Excelsio DAC, Cambridge 851N streamer, Marantz SA-14 SACD, McIntosh MC300 Amp, Silnote Morpheus Ref2 Digital Cables, Furman 15PFi Power Conditioner, Pangea Power Cables, Wireworld Oasis 8 RCA IC's, MIT Shotgun S3 IC's, MIT Shotgun S1 Bi-Wire speaker cables
Office: PC, EAR Acute CD Player, EAR 834L Pre, Northstar Designs Intenso DAC, PASS ACA Monoblocks, Denon UDR-F10 Cassette, Acoustic Technologies Classic FR Speakers, SVS SB12 Plus sub, MIT AVt2 speaker cables, IFI Purifier2, AQ Cinnamon USB cable, Groneberg Quatro Reference IC's
Spare Room: Antique Sound Labs Wave AV-8 Monoblocks, Tisbury Mini Passive Pre, Tjoeb 99 tube CD player (modified Marantz CD-38), Analysis Plus Oval 9's, Zu Jumpers, AudioEngine B1 Streamer, Klipsch RB-61 v2, SVS PB1000 sub, Blue Jeans RCA IC's, Shunyata Hydra 8 Power Conditioner
Living Room: Peachtree Nova Integrated, Cambridge CXN v2 Streamer, Rotel RCD-1072 CD player, Furman 15PFi Power Conditioner, Polk RT265 In Wall Speakers, Polk DSW Pro 660wi sub
Garage: Cambridge Audio 640A Integrated Amp, Project Box-E BT Streamer, Polk Tsi200 Bookies, Douglas Speaker Cables, Shunyata Power Conditioner