Exploring "professional" XLRs and RCAs

I just had an interesting experience in regards to XLR cables and their performance characteristics in my system, when running from my PS Audio Stellar Preamp to my PS Audio S300 amplifier.
Up until this point I had been using Monoprice "Premier Series" XLRs, which sell for $12 for a 3ft pair. I was impressed by what I was hearing and I wasn't necessarily longing for improvement. However, they are a 10ft pair and I don't like seeing the messy bunch of excess cable sitting on top of the amp. Also, I figured if these sounded so good, then surely going to Audioquest King Cobra XLRs at $150 for a 3' pair would yield an improvement. I am already using AQ KC RCAs with the rest of my components, so it seemed like a logical choice.
I put the AQ KC XLRs in on Sunday and did some listening and evaluation after letting the system play for about 15 minutes or so to warm up. The first thing I noticed was that the soundstage wasn't as wide - the sound seemed more localized to the speakers themselves. Additionally, the frequent and enjoyable 3d stereo imaging effects I had been getting seemed to be reduced. I could still hear this sensation on some tracks, but it seemed diminished and not as dramatic. I also observed that the bass seemed slightly accented or emphasized with the new cables. There was also a very slight increase to soundstage depth.
I revisited them today and took another listen. I generally confirmed what I heard on Sunday. I was missing that wide soundstage and seamless coherent wall of sound I was getting with the Monoprice XLRs.
I decided to listen to 3 test tracks I'm familiar with, and then I powered down the pre and amp, and swapped back to the Monoprice XLRs and listened to the same 3 tracks.
Within the first minute of the first test track after hooking the Monoprice cables back up, I already liked the sound more. As I continued to listen to the other two tracks, I noticed the soundstage width increased and the 3d stereo imaging effects were back. In general, they presented a more cohesive sound top to bottom. My desire to nod my head and tap my foot returned. I got that unmistakeable sensation of "Man this sounds good, and I want to turn it up even louder!".
Obviously this is a subjective experience that could very well ONLY be replicated in my system, in my room, on my setup, with my music, and with my ears, but still, I felt it was worth sharing. I just find it interesting that I preferred the performance of a cable that costs so much less.
So, it got me thinking about what other "professional" style XLR and RCA cables are available. Products marketed toward professional muscians or studios seem to be relatively free of lofty audiophile style performance claims and exotic construction materials. Instead, they seem to focus on build quality and reliability, along with well known conductor choices like oxygen free copper and durable connectors with gold or silver plating.
I decided to order a few XLR choices for audition that I found interesting and inexpensive:
Kopul Premier Quad Pro 5000 Series:
https://www.bhphotovideo.com/c/product/878182-REG/kopul_m5003_quad_pro_cable_xlr_m.html
- $38 for a 3' pair. 4 conductor design, 24ga OFC, Neutrik XX connectors.
Interesting internal geometry: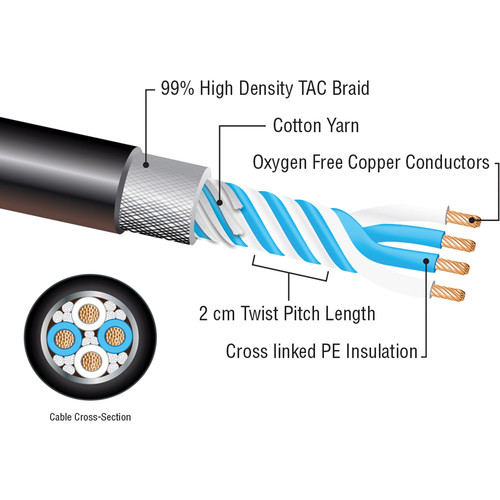 RapcoHorizon SilverHog:
https://www.bhphotovideo.com/c/product/999493-REG/rapcohorizon_slvrhogm_3_silverhog_microphone_cable_3.html
- $40 for a 3' pair. 2 conductor design, silver plated copper conductors which is surprising and welcome at this price point.
I also started looking at interesting professional RCA cable options. I'd like to try the following against each other as well as against my AQ King Cobra RCAs:
Mogami Gold:
https://www.bhphotovideo.com/c/product/1154337-REG/mogami_gold_rca_rca_03_gold_rca_to_rca.html
- $76 for a 3' pair. This uses their 2964 coax cable.
Hosa w/ silver plated REAN connectors:
https://www.bhphotovideo.com/c/product/828290-REG/Hosa_Technology_HRR_003X2_Pro_Stereo_Interconnect_Dual.html
- $16 for a 3' pair.
Kopul w/ gold plated REAN connectors:
https://www.bhphotovideo.com/c/product/1023115-REG/kopul_src_4003_stereo_rca_cable_3.html
- $13 for a 3' pair.
In regards to the above three RCA cables, I'm not seeing any obvious shortcomings in terms of their material choices or construction quality.
In summary, I'm just trying to "simplify" the cabling in my system and take a different approach than what would be considered normal or expected. I'm genuinely curious how these low cost "professional" type cables will sound versus the AQ King Cobras. It could be a complete failure and waste of money, or it could be an insightful experience in regards to revealing what is possible in cable performance at lower price points.
Comments