Elac Adante AF-61 (took some diy to make perfect)
So let me preface this by saying that I am very happy with these speakers (now) and for the price I got them new I have nothing to complain about BUT:
When I got them home, I unboxed them which took quite a bit of work. They were double boxed and styrofoam packed along with velvet bags to protect the finish. Nicely packed.
The bases were separated from the boxes and had to be screwed on. The finish and overall look of these towers is absolutely amazing.
So I was listening to them last night and they sounded fabulous. I started reading more about an issue I had read before I purchased them and went ahead and tested for the problem:
Apparently either in production or in shipping, a small leak developed between chambers. Meaning that the supposed sealed driver/passive radiator boxes which should be sealed from each other were actually letting a little air between them. Only two of these bass drivers next to each other were leaking to the point when you pushed on one of the passive radiators, the one above it would move. Not ideal. To make things worse, I had read about a larger issue. In some cases the sir could leak between the top bass driver and the mid/tweet enclosure. This was harder to test for. I saw a video of one fella who had the issue test with a lighter in front of the mid and pushed on the passive radiator below to see if the flame moved. Which it did on both of my towers.
Now keep in mind I had already played them and thought they sounded leaps above the lsim's.
I had three options in my mind, 1st was to do what most sane individuals who spent this much on speakers would do, pack them all back up and take them back to the dealer. 2nd was to deal with it which is not something I think any of us would do. And 3rd is quite possibly the option that no one else in their right mind would consider- fix it!
I slept on this decision as I knew if I did this, most likely returning them would be out of the cards. I weighed some options:
I love the sound already
I got them for a fantastic price
I don't think that (besides this thread) they could deny me a warranty claim for any replacement drivers down the road should they be needed as I purchased them from an authorized Elac dealer.
All of these gave me the confidence to fix this issue.
So I knew that if I was doing this, I would do it very very carefully and trace all steps to ale sure all went back EXACTLY as it was.
First step was to remove the aluminum plate from the front and expose the driver screws. Then remove the mid/tweet and the three passive radiators.
Then remove the three internal 6.5" woofers.
I did this to both towers and prepped the area for working with the latex quick dry caulk I had purchased for $8 (two tubes)
I then proceeded to sleal all corners I could reach. Every gap and seal between chambers.
This took about 1 hour to do.
One of the problem areas was the plate they used to seal the wires for the mid/tweet. It only had a foam gasket around it and was an obvious weak point.
I sealed it with the same caulk.
I did notice that all components inside were fantastic quality (enclosure QC not withstanding)
Taking my time to put all back after the caulk dried.
When I got done all was exactly as it looked before I started.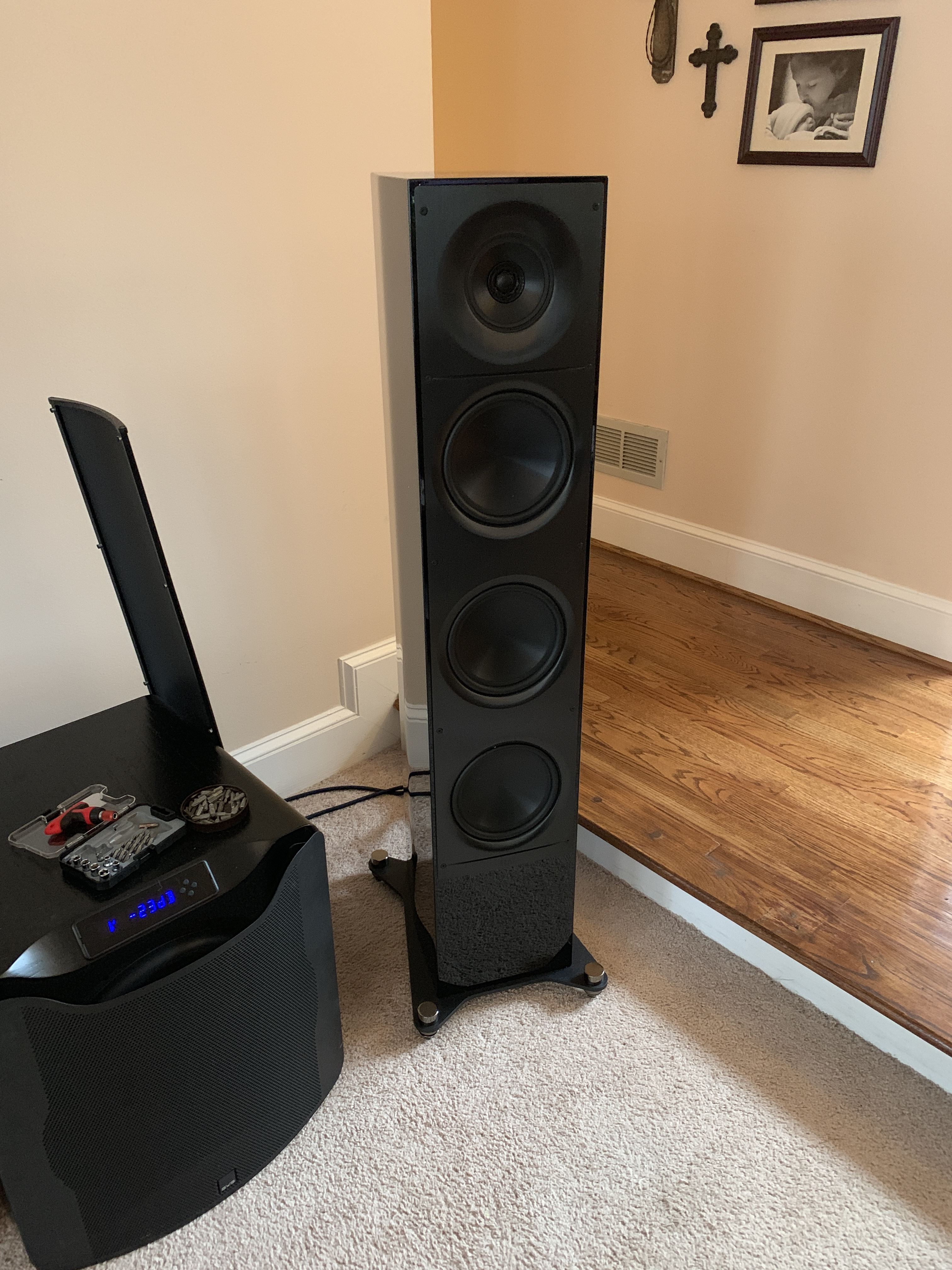 Is when I tested the lighter, nothing. And pushing on the passive radiators is like pushing on the SVS SB16 , moves very slowly in and out. Just as they should.
Now most of you are going to say that you would never put up with that, and your right. I don't argue that point. I just know that now (after 2 1/2 hours of work and $8 ) they are EXACTLY how they should be. Sound even better (I would hope) than before.
I am very happy with these towers and I'm not sure anyone else might even notice the issue when they purchased these if it wasn't for a* retentive folks out there.
Great towers and phenomenal imaging and mids. Leaps and bounds above the polks.
Just disappointed that the QC (or shipping, but less likely) is sub par for this level or speaker.
I am still breaking them in and am listening to DSOTM on Sacd now. Time and money wow. Like I have never heard them.
Thanks for reading
Comments