The Disc-less Life - No CDs, SACDs, DVDs, Blu-rays, or Vinyl Records!!!!!

Introduction
This thread serves as a consolidation and reference point to my other threads covering the transferal of my disc-based music and movie collections to server-based streaming systems.
I completed my vinyl to DSD conversion project in February of 2017, ecstatically put my turntable in a closet...and never looked back. "They" said I would miss vinyl, but "they" really didn't know me and how much I viscerally despised the playback inconveniences and cyclopean maintenance issues associated with vinyl playback. Even if I was one of "them" that enjoys the playback and maintenance rituals of vinyl, there would be no practical reason for further indulgence because the digital rips of my vinyl records sound better than the records.
Figure 1. Whenever I need to convert a record to digital format, I set up this conversion rig.
Figure 2. Sweet dreams, luv. When the antiquated "Rube Goldburg-ish" turntable/vinyl digital conversion

system

contraption is not in use, it is stored in a closet, out of sight and out of mind.

A long time ago I discovered that mechanical drives are from the Devil. More recently, I discovered that my entertainment media sounds and looks better when it is not played from a warped, wobbly, rickety plastic disc rotating in a relatively unstable turntable contraption or optical drive.

I am not completely disc-less. Most of my audio and video media reside on spinning hard drive platters. However, hard drives are far more rotationally stable and less prone to data error than the typical expensive turntable or optical drive playing physical media...which is prone to dirt, dust, warped surfaces, worn surfaces, scratches, and a host of other nasties. Even more than that, reading data from a magnetic disc avoids the optical to electrical conversion issues of optical media and the acoustic to electrical conversion issues of vinyl records.

When solid state drives become more affordable and available in the multiple terabyte sizes I require, and if such drives offer the same or better audio and video quality performance as disc drives, I will abandon disc drives.

Table 1. Digital Media Conversion Work Flow.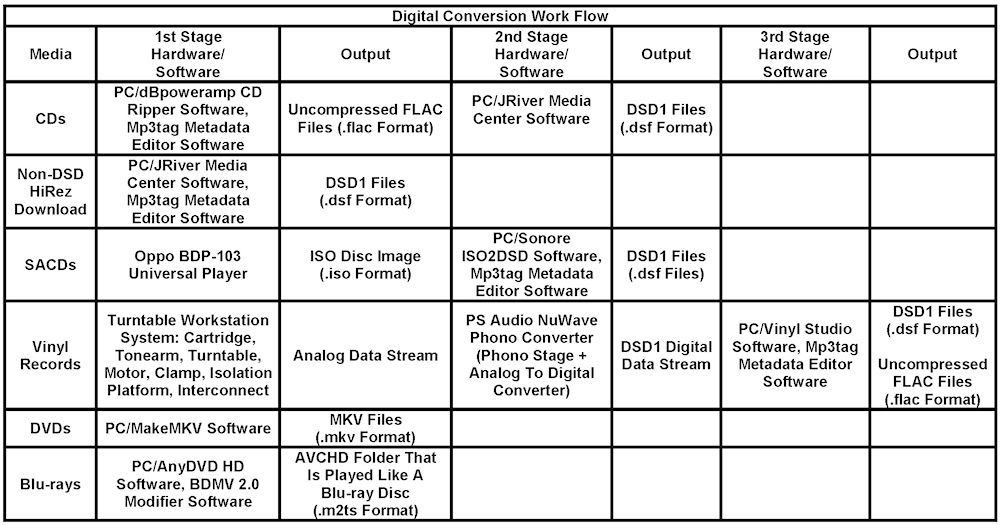 Improvements In Entertainment Value And Performance
It was quite a revelation hearing how much better my records sounded when they weren't subject to the masking effects of the loudspeakers pounding on the cartridge, tonearm, turntable platter, and the record itself. It was also a revelation seeing how much better my movies looked when played from a hard drive rather than from an optical disc.
The current state of digital playback facilitated a sea change transformation in the way that I use and enjoy my entertainment media. This was particularly true in the case of my vinyl records, which were no longer home bound and locked on 7 inch and 12 inch plastic discs. My records, as are all my entertainment media, completely portable and playable on a variety of playback devices...including my cell phone. When traveling, I take some of my favorite music, in FLAC format, and some of my favorite movies, in either MKV or m2ts format.
In summary:
1. I can conveniently listen to my vinyl records every day, whereas they used to be a "special treat of a few hours each month.
2. All of my entertainment media is accessible in every room of the house that has the appropriate audio/video streaming equipment.
3. Now that my movies are at my fingertips, and not sitting in cases in a video rack, I find that I watch more. Pulling movies from a server is particularly well suited to the way that I often watch movies: sometimes I only want to re-watch my favorite scenes in several movies. This used to be a chore when my movies were disc bound.
4. I remember my days of running back and forth to the turntable and CD player, runing back and forth to the CD/SACD rack, running back and forth to the DVD/Blu-ray rack, fiddling with jewel cases, movie cases, tight cardboard CD sleeves, and album jackets, and handling vinyl records with kid gloves, the same way that a wrongfully convicted man remembers his years in prison.
Figure 3.

Such Good Video

is facilitated by pulling data off the server (Synology DS918+ NAS) rather than off a little silver disc.
Figure 4. The Synology NAS (middle shelf right) can store thousands of DVD and (2K) Blu-ray movies. Thousands more can be accommodated with one of Synology's 5, 8, or 12 bay expansion units.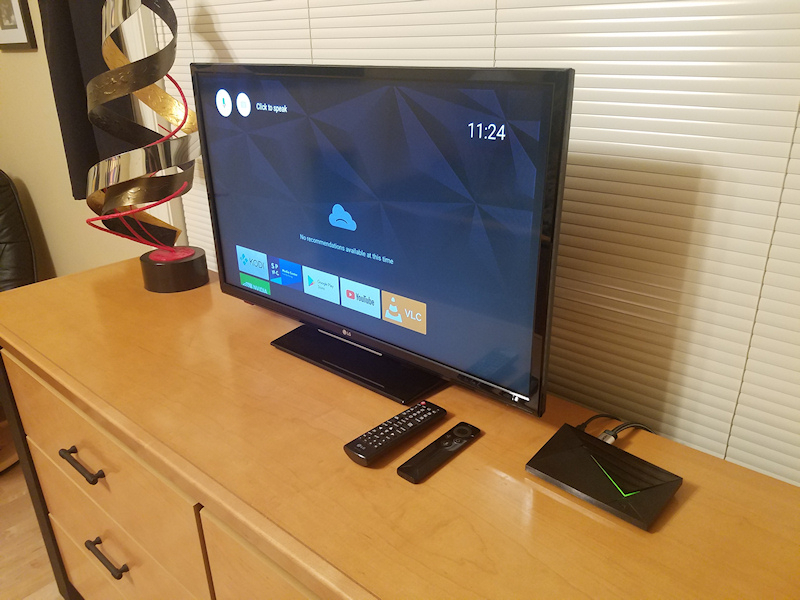 Figure 5. In guest bedrooms, access to the music and video servers is via nVidia Shield TV digital players.
Figure 6.

Such Good Sound!

In addition to the convenience and portability aspects of transferring my entire music collection to a server/hard drive configuration, there was the unexpected benefit of improved sound quality.ReferencesThe Turntable Retirement Project:http://forum.polkaudio.com/discussion/174885/the-turntable-retirement-project/p1Converting PCM FLAC To DSD:http://forum.polkaudio.com/discussion/179455/converting-pcm-flac-to-dsdThe PCM To DSD Conversion Project:http://forum.polkaudio.com/discussion/179508/the-pcm-to-dsd-conversion-projectBetter SACD Ripping With Oppo:http://forum.polkaudio.com/discussion/175239/better-sacd-ripping-with-oppoIt's Time: Ripping All DVDs and Blu-rays To NAS:http://forum.polkaudio.com/discussion/180228/its-time-ripping-all-dvds-and-blu-rays-to-nas/p1nVidia Shield TV Network Player Review;http://forum.polkaudio.com/discussion/182288/nvidia-shield-tv-network-player-reviewCrucial MX300 2TB Solid State Drive - The Sound Of Noise:http://forum.polkaudio.com/discussion/175340/crucial-mx300-2tb-solid-state-drive-the-sound-of-noiseI Tried Two Network Players: Zappiti Mini 4K HDR and Dune HD 4K Solo:http://forum.polkaudio.com/discussion/182185/i-tried-two-network-players-zappiti-mini-4k-hdr-and-dune-hd-4k-solo
Comments