My Glorious Day With Pioneer Customer Service

DarqueKnight
Posts: 6,340
Introduction
My Pioneer Elite BDP-09FD blu-ray player stopped recognizing BD-R DL (Blu-ray Recordable-Dual Layer) disks in May of 2017. The unit was purchased in May of 2009 and up to that time, had provided 8 years of outstanding video and audio performance and trouble-free operation. The BDP-09FD was Pioneer's flagship blu-ray player in 2009 with a retail price of $2,200 and offered videophile picture quality in addition to audiophile sound quality.
All other disc types played fine: commercial blu-ray, single layer blu-ray recordable, commercial and recordable DVD, commercial and recordable compact disc.
The problem is due to the fact that some of the early BDP-09FDs had drives with defective Blu-ray lasers that would fail after approximately 300 hours of use. Of course, Pioneer replaced drives that failed during the 2 year parts and labor warranty. If a drive failed outside of warranty, the owner was responsible for the repair, which cost between $360 and $550 depending on the repair facility used.
I have long been aware of this issue, as it has been extensively discussed on the AVS forum. Some AVS members had their units repaired under warranty, others paid several hundred dollars to have a service center do the repair, and others tracked down the laser drive and replaced their drives themselves at a cost of less than $75. I chose the latter method. Neither Pioneer nor their service centers will sell a replacement drive to a consumer. The part number for the drive is BDR-L04SH and was ordered from a Chinese electronics dealer via the Alibaba.com website. I don't expect to have any problems with the replacement drive, but I ordered a spare just in case.
To provide some idea of my usage history, my video disc collection consists of 603 DVDs, 177 commercial blu-rays and only 18 "home movies" and professional presentations on blu-ray recordable single layer and dual layer discs. In my case, drive failure symptoms began after approximately 150 hours of blu-ray recordable dual layer watching. Due to my very sparing use of BD-R DL media, it took 8 years to accumulate 150 hours of use.
The reason why my blu-ray recordable dual layer discs became unplayable, while my blu-ray recordable single layer and blu-ray commercial single and double layer discs play fine is due to the intensity of laser light required for dual layer blu-ray recordable media. BD-R discs record information on a layer of dye that not as reflective as the stamped polycarbonate and metal films used in commecially produced blu-ray discs. The failing laser of my player can still generate enough light to "see" the surfaces of commercial blu-ray and single layer blu-ray recordable discs, but not enough for dual layer BD-R discs. In time, the blu-ray laser would have failed altogether and no type of BR disc would have been read.
Working It Out With Pioneer "Customer Service"
I was aware that Pioneer had a history of telling owners of its $2K+ flagship BR player to kick rocks when their laser drives failed. I still wanted to see what they would say. This is the note I sent to Pioneer customer service via their website on the early morning of 5/25/17:
"My BDP-09FD blu-ray player just recently
stopped playing burned blu-ray discs. In other words, burned
blu-ray discs that used to play now cause a "can't play disc" "unknown disc"
message to display.

The player still plays commercial blu-ray discs as well as
commercial and burned DVD discs.
The firmware version is 2.74"
This is the response I received later the same day: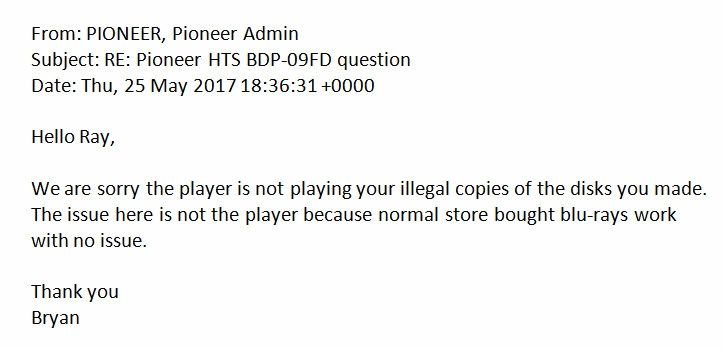 My response: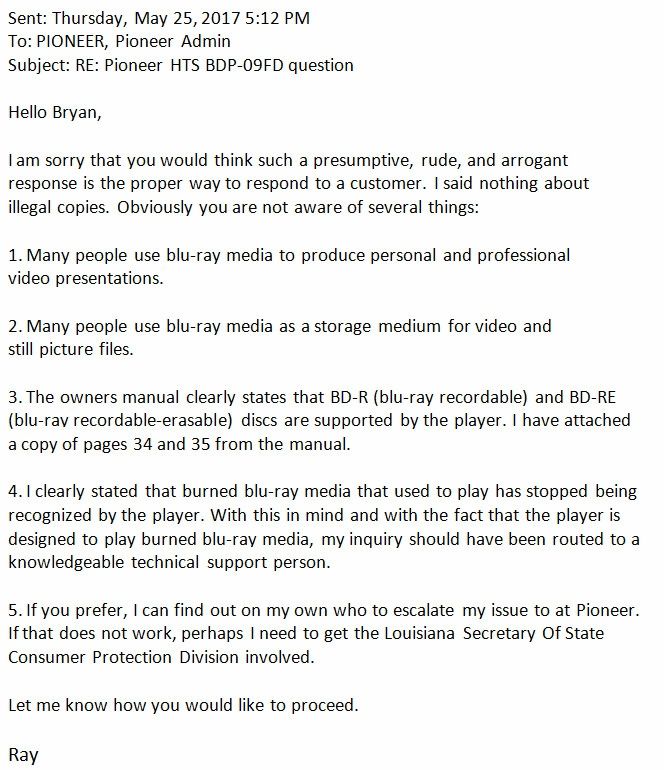 Pioneer CS's response: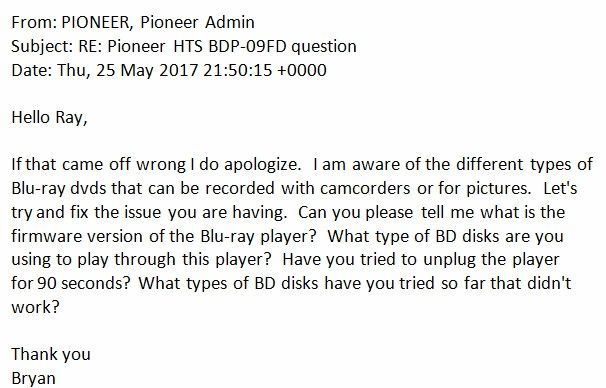 The CS agent did some research and emailed the next day saying the blu-ray laser was failing and recommended that I buy a refurbished replacement player:
I didn't like the suggestion that I should trade in a $2200, albeit older, flagship blu-ray player for a refurbished, near bottom of the line player...that they would no doubt turn around and sell for hundreds of dollars:
Summary
I actually would have preferred to replace my BDP-09FD with a BDP-88FD, move the '09 to my home office, and kick the Sony BDP-S2000ES currently in my home office into storage. However, Pioneer CS did not make that option financially attractive. It didn't make sense to play full retail price for a refurb unit with half the warranty, since I wouldn't have paid full retail price for a brand new unit with full warranty.
I received no response to the email I sent to Pioneer's Michigan service center. I called a few days later and was told that they could not give me a quote over the phone, and that a technician would have to diagnose the unit and send me a repair estimate, and that the diagnostic fee would be $79.95 (applicable to the repair). The fact that I already knew exactly what was wrong was irrelevant to them.
From what I can determine by Internet research, the blu-ray laser early mortality problem was not widespread. That's why it is all the more baffling that Pioneer didn't step up and take care of the relatively few customers who were affected.
Fortunately, I had Al Gore's Internet invention at my disposal and was not at the mercy of Pioneer CS or their service center. After having doors slammed in my face and toes stepped on from "authorized channels" I set about acquiring the required part and making the repair myself.
By the way, I did not know that Pioneer had sold the majority interest in their home entertainment electronics unit in 2014. The majority interest (51%) went to a private investment firm. The remaining 49% was split between Pioneer and Onkyo, although the ownership distribution between Pioneer and Onkyo was not publicly disclosed.
I considered replacing the '09 with an Oppo UDP-205, but I really have no interest in 4K at the moment. I drop by Best Buy occasionally to look at 4K sets and I haven't experienced anything remotely similar to the mesmerizing visual rush and feeling of "I gotta have it" that I experienced when I saw a 1080p picture reproduced on a Pioneer Elite Kuro plasma TV.
"So hot it
burns
Mice
!"~DK
---
"Polk SDA-SRSs are hopelessly out of date both sonically and technologically... I see no value whatsoever in older SDA speakers."~Audio Asylum Member
---
"Knowledge, without understanding, is a path to failure."~DK
---
"Those who irrationally rail against something or someone that is no threat to them, actually desire (or desire to be like) the thing or person they are railing against."~DK
Post edited by DarqueKnight on