Cardas Internal Wire Upgrade For The SDA CRS+ (1989 Version)

DarqueKnight
Posts: 6,673
Introduction
Ray, did you ever end up re-wiring your CRS+'s with the Cardas wire? Wondering how it went?
I did. It went very well. I did not precondition the wire on the Audiodharma Cable Cooker this time. I wanted to hear what the wire sounded like in its "unbroken in" state. The retail cost of the wire was $218. The retail cost of the connectors was $146. I received a 20% discount on the wire and a 50% discount on the connectors, for a total material cost of $247. The total time invested, inclusive of 3 hours of listening evaluations, was 24 hours. Only 7 hours were spent in cable fabrication and wire replacement. The rest of the time was spent in disassembly, assembly, measurement, documentation, cleanup, and listening.
This was my fourth exercise replacing stock internal speaker wire with Cardas wire. Prior modifications were: 1. SDA SRS 1.2 TL, 2. SDA SRS, 3. LSi9.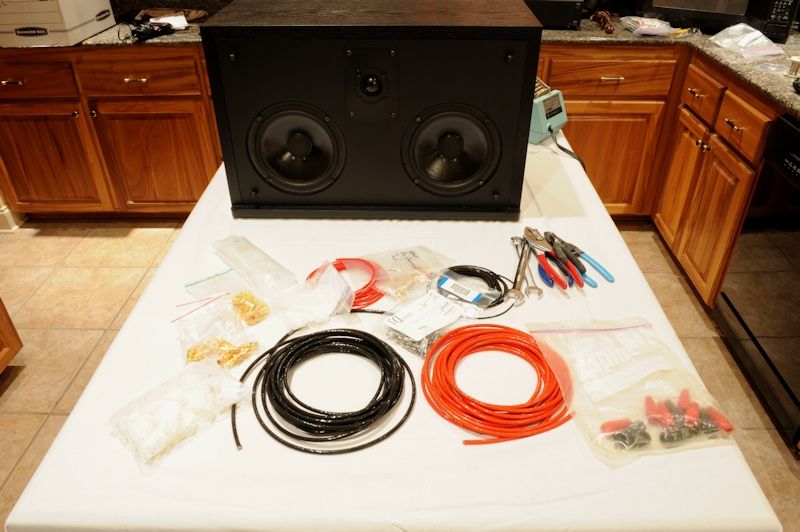 Figure 1. One of my black oak CRS+s being prepped for surgery.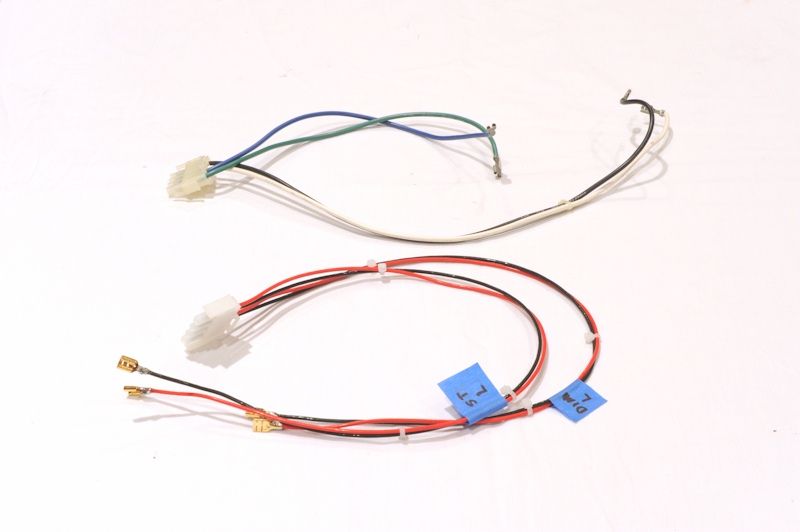 Figure 2. Stock driver wiring harness above its Cardas replacement. The Cardas wire is slightly larger gauge,
but appears smaller because it has thinner insulation.
Figure 3. Cardas wiring harnesses, top to bottom: binding posts, drivers, tweeter, SDA inductor.
Figure 4. AI-1 Dreadnought non-common ground interface and Cardas 9.5 AWG cables, 10 feet in length.
The previous AI-1 cables were Monster Cable Z3 Reference speaker cables (10 AWG).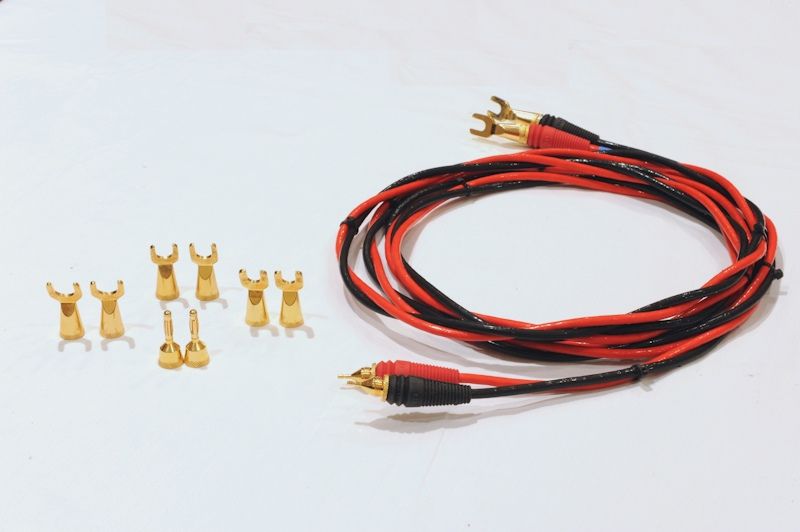 Figure 5. The Cardas AI-1 cables were terminated with Monster Lock pins, which provide the flexibility of
attaching bananas and different size spades.
Figure 6. Ready for reassembly.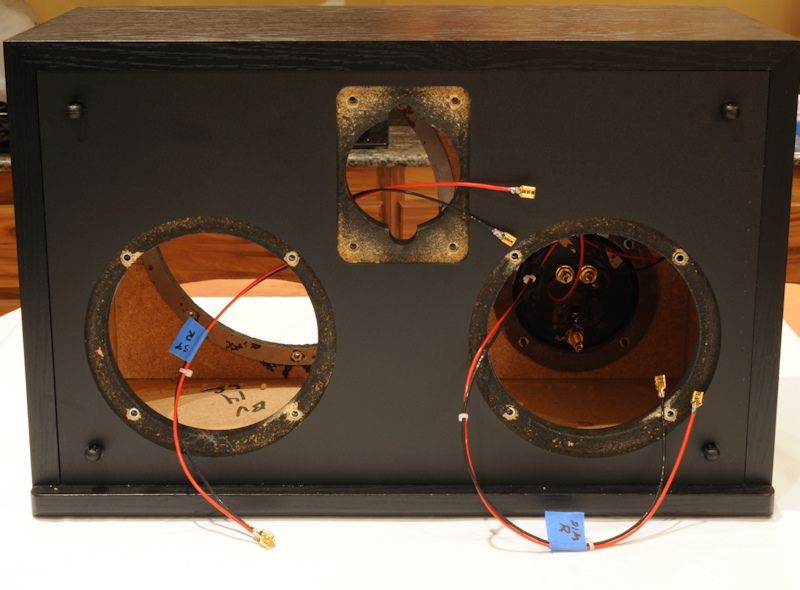 Figure 7. Ready for driver installation.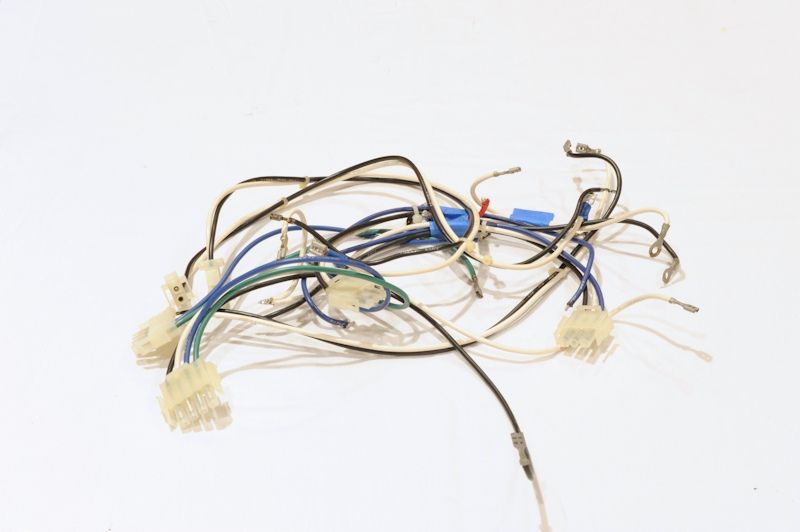 Figure 8. Stock wiring harnesses. Twenty-four years of service is long enough.Assembly Notes
The obnoxious invisible enamel coating of each individual wire strand was first ground off with a Dremel carbon steel brush (part number 428) and the residual enamel was burned off with solder. The 9.5 AWG wire was particularly difficult to work with. A solder pot would have made things a lot easier, but I didn't want to have to buy a ton of Cardas bar solder, most of which I would not use, and I didn't want to invest in a solder pot since the one I wanted cost over $100 (American Beauty MP-9) and would see very limited use.
It is not a good idea to use the Cardas strand solder in solder pots because it contains rosin, which will cause a lot of smoke and will form a mess by bubbling up and forming a layer on top of the solder.
Resistance measurements were taken after soldering to make sure a high resistance connection was not made. A high resistance compared to the stock wire would have indicated that some wire strands were not coated with solder.
Table 1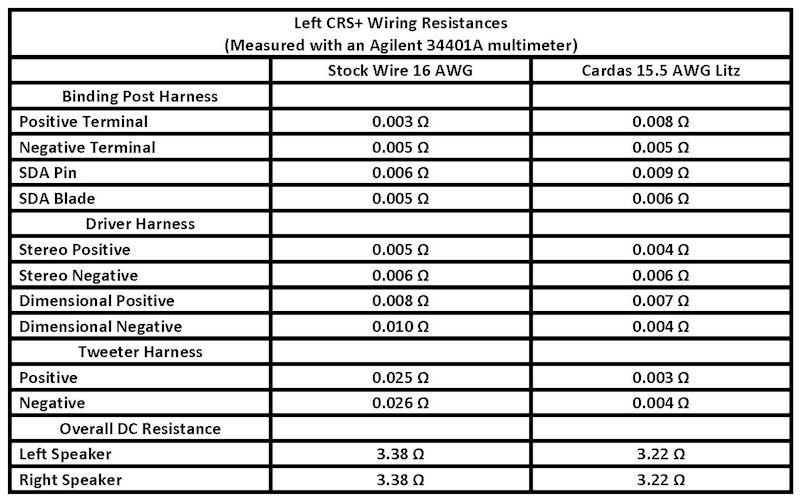 The DC resistance of the totally stock speakers was 3.94 ohms (L) and 3.82 ohms (R).
The DC resistance after the Solen SDA inductor modification was 2.81 ohms (L) and 2.85 ohms (R).
The DC resistance after the Sonicap/Jantzen inductor modification was 3.38 ohms (L) and 3.38 ohms (R).
Listening Evaluations
The CRS+s were auditioned in my home theater system with the following electronics and cables:
Pioneer BDP-09FD Bluray Disc Player,
Sony TA-P9000ES Preamplifier,
Adcom GFA-5500 Power Amplifier (350 watts into 4 ohms),
PS Audio P10 AC Regenerator for preamp and Bluray player,
Monster Cable Z100i Interconnects,
Monster Cable Z2 Reference Speaker Cable,
PS Audio AC 5 and Statement SC Power Cords.
These SDA CRS+s are used in my system at work, which consists of the following:
Nakamichi CA 5A II Preamplifier,
Yamaha TX-1000U Digital Tuner,
Yamaha CDX-1110U CD Player,
Adcom GFA-555 Mk II Power Amplifier (350 watts into 4 ohms),
Signal Cable Analog 2 Interconnects,
Signal Cable MagicPower Cords,
Monster Cable Z2 Reference Speaker Cables.
Figure 9.
Such Good Sound!
Two 21st-Century classical music selections were used in listening evaluations:
"Antissa" - from the "Unearthed" CD by E. S. Posthumus.
"Selisona Pi", from the "Cartographer" CD by E. S. Posthumus.
Both selections are well recorded and feature a wide and deep sound stage, thunderous bass, soaring highs, vocals, choir, and lush percussion.
The pre-rewired speakers were auditioned and documented with spatial maps and detailed listening notes, then the left speaker was rewired and compared to the right, then both rewired speakers were auditioned with the Monster Cable Z3 AI-1 cables and then with the Cardas 9.5 AWG AI-1 cables. The stock-wired right speaker sounded lower in volume and veiled compared to the left speaker with Cardas wire. When both speakers were wired with Cardas, there was a striking improvement in clarity, sustain, decay, detail and depth, with more defined layering and front to back distance between images. The center image was thicker, and there was overall more tactile sensation. There was no change in lateral placement of images. The choir image on both music selections was about 1 foot higher after the rewire. I particularly appreciated the increase in low level detail since I use these speakers at work and usually have to play at low volume.
Compared to the Monster Z3 AI-1 cables, the Cardas cables provided a little more clarity and detail in the center and a moderate increase in clarity and detail at the sides and rear of the sound stage. I was hoping there would be little to no difference, because I did not want to deal with that thick Cardas wire again when rewiring my other two CRS+ pairs, plus, I could save a few bucks. Unfortunately, my fabrication and financial biases were overruled by my ears.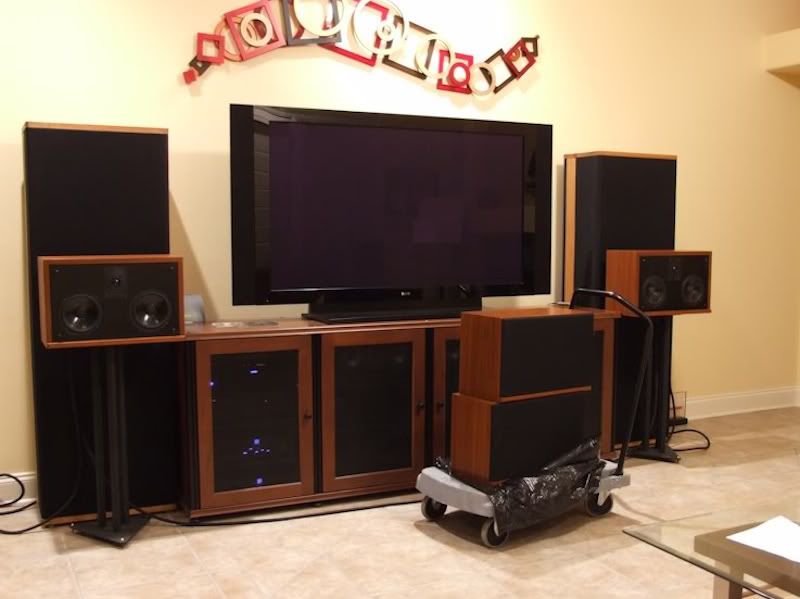 Figure 10. In the future, when I am more dedicated to audio than I am now, I will rewire my other two pairs
of CRS+s with Cardas.References
Cardas Wire Replacement for the SDA SRS 1.2 TL
Cardas Wire Replacement for the SDA SRS and LSi9
"So hot it
burns
Mice
!"~DK
---
"Polk SDA-SRSs are hopelessly out of date both sonically and technologically... I see no value whatsoever in older SDA speakers."~Audio Asylum Member
---
"Knowledge, without understanding, is a path to failure."~DK
---
"Those who irrationally rail against something or someone that is no threat to them, actually desire (or desire to be like) the thing or person they are railing against."~DK
Post edited by DarqueKnight on