The AMP project... the final chapter has begun.

Well gents, the clock is ticking now and the final chapter of this project has begun. They are asssembled and ready for the final journey to meet with Bob and be tested, signed and put to use as the last amplifiers I will ever buy for two channel audio. From a purely cosmetic standpoint, I think they rival any commercially produced amp, including the new line built by the man himself. Each time I look at them, I find it hard to believe that it was my own two hands that designed the look and assembled them.
I started this new thread for this project because this is really a new phase of this project, as there are no more mock-ups, tests or alterations to be made at this point, just final wiring inside, inspection and testing to bring them to life. Next week, I will travel with them to Snohomish and work with the master and hear them sing. The coming days will be among the most treasured of my life, as it is not every day you get to work side by side with a legend and fufill a dream. I will post lots of pics of the completion process, and report back my impressions of the experience. I am also looking into loaning the twins out for a series of week-long in-home demos to local SoCal Polkies so they can also chime in here with their thoughts and opinions on these.
Let the journey begin!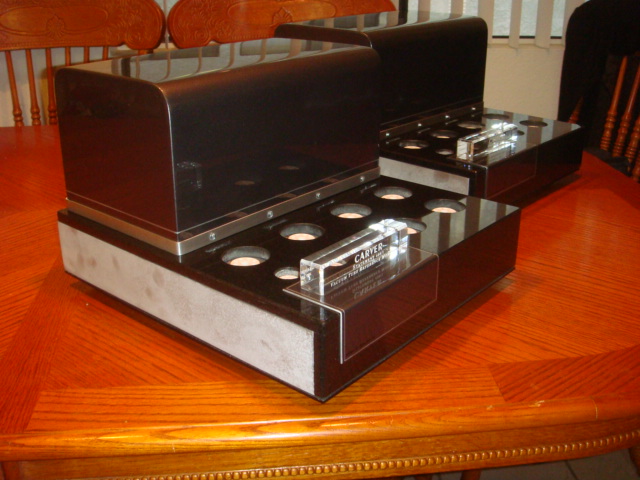 The Gear... Carver "Statement" Mono-blocks, Arcam AVR21, Oppo UDP-203 4K Blu-ray player, Sony XBR70x850B 4k, Polk Audio Legend L800 with height modules, L400 Center Channel Polk audio AB800 "in-wall" surrounds. Marantz MM7025 stereo amp. Yamaha CD-S2100 SACD Player.

In retirement...TriangleArt Reference SE with Walker Precision Motor Drive,

"Every record has been destroyed or falsified, every book has been rewritten, every picture has been repainted, every statue and street building has been renamed, every date has been altered…History has stopped. Nothing exists except the endless present in which the party is always right" — George Orwell

"If it moves, tax it. If it keeps moving, regulate it. And if it stops moving, subsidize it."
Post edited by nooshinjohn on
Comments