dCS Debussy DAC - Review

Part 1 of 3Introduction
I had been searching for nearly a year for a DAC that wasn't a step backward in performance from my Cary Audio CD 306 Professional Version SACD player, that offered DSD playback, that wasn't prohibitively expensive, that worked well with my digital source and other components, and that wasn't an eyesore.
My system integration issues would have been much easier if my computer audio setup
actually used a computer
as a music file source, rather than using a specialty digital player (Bryston BDP-2). I have discussed my difficulties with other DACs in other threads, therefore I won't rehash them here. Those other threads are listed in the reference section below.
My research indicated that DACs offered by dCS and MSB technology might be worth pursuing. I never received replies to any of my questions that were emailed to MSB. The people at dCS were very patient and thorough in answering my questions, technical and otherwise. One of dCS's personnel even helped me find a used, mint condition dCS U-Clock at one of their dealers at an attractive price.
So, here we are (me and my two channel system) enjoying the best digital playback ever. The Debussy has only been in service for ten days of nearly constant playback but its arrival has been more like getting reacquainted with an old friend rather than forming a new friendship with a stranger. The only time the Debussy has not been playing, since installation, was during cable changes, fuse changes, or setting up listening trials with another component.
Figure 1.

Such Good Sound

from a very modest, entry level dCS stack, top to bottom: dCS Debussy DAC, dCS Puccini U-Clock, PS Audio PowerBase isolation platform, Black Diamond Racing Mark 4 carbon fiber isolation cones and pucks.

DCS recommends a break in period of 4 to 7 days for a new Debussy. The Debussy sounded harsh in the highs and thin in the bass at first listening, but the harsh highs were gone in 24 hours. The bass didn't fully come into focus until the seventh day. The imaging, sound staging, and overall clarity and detail was better than either of my Cary DACs (CD306PV ($8,000) and DMC-600SE ($8,000)). I was advised by Cary, and others, that I needed to look at five figure solutions if I wanted something substantially better than the CD306PV. The Debussy retails for $11,500. I actually would have been satisfied with a DAC that equaled the CD306PV in sound quality, in addition to offering DSD playback and working well with my Bryston BDP-2 digital player.

Critical listening began on the eighth day after installation.

Listening Evaluation Methodology

My performance evaluation criteria focuses on stereophonic performance. Each component under evaluation plays the same musical selections. I map the location of images in the sound stage both laterally and aerially. I make detailed notes describing the characteristics of all sound images (clarity, detail, sonic weight, tactile sensation, etc.). Then I compare my listening notes. Often, I am able to pick up on performance differences in real time during listening. Sometimes, I do not become aware of differences until I compare my notes. This is especially true of spatial and tactile sensation differences.

Comparison To The Cary DACs

The dCS Puccini U-Clock master clock ($5,500) enhanced the sonic performance of both my Bryston BDP-2 and the Debussy. The BDP-2 does not have a word clock input. However, the BDP-2's USB output can be synched to the U-Clock and then the U-Clock converts the incoming USB digital stream to outgoing SPDIF to the Debussy. The U-Clock was not used when comparing the Debussy to either of the Cary DACs. Also, the CD306PV is not in stock form. Its power line fuses were replaced with HiFi Tuning Supreme fuses and the transport and interior had extensive treatment with Dynamat Xtreme vibration damping material.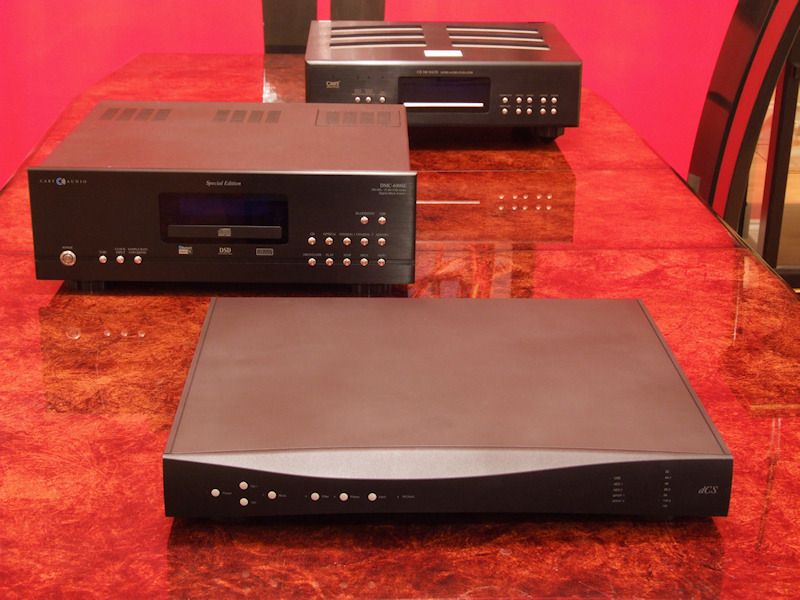 Figure 2. David and Goliaths - front to rear: dCS Debussy DAC, Cary Audio DMC-600SE CD player/DAC, Cary Audio CD 306 Professional Version SACD player/DAC.
As would be expected, the CD306PV and DMC-600SE sound very similar, but the DMC has a small advantage in overall clarity and detail. The performance gap between them would have been wider if not for the CD306PV's tweaks.
The Debussy was in a class above the Cary's in overall clarity and detail and in image weight, depth, and stereophonic holography. More detail is not always a blessing however, as the Debussy offered more spotlight on the poor recording quality of
some
many pop, rock, and R&B recordings. However, on well recorded material, particularly well recorded DSD files, the presentation was outstanding.
With regard to tonal balance and overall "sound", I did not find the Debussy to be a great departure from the Cary's. I just got more of what I like in every aspect of stereophonic performance.
Proud and loyal citizen of the Digital Domain and Solid State Country!
Post edited by DarqueKnight on
Comments