Mysterious Power Line Super Gremlins

Mysterious Power Line Super Gremlins
Subtitle: My Wonderful Day With The Power Company
Introduction
On Monday 1/26/09, I noticed some graininess at the sides and rear of the sound stage in my two channel system. I also noticed an apparent decrease in sound level and bass slam. The first thing I checked was the Power Port Premier AC regenerator. Sometimes, if the PPP sees something on the power line it doesn't like, like a huge transient, it will disconnect the regenerator circuit and the PPP has to be manually reset. The PPP was functioning normally. However, when I switched the display to show incoming total harmonic distortion, it read a whopping 7.7%! THD is normally in the area of 2%. I connected an oscilloscope to the right amplifier's AC receptacle and saw a grossly distorted waveform. This distortion persisted throughout the week and I took the following pictures Thursday evening and sent them to the power company.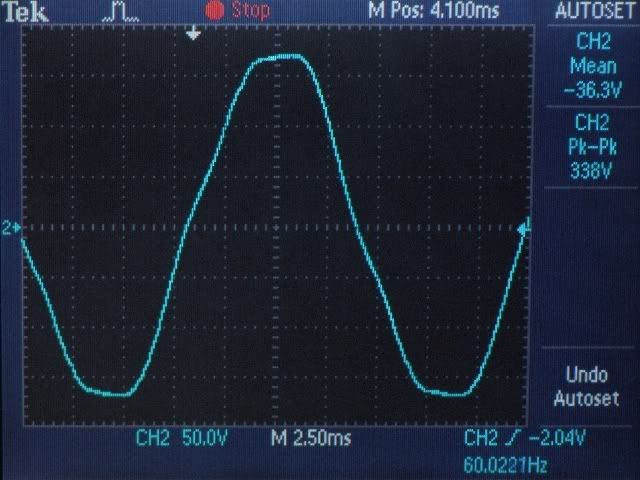 Figure 1. Distorted power sine wave form measured 1/29/09.
Figure 2. FFT of residential power measured 1/29/09.
---
Sent: Thu 1/29/2009 9:43 PM
To:
[email protected]
Subject: Residential Power Line Noise
Mr. W,
I monitor my home's power line quality due to the sensitive electronic home entertainment equipment I own.
This week I noticed a substantial increase in the harmonic distortion of the power delivered to my home. Please see the attached oscilloscope traces for the sine waveform and the Fast Fourier Transform of the wall voltage.
The sine wave shows near a high degree of flattening of the peaks and gross deformations of the waveform sides. I don't recall seeing this level of waveform distortion during my entire time in my current residence (over 6.5 years).
The 3rd, 5th, and 7th harmonics show amplitudes of 41 dB, 42 dB, and 23 dB respectively. The total harmonic distortion was 7.7%. On January 10, 2009, the 3rd, 5th, and 7th harmonics had amplitudes of 34 dB, 34 dB, and 23 dB respectively. The total harmonic distortion was 2.4%.
I would like to know the reason for the dramatic decrease in my power quality. If you are not the right person to address my inquiry, I apologize for the inconvenience and ask that you forward it to the appropriate person.
To avoid initiating "phone tag", I would prefer a response by email.
Thank you for your assistance.
---
I assumed I would hear back from the power company in a few days...maybe
a week or so. To my surprise, I received a reply the next morning:
---
From:
[email protected]
Sent: Fri 1/30/2009 8:00 AM
Cc:
[email protected]
;
[email protected]
;
[email protected]
Subject: RE: Residential Power Line Noise
Dr. S.,
I am the Asset Planning Manager for Louisiana. I would like to have a service request generated so a serviceman can come by your residence and check all connections from the common point of coupling (the meter) to the transformer serving the residence. If he finds anything, he will make the necessary repairs and we will notify you of the cause. If he can not find anything that will explain the phenomena, we will have a monitor installed for a period of time to see if we can pin point where the harmonics is coming from. If the monitoring is necessary, I will have one of my Planning Engineers set up the monitor, analyze the data, and let you know what we found. In order to get the process rolling, I will need you to call 1(800)ENTERGY or 1(800)368-3749 from your home phone or from any phone if you have your account number and tell them you are having voltage issues. They will create the appropriate service request and a Serviceman will be scheduled. I have copied the Baton Rouge Planning Engineer and Baton Rouge Service Supervisor so they can be looking for the service request. In the mean time, can you reply back with the address where you are experiencing the Power Quality issues.
---
I called the customer service department at 9 am and I was shocked again to hear that they would have a technician at my home within two hours. Not two days or two weeks, but
two hours
.
The technician arrived at my home at 10:22 am. This is where the fun begins. I waited ten minutes and then joined the technician at my power meter where he was taking measurements.
Tech: Man, I can't find anything wrong. I don't know why they sent me out here. Your voltage is fine. Your current is fine. What kinda problems are you having?
Me: I am seeing higher than normal noise and distortion on the power line.
Tech: (Somewhat agitated now) How are you seeing that? Is everything working inside? Nobody else out in this area is complaining.
Me: Everything is "working" but not as well as it was before the higher distortion appeared.
Tech: What do you mean not working as well? Like I said, nobody else is complaining.
Me: It would be difficult to explain out here. If you come inside I can show you some measurement plots and provide a better explanation.
Tech: I don't need to come inside and I already saw that stuff you sent in that email. None of that has anything to do with what I'm reading out here. I really don't understand why they got me out here 'cause ain't nothin' wrong. This is just wasting my time.
Me: Well, you can just stay out here and be bewildered or you can come inside and get the full explanation or you can just leave. Either one is fine with me.
Tech: Alright. I'll see whatcha got, but nothing on the inside of your house has anything to do with what's goin' on out here.
Once inside, I had some difficulty keeping the tech's attention focused on my oscilloscope's and television's screens rather than my decor. It would never have occurred to me that a power company technician would have such a high degree of interest in interior design.
I had the plasma TV in my home theater system on and plugged into the wall rather than the Power Plant Premier. The tech complimented me on the nice picture I had. Then I unplugged the TV from the wall and plugged it into the PPP and the improvement was immediately obvious. Next, I displayed the sine wave and FFT traces from the wall and PPP and discussed the differences between them. I also discussed printouts of previous wall power plots when the power was in spec. I explained that the difference in the picture quality he saw was due to the amount of noise and distortion in the power. This is the basis of my complaint. I further explained that higher noise and distortion also made a difference in the way my stereo system sounded.
Tech: (No longer visible agitated now) You must be an engineer.
Mr: Yes, I am an electrical engineer.
Tech: I don't know much about harmonics and distortion. That's something the engineers talk about. I can call my supervisor and let you speak to him.
Further compounding my shocks (no pun intended) was the supervisor's initiation of a discussion of the effects of power line noise on high end electronics. He suggested that I get a power line conditioner. I explained that I already had four such devices but that some of my equipment must be connected directly to the wall.
I then asked if their system noise specification had changed and if the higher levels of noise and distortion were going to be the norm going forward. He said he didn't know what the system specification was and that he would have a power quality engineer contact me. He also said that one or more of my neighbors might be the cause of the distortion or it could be a nearby business. Whatever the cause, he said the power company could install monitoring equipment to trace the cause.
Proud and loyal citizen of the Digital Domain and Solid State Country!
Post edited by DarqueKnight on
Comments