nVidia Shield TV Network Player Review

Introduction
I had been searching for a solution to stream movies from my NAS to my guest bedrooms. My criteria were:
1. Under $300 price.
2. Small form factor: Dimensions of approximately 8" x 8" x 2" or smaller.
3. Ability to stream high definition (1080p) content wirelessly with no playback issues.
4. Ability to play MKV files and Blu-ray folders.
5. Easy to use graphical user interface.
The performance benchmark was the Oppo UDP-203. Players from Dune and Zappiti had horrible 5 GHz WiFi performance and other issues. Evaluation results with those players can be found here:
http://forum.polkaudio.com/discussion/182185/i-tried-two-network-players-zappiti-mini-4k-hdr-and-dune-hd-4k-solo
The nVidia Shield TV ($179) network player met all my major performance and aesthetic requirements. In summary:
Pros: Excellent WiFi performance, aesthetics, form factor, price, excellent picture quality.
Cons: Horrible, non-customizable home screen, does not play Blu-ray folder menus.
Figure 1. The Shield is packaged in a thick cardboard box with protective form fitted plastic trays.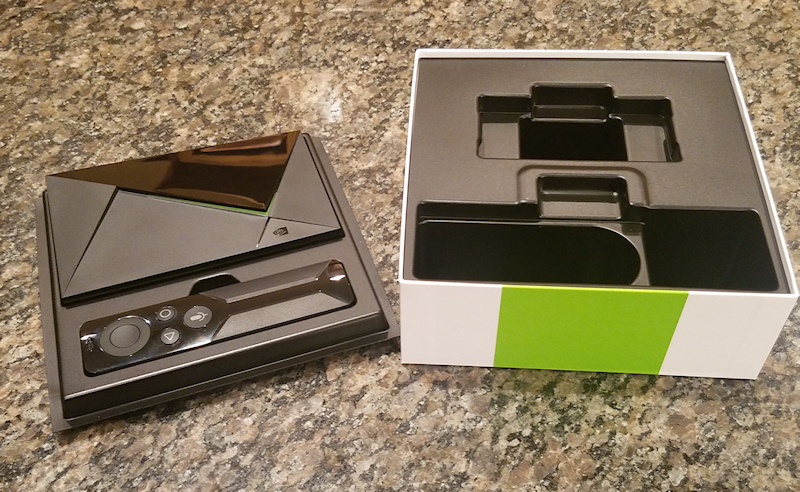 Figure 2. Inside the Box. The lower tray contains the power adapter and ultra small print user guides.
Figure 3. Measuring 6.26" L x 3.858" D x 1.02" H, the Shield is only a little bigger than my Otterbox encased cell phone.
Figure 4. The Shield's power adapter had some uncharacteristic heft and weight to it, with a thick power cord.
Figure 5. The included setup documentation was practically useless. The quick start guide, which measured 4.25" x 4" had no written instructions for the unorthodox remote . The "Support Guide" which had pages measuring 4.25" x 2" required a microscope to read and was basically safety information. The manual was published on the nVidia website and was in the form of a series of approximately 60 web pages. I would have appreciated a downloadable PDF manual.Audio/Video Performance Evaluation
Figure 6. The Shield was initially configured and tested with the 42" Samsung S4273 plasma TV in my home office.
I had not read any complaints about the Shield's WiFi performance, but, based on prior disappointments with some other players, I had some concern. I connected the Shield to the wireless range extender that was in the home theater system, which was three rooms and 45 feet away. There were no connection or playback problems at all. Setting up the connection to my Synology NAS was easy and video streaming was perfect in every respect.
DVD movies were played by navigating to a movie's MKV file and clicking on it. Blu-ray movies were played by navigating to a movie's folder and clicking on it. Unlike the Oppo and Dune players, the Shield does not support Blu-ray folder menus.
Figure 7. DVD movies started immediately. Blu-ray movies started in the range of immediately to 18 seconds.
Figure 8. Subsequent evaluations were done with the 32" LG 32LF500B 720p LED TVs in each guest bedroom. HDMI cables were 6 foot SecurOMax.
The Shield produced bright, clear, detailed images from DVD and Blu-ray sources. Video quality was significantly better than that from the Dune and Zappiti players, although not up to the high standard of the Oppo UDP-203. Sound quality was crisp and clear.
Figure 9. Kodi player software (free) was used to play movies. Kodi was easy to install, setup with my NAS, and use.WiFi Performance Evaluation
Figure 10. Just in case there were issues with the Shield's WiFi, I ordered a TP-Link Ethernet
extender kit ($50). These devices emulate a direct wired connection by sending Ethernet signals through a home's electrical wiring. They are plug and play. Plug them directly into a receptacle and they automatically find each other. This solution worked very well and was half the cost of installing wired Ethernet drops. Fortunately, I didn't need it though. The Shield's WiFi worked fine...and it doesn't even have the big honking WiFi antennas of other players.
Upon plugging in the Ethernet cable from the TP-Link box on the Shield's end, the Shield automatically disconnected its WiFi connection and set up a wired Ethernet connection by DHCP.
Pinging (using WSPing software) the IP address of the wired connection produced an average round trip time of 4 ms. Pinging the IP address of the WiFi connection produced an average round trip time of 57 ms. However, movies started a few seconds earlier with the WiFi connection. For example, Alien Covenant Blu-ray started 19 seconds after clicking on its folder with the wired connection. It started 16 seconds after clicking on its folder with the WiFi connection.
With the Ethernet extenders, some speed loss will occur when the signal has to "jump" from one home wiring circuit to the next. For example, my home office receptacles are wired on leg 2, breaker 16 and the home theater room's receptacles (except for the two dedicated AC circuits) are on leg 1, breaker 5. The extenders' signal strength indicators showed an excellent connection even though they were far apart circuit-wise and distance wise.
Graphical User Interface
Figure 11. The Shield's home screen, referred to as the "launcher", was an aggravatingly bitter disappointment. It is dominated by the "recommendations" row across the center. This is a large ribbon of SPAM whose purpose is to suggest audio and video content. Below that is the "apps" row listing all installed apps/bloatware.
Figure 12. Recommendations can be turned off, but the recommendations row cannot be removed. Turning off recommendations results in a big blank space in the center of the home screen with a little note telling you recommendations are not available. The apps row cannot be moved up to fill in that space.
Figure 13. Fortunately, other launchers can be installed, and, with a bit of programming, the original launcher can be removed and replaced with something else. Two popular replacement launcher options are the HAL and Nova launchers. Shown above is my Shield's home screen configuration with the HAL launcher. There are excellent tutorials on YouTube describing the Shield's launcher replacement process.
I did not go to the trouble of replacing the original launcher. In the future, when I am more dedicated to video than I am now, I might replace the original launcher with the Nova launcher. I did install the HAL launcher and it co-exists with the original launcher. I also disabled or removed most of the Shield's bloatware apps that came pre-installed.
Remote Control
Figure 14. The Shield's unusual minimalist-design remote took some getting used to. I hated it at first but learned to like it. I like the remote's microphone/voice command feature.
Overall, I am very pleased with this player.
"So hot it
burns
Mice
!"~DK
---
"Polk SDA-SRSs are hopelessly out of date both sonically and technologically... I see no value whatsoever in older SDA speakers."~Audio Asylum Member
---
"Knowledge, without understanding, is a path to failure."~DK
---
"Those who irrationally rail against something or someone that is no threat to them, actually desire (or desire to be like) the thing or person they are railing against."~DK
Comments