Tweaking Home Theater Pt. 11 - Douglas Connection DCF-92 Speaker Cables

Introduction
My initial intent to downsize my home theater from 5.1 to 3.1 turned into a major upgrade cycle where the three power amplifiers, Blu-ray player, front, center, and surround speakers, preamp-processor, and interconnects were upgraded. All video media (DVDs and Blu-rays) were transferred from disc to a NAS server. The equipment cabinet was modified to accommodate a large center channel speaker. This project began in February of 2017 and recently concluded with the replacement of the Monster Cable Z3 Reference speaker cables used on the front and center channel speakers. The upgrade speaker cables were Douglas Connection DCF-92.
This is actually my second and third pair of DCF-92 speaker cables. I have a 25 foot pair in my rig at work.
Figure 1. Life in audiophilia/videophilia -- a small downsizing project turned into a big upgrading project.The Speaker Cables
Figure 2. Douglas Connection DCF-02 speaker cables for front and center channel speakers.
Figure 3. Douglass Connection DCF-92 on left, Monster Cable Z3 Reference on right.Monster Cable Z3 Reference
- This speaker cable was manufactured from the late 1990s to early 2000s. Monster no longer offers home speaker cables.
Features:
Time Correct windings for better imaging
Magnetic Flux Tube for less interference
PEX™ Dielectric for lower noise floor
MultiTwist Construction: tighter winding for enhanced clarity and inner detail
Duraflex jacket for long-lasting resistance to abrasion and chemicals
Incorporating Monster's patented Microfiber dielectric for faster transients and superior clarity.
Soldered gold plated brass terminations with gas-tight screw-on gold plated brass spade and banana connectors.
Oxygen free copper
Effective wire gauge: 10 AWG
Price: $350 for 10 foot pair.
Douglas Connection Furez DCF-92
Features:
Star Quad noise cancellation wire geometry
Foamed Polyethylene insulation (FPE)
High conductivity oxygen free copper
Solderless construction
Furutech 211 R solid copper spades with rhodium plating, vibration damped resin housing, and solderless set screw wire connectors
Effective wire gauge: 9 AWG
Price: $456 for 10 foot pair
Cable Conditioning (Break In)
Wire insulation has dielectric properties that can store and release energy similar to a capacitor. The release of energy by the insulation creates noise in the audio signal. Running a signal of sufficiently high current amplitude through the wire charges and polarizes the insulation so that its capacity to store and release energy is greatly diminished.
The Audiodharma Cable Cooker runs a high current, wide bandwidth conditioning signal through a cable and greatly shortens break in time. For speaker cables, the Cable Cooker's conditioning signal is a nominal 1.88 amperes at 12 volts, or 22.56 watts. The LSiM 707's sensitivity with 1 watt at 1 meter is 88 dB. An input signal of 22.56 watts would produce an output of 101.5 dB...very loud.
Figure 4. Douglas Connection recommends a break in period of 60 to 100 hours. One hour on the Cable Cooker is approximately equal to three hours of ordinary play back time. I ran the Cooker on the DCF-92s for 25 hours. Cables were attached with the signal running in the direction of the logo lettering on the ends.
Figure 5. Cables can be daisy chained on the Cooker with no loss of signal strength. I used some PS Audio locking banana connectors to join the spades of each pair of cables.
Figure 6. A lab grade Agilent 34401A true RMS digital multimeter measured the Cooker's current amplitude at 1.906 amps.
Figure 7. A Tektronix TDS 2012 digital oscilloscope was used to measure and monitor the Cooker's signal throughout the conditioning process. This is the Cooker's signal with no cable load.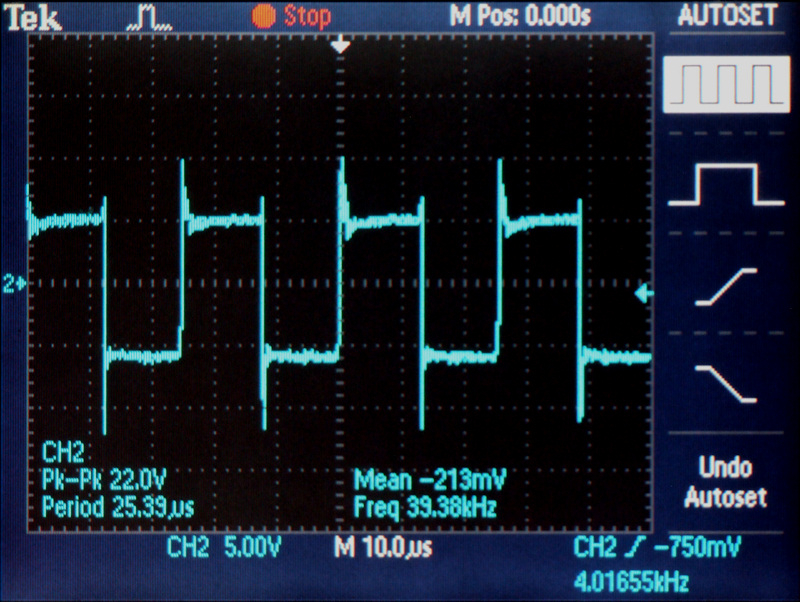 Figure 8. This is the Cooker's signal immediately after the DCF-92 cables were installed.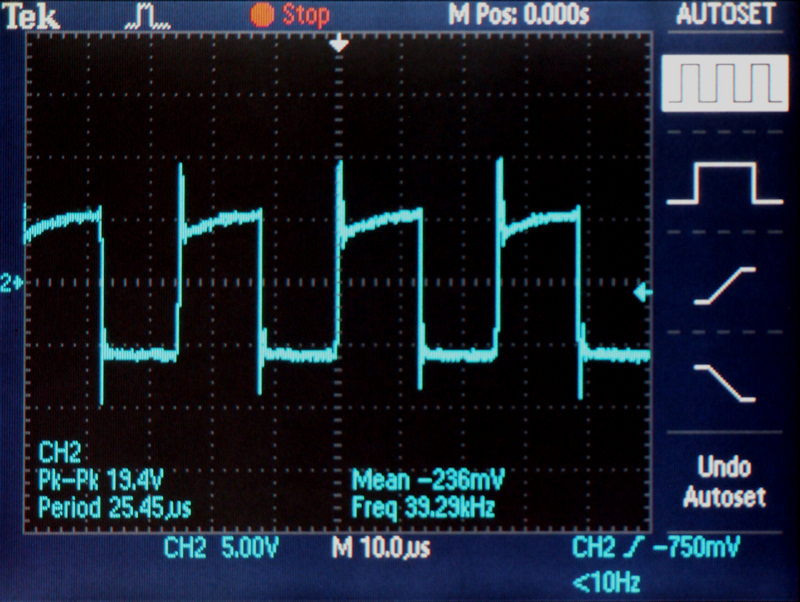 Figure 9. This is the Cooker's signal after 25 hours after the DCF-92 cables had processed for 25 hours. The amplitude of the ringing spikes at the rising and falling edges of the pulses had decreased by approximately 12%.
Figure 10. Not fun - dealing with the jungle of wires behind the equipment cabinet. The DCF-92 cables are very flexible, and that helped a lot with reinstalling the amplifiers.
After installation, I heard the telltale signs of over cooking: smeared bass and diminished high frequency detail. This is a temporary effect that vanishes with either letting the cables rest for a few hours or playing music through the cables for a few hours. I chose the latter. I let music play for an additional 19 hours at a moderate level (70 dB-C). A brief listening session 6-1/2 hours later before going to work confirmed that the sonic deficiencies due to over cooking were gone. I did the first critical listening session later that evening.
Listening Evaluation
Critical listening was done after 25 hours on the Cable Cooker and after an additional 19 hours of music playback.
The first thing my ears were drawn to was the bass - it was more finely detailed, more articulate, faster, and more tactile.
With two channel music, multichannel music, and movie sound tracks, I heard details in the sound stage that I had not previously noticed. There was more image weight, more solidity and three dimensionality to voices and instruments, and more tactile sensation against my body and through the listening seat.
The surround speakers sounded louder and with clearer details, although no changes in wiring were done for them. There was tighter integration of all five speakers and subwoofer with an enhanced sense of being in the middle of a thick sound field.
There was an enhanced sense of depth by a foot forward. Sound stage width and height remained the same. However, images at the far sides of the sound stage were clearer and more detailed and had more weight.
"So hot it
burns
Mice
!"~DK
---
"Polk SDA-SRSs are hopelessly out of date both sonically and technologically... I see no value whatsoever in older SDA speakers."~Audio Asylum Member
---
"Knowledge, without understanding, is a path to failure."~DK
---
"Those who irrationally rail against something or someone that is no threat to them, actually desire (or desire to be like) the thing or person they are railing against."~DK
Post edited by DarqueKnight on
Comments