Audioquest Type 2 speaker cable review

Clipdat
Posts: 5,873
This might be the quickest I've ever reviewed something after it's arrived, but my experience was so vivid that I don't feel a need to wait.
I ordered a 4' pins/spades terminated pair of AQ Type 2 SC from Audio Advisor for $50:
http://www.audioadvisor.com/prodinfo.asp?number=AQT2NF
It fit my termination requirement of pins for the amp's spring clips, was inexpensive, but was still a step up in from the standard 14ga OFC Monoprice wire I was using for my Polk Audio Blackstone TL3 computer speakers.
As usual AA processed and shipped my order promptly. These cables are terminated in house and they were the cheapest custom terminated cables that didn't use regular stranded OFC copper wire that I could find.
Instead, they use 4 individually insulated solid long grain copper wires, twisted in a star pattern. Two each for positive and negative. Workmanship on the terminations seem clean to me, with a little bit of excess solder visible on the spades. I'd wager that more is better than less though in this situation.
Bonus pic. Hate spring clips and how either bare wire or pins are the only option with them. This just makes me nervous: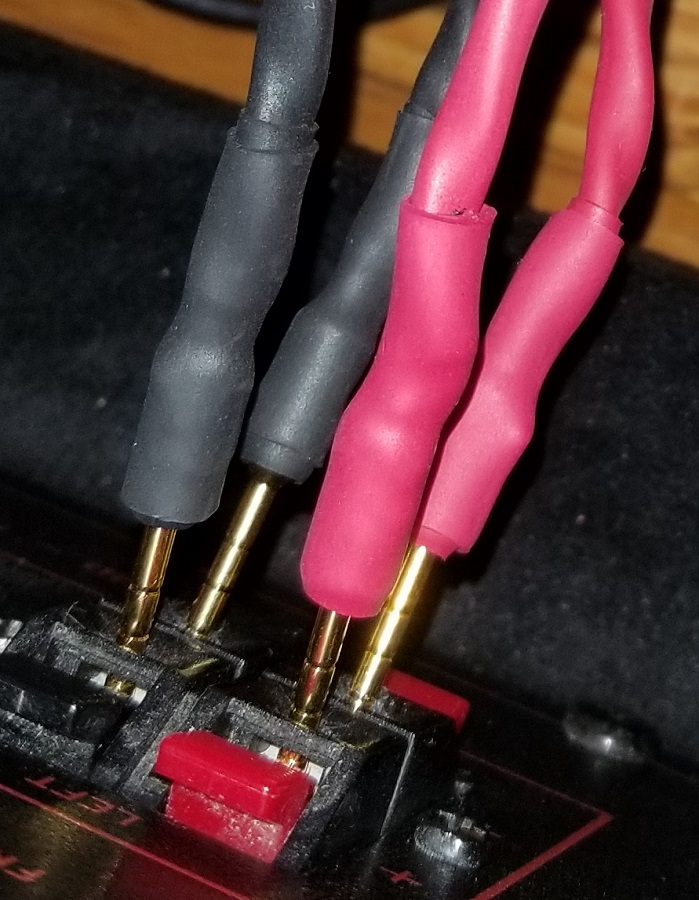 Moving on to how they sound! I had been using the standard 14ga wire since I got the TL3s so I had a good idea of what they offered. I always thought it sounded "just fine" and was doing justice to the TL3s. Well, I was wrong.
I hooked up the Type 2 cables and from the very first song I played, I noticed a difference in the way things were sounding. The most noticeable change was an
effortless, smooth, and elegant
quality that the sound had. The speakers were putting out a more cohesive soundstage, and stereo imaging was noticeably improved. I love the sensation of a nice thick stereo image, when it feels like the sound is whipping past and over your ears.
Information within songs was being presented differently. I can best describe it as a smoothness and grace that wasn't there before. In some songs, certain elements/instruments popped in and actually startled me because I hadn't heard them featured like that before. The clarity was literally surprising to me.
I can't adequately describe the
feeling
I now get when listening. It just sounds better. It's more enjoyable. I realize that technically that is a completely vague and subjective statement, but it's the honest truth.
These Audioquest Type 2 cables would be an excellent choice for someone looking to upgrade from standard 12-16ga stranded copper wire. As long as you have a decent set of ears, I don't see how you could NOT hear a difference. It's of course up to you to decide if that difference is "better" to you.
Overall I think that the Type 2 represents a great value, and with the nice termination options offered as well as the relatively inexpensive price, you'd be wise to give these a try if you're still using bare wire.
"Electronic music is human sound adapting to indulge technology, and for some, it feels like the signature sound of energy. New and abstract sounds over hypnotic rhythms can conjure vast soundscapes for escape, pleasure, and transcendence."