Herbie's Giant Cone/Spike Decoupling Gliders and other discs/footers

Clipdat
Posts: 5,250
I recently purchased the "Herbie's Audio Lab Giant Cone/Spike Decoupling Gliders" for use with my new Solidsteel S3-5 equipment rack. These were recommended due to me having a suspended hardwood floor with a slight flex and give to it.
http://herbiesaudiolab.net/spkrfeet.htm#cone
The bottom appears to be a slippery plastic material like what you'd see on a standard furniture glider, and on top a stainless steel disc for a spike to sit in, surrounded by a high durometer sorbothane type material.
When reading the description on the Herbie's Audio Lab website, I'm still a bit unsure of their engineering and design goals, as well as their purpose.
"Loudspeaker spikes are more effective when used in conjunction with Herbie's dBNeutralizer decoupling, especially with wood or suspended floors, whether carpeted or bare. Likewise, if your spikes couple firmly to your cabinet and are themselves solid and relatively free of coloration, they will complement Herbie's Decoupling Gliders very well by easing some of the workload and making the Gliders even more efficient. (Herbie's Cone/Spike Decoupling Gliders are used under your present spikes or cones.)
Features fiberglass-reinforced dBNeutralizer(tm) decoupling base and extra-thick brass, stainless steel or titanium disk. Fitted into Magic Sliders, they can be used on virtually any kind of floor, bare or carpeted, with easy-sliding mobility. Extra-deep conical indentation prevents spike from slipping out when lateral pressure is applied. Suitable for audio racks, stands and loudspeakers of virtually any weight."
And going on, some other info about the "giant" version that I got:
"Same attributes as regular Cone/Spike Decoupling Gliders described above, with more dBNeutralizer "beef" and broader base. With embedded brass, stainless steel, or titanium disk, Giant Cone/Spike Decoupling Gliders are ideal for extra-heavy duty, for severe vibrational environment, or use with speakers and component racks on deep, spongy carpet. Appropriate for use on any kind of bare or carpeted floor."
Can anyone help me decipher what this means in real world use? What exactly is transpiring when you set a 100lb+ loaded equipment rack on top of these?
How are these different/better than a standard footer/disc such as these:
https://www.crutchfield.com/S-BfS7IrIgisl/p_961DISCS4/Solidsteel-S-Series-Discs-Set-of-4-discs.html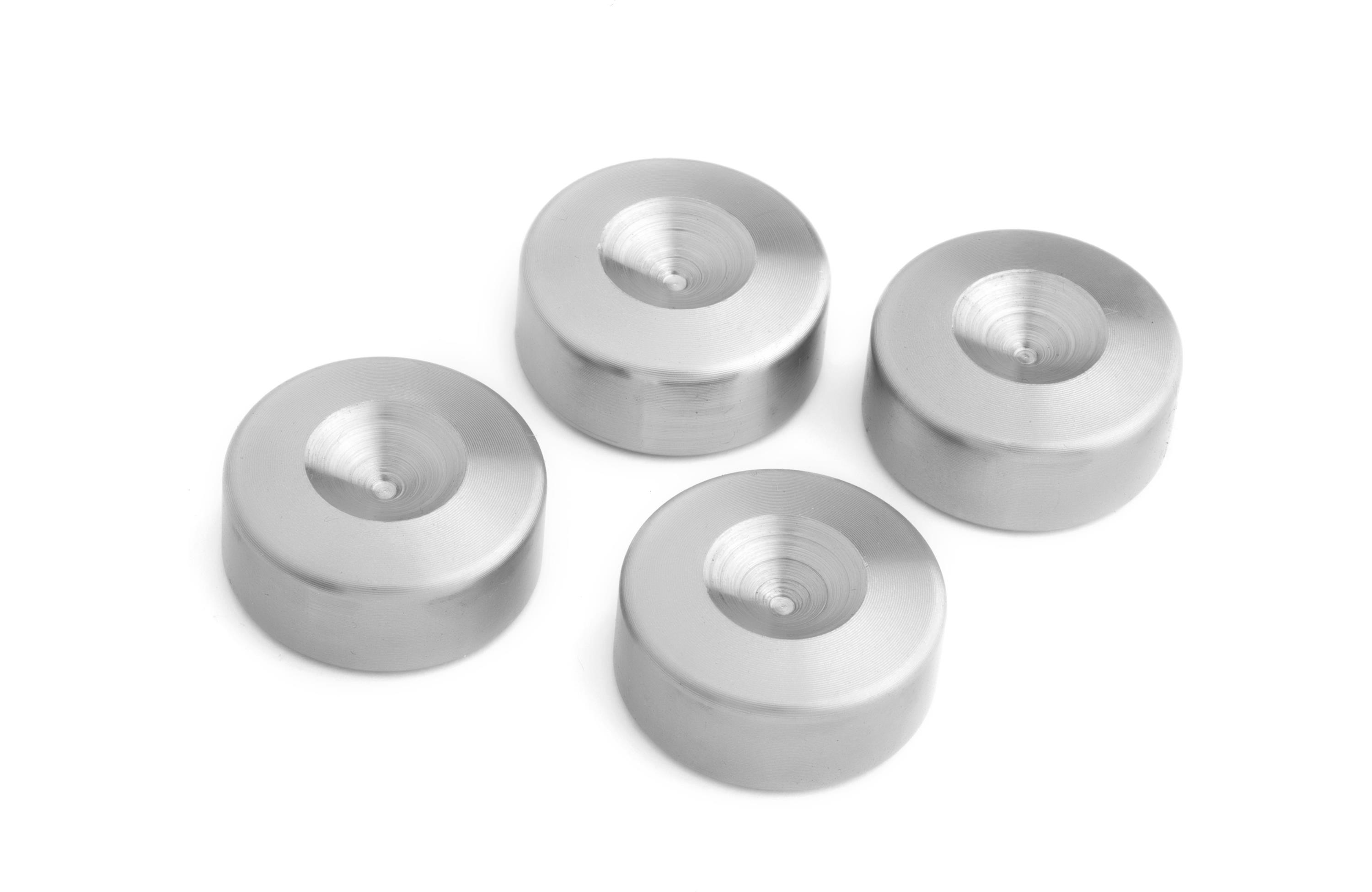 In terms of preventing vibration energy from footfalls from entering the equipment rack, I'm not sure the Herbie's footers are doing much of anything. If I open the lid to my Technics 1200 TT and walk around or lightly let my heels fall to the floor, I see the lid bouncing and undulating as it's clearly being affected by the vibrations.
If the goal is to "decouple" the rack from the floor, it doesn't seem that it's entirely effective in my case. Perhaps it's not actually the best footer for my situation?
So, let's talk footers. Calling all engineers
@kharp1
@F1nut
@verb
"Electronic music is human sound adapting to indulge technology, and for some, it feels like the signature sound of energy. New and abstract sounds over hypnotic rhythms can conjure vast soundscapes for escape, pleasure, and transcendence."