Kind Of Blue - Mobile Fidelity 45RPM Vinyl, CD, and SACD Versions

Introduction
I, and others, have waited years for MoFi's treatment of Miles Davis' "Kind of Blue" on 45rpm 180 gram double-disc vinyl. It didn't disappoint. This recording generated a wide and deep soundstage with life size sonic images, excellent tactile sensation, and finely detailed growl and overtones in the wood body and strings of the acoustic bass. Miles' trumpet had just the right amount of metallic bite. The alto and tenor saxophones had a lifelike silky "edge" and serrated overtones.
Others have complained that the bass on this version was too "heavy", but I thought it was just right and highly representative of what I hear (and feel) in live acoustic jazz performances.
Others also have complained that this version is cut from third generation masters and does not have the overall clarity and detail of the Classic Records 1995 four LP 45rpm set, which is long out of print and now costs hundreds of dollars on the collector's market. I still have a twinge of regret that I didn't snag a new sealed copy for $290 when I had the chance.
Compared to all the digital versions I own, the MoFi 45rpm vinyl version is more three-dimensional, more holographic, presents more of a sense of space and depth around sonic images, and presents more image weight and tactile sensation. However, the 192k download has more air around the ride cymbals, has better high frequency detail, and is more dynamic. The 192k download is a close second to the 45rpm MoFi vinyl set.
I have always appreciated 12" 45rpm singles due to their better bass rendering and better overall clarity and detail.
Figure 1. MoFi's boxed set of 45RPM vinyl at top and MoFi's hybrid CD/SACD at bottom.
The grooves were dead quiet and I was tempted not to run these discs through my VPI 16.5 record cleaning machine...because I hate washing records. I even sent an email to MoFi asking if wet cleaning was necessary. This is the response I received:
"Thank you for your email. It is not necessary, however cleaning even a new LP
does help remove mold release compound which can make playback cleaner."
Off to the steam cleaning, wash, rinse, and vacuum, they went.
Figure 2. VPI 16.5 record cleaning machine with fan modification. The KoB discs didn't sound any different, or better, after steam cleaning, washing, and vacuuming.
Figure 3. Isn't it awful that in the 21 century the highest resolution music playback system is still vinyl records and diamond "needles"? I hate the playback and maintenance rituals...but I love the sound.
I've managed to ditch the CD and SACD players, and their lasers and spinning discs...but I haven't found a satisfying substitute for dragging a tiny rock through plastic undulating grooves.
Comparison To Digital Versions
Figure 4. Modified Sony PlayStation 3 - for ripping SACDs to DSD files.
I used a modified Sony PlayStation 3 and Sonore ISO2DSD software to rip DSD files to my computer. DBpoweramp CD ripping software was used to rip FLAC files from the CD layer of MoFi's hybrid CD/SACD disc.
The order of sonic hierarchy for all of my Kind of Blue versions is:
1. Mobile Fidelity 45rpm 180 gram vinyl.
2. Columbia/Legacy remastered 192k download.
3. Mobile Fidelity SACD rip.
4. Columbia/Legacy SACD rip.
5. Mobile Fidelity CD rip.
6. Columbia/Legacy CD rip.
As you go from bottom to top in the above list, the sound stage gets wider, deeper and overall clarity and detail increases. The 45rpm vinyl and 192k download are equal in sound stage proportions and image placement.
The 192k download version is a new remaster from the original 3-track session tapes and was painstakingly engineered to recreate the original sound of the recording studio. I was surprised that the sound quality of the 192k remaster download sounded better than both of my SACD rips. This is another example that higher resolution does not always equate to higher quality sound. The care and competence that goes into the making of the master records trumps the medium every time. A higher resolution picture of a pile of horse manure is still a picture of a pile of horse manure (not that I am comparing the other digital versions to horse manure).
MoFi's 45rpm version would be perfect if it had the air and high frequency detail of the 192k download. The 192k download would be perfect if it had the holography, image weight, bass weight, bass articulation, bass detail, and tactile sensation of the 45rpm LP. I have gained a greater appreciation of high resolution digital files since upgrading my DAC to the dCS Debussy.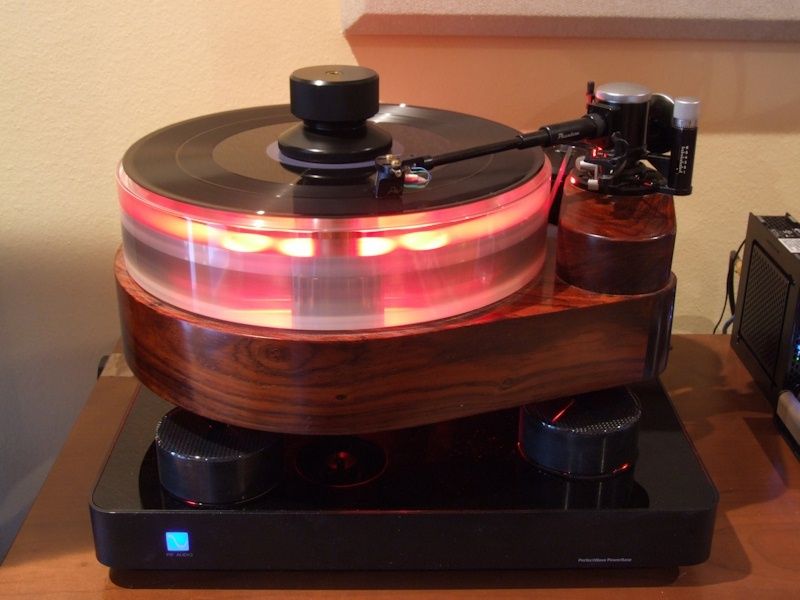 Figure 5.

Such Good Sound!

In the future, when I am more dedicated to audio than I am now, I will find a way to quit my turntable without sacrificing lifelike sonic bliss.Associated Equipment

Teres Audio Model 255 turntable

Graham Phantom II tonearm

Ortofon MC Windfeld phono cartridge

Sonic Purity Concepts and Design "The Clamp" record clamp

Bryston BDP-2 digital player

dCS Debussy DAC

dCS Puccini U-Clock word clock

PS Audio PowerBase isolation platforms for turntable, BDP-2, Debussy DAC and Puccini U-Clock

Black Diamond Racing isolation Pits and Mk IV Cones

Pass Labs XP-30 line level preamplifier

Pass Labs XP-25 phono preamplifier

Pass Labs X600.5 monoblock power amplifiers

Revelation Audio Labs Prophecy Cryo-Silver Split Configuration USB cable

Revelation Audio Labs Prophecy Cryo-Silver S/PDIF RCA-RCA coaxial cable

Revelation Audio Labs Prophecy Cryo-Silver S/PDIF BNC-BNC coaxial cable

Revelation Audio Labs Passage Cryo-Silver DB-25 power umbilicals for XP30 and XP-25 preamps

AudioQuest Sky XLR interconnects

AudioQuest Everest speaker cables

AudioQuest LeoPard tonearm cable

PS Audio PerfectWave AC-12 power cords

PS Audio PerfectWave P-10 AC Regenerator

Polk Audio SDA SRS 1.2TL loudspeakers (heavily modified)

Salamander Synergy Triple 30 audio credenza

Referenceshttp://forum.polkaudio.com/discussion/69845/a-comparison-of-the-sacd-cd-and-lp-versions-of-six-titleshttp://forum.polkaudio.com/discussion/68614/episode-2-analog-strikes-back-ortofon-mc-windfeld-cartridgehttp://forum.polkaudio.com/discussion/64768/graham-phantom-b-44-tonearm-like-a-2-2-on-steroidshttp://forum.polkaudio.com/discussion/78275/the-hard-goodbye-pt-3-reference-ii-motor-upgrade-for-teres-255-turntable
"So hot it
burns
Mice
!"~DK
---
"Polk SDA-SRSs are hopelessly out of date both sonically and technologically... I see no value whatsoever in older SDA speakers."~Audio Asylum Member
---
"Knowledge, without understanding, is a path to failure."~DK
---
"Those who irrationally rail against something or someone that is no threat to them, actually desire (or desire to be like) the thing or person they are railing against."~DK
Comments