SDA SRS 1.2TLs - The restoration begins
With the help of
@nooshinjohn
posting a nondescript e-bay listing on this forum for a pair of
Polk Audio Crossover Speakers
, I was able to acquire my first pair of SDA SRS 1.2TLs.
https://www.ebay.com/itm/Polk-Audio-Crossover-Speakers/322818292288?ssPageName=STRK:MEBIDX:IT&_trksid=p2055119.m1438.l2649
I have always wanted to get a pair of 1.2TLs, to hear what improvements had been made between the SDA SRSs that I already own and the 5th and last generation of Matthew Polk's tour de force, the 1.2TL. And here was an opportunity to acquire a pair relatively close to home. And in Walnut to boot (my preferred wood).
It was a nice sunny southern California Sunday (70F) and it was a great day for a drive. So I loaded up the Prius with moving pads, a collapsible hand truck, some tie downs (just in case) and headed out to the desert.
The seller was located out in Canyon Lake, near Temecula CA (very dry and arid), about an hours drive from my house.
As I pulled up the seller greets me with a wave, and we go inside to check out the speakers.
They were tucked away in the back bedroom, not having been used in some 20 years (and they apparently had been loaned to various people over the years, which is never a good thing to hear!). From across the room, they appeared to be decent shape. The seller said they were in "perfect" condition when we had talked on the phone earlier in the week.
As I got up close however, I noticed what appeared to be some swelling at the bottom of the grille on the left speaker.
I suspected that water had possibly been spilled on the speaker, or worse yet a dog had mistaken it for a fire hydrant and relieved himself on the speaker! I got my nose up against it and no urine or any musty odor of any kind.
I rocked the left speaker back and put my hand under to the feel the bottom plank and it felt smooth and solid. No major concerns, as if the grille was swollen from water, I could always sand it down to the correct thickness when I replaced the grill cloth.
I then inspected the right speaker. There wasn't any swelling of the grille, so I didn't rock it back to check the bottom plank (mistake! - lesson learned, trust your gut and run your hands over all 6 sides of the speakers!).
The seller had said that he had the IC when I talked with him on the phone. However when I got there he could not find the IC, and was willing to lower his asking price $100 for the lack of the cable. I mentioned the potential water damage, and he dropped another $100. We shook hands and we were both happy.
As we hauled the SDA SRS 1.2TLs out of the back bedroom on my hand truck, I noticed that there was water damage on the bottom plank of the right speaker. I suspect that the grilles had gotten switched between the 2 speakers at some point in time and that's why the left hand grill was swollen at the bottom.
Into the Prius they went, and I got a better look at the bottom plank on the right speaker. The wood veneer was severely delaminated, but above that, the speaker MDF structure didn't appear to be affected.
So I knew some restoration work was in my future, but hopefully just cosmetic. The seller said if I had any issues with them, he would give me my money back and would even come pick them up. I respected that.
When I arrived home about an hour later my son helped me unload the SDA SRS 1.2TLs, and I spent the next couple of hours giving them a good scrub down.
Every pair of the large SDAs that I have purchased (3 pair now) has had white house paint splatter on the back! Always a PITA to remove without damaging the vinyl. I guess these speakers are too big for most people to move out of the room when they paint!
After cleaning, and removing all the white paint splatter, I put some vinyl/rubber protectant on the fronts and backs, and they look brand new again.
Today I decided to remove the bottom plank from the right speaker to see the extent of the water damage.
PR removed to inspect for evidence of water ingress, none observed.
4 retaining nuts and washers removed and bottom plank liberated from the box structure with ease.
It does not appear that the cabinet structure was compromised due to the water exposure. There is a very slight swelling of the from baffle at its lower edge. I do not think I am going to address this as its a very subtle.
Since I had the PR out, I gave the rest of the interior a quick inspection. I was surprised to see that Polk used a piece of the walnut trim as a front baffle brace! Does anyone else noticed this?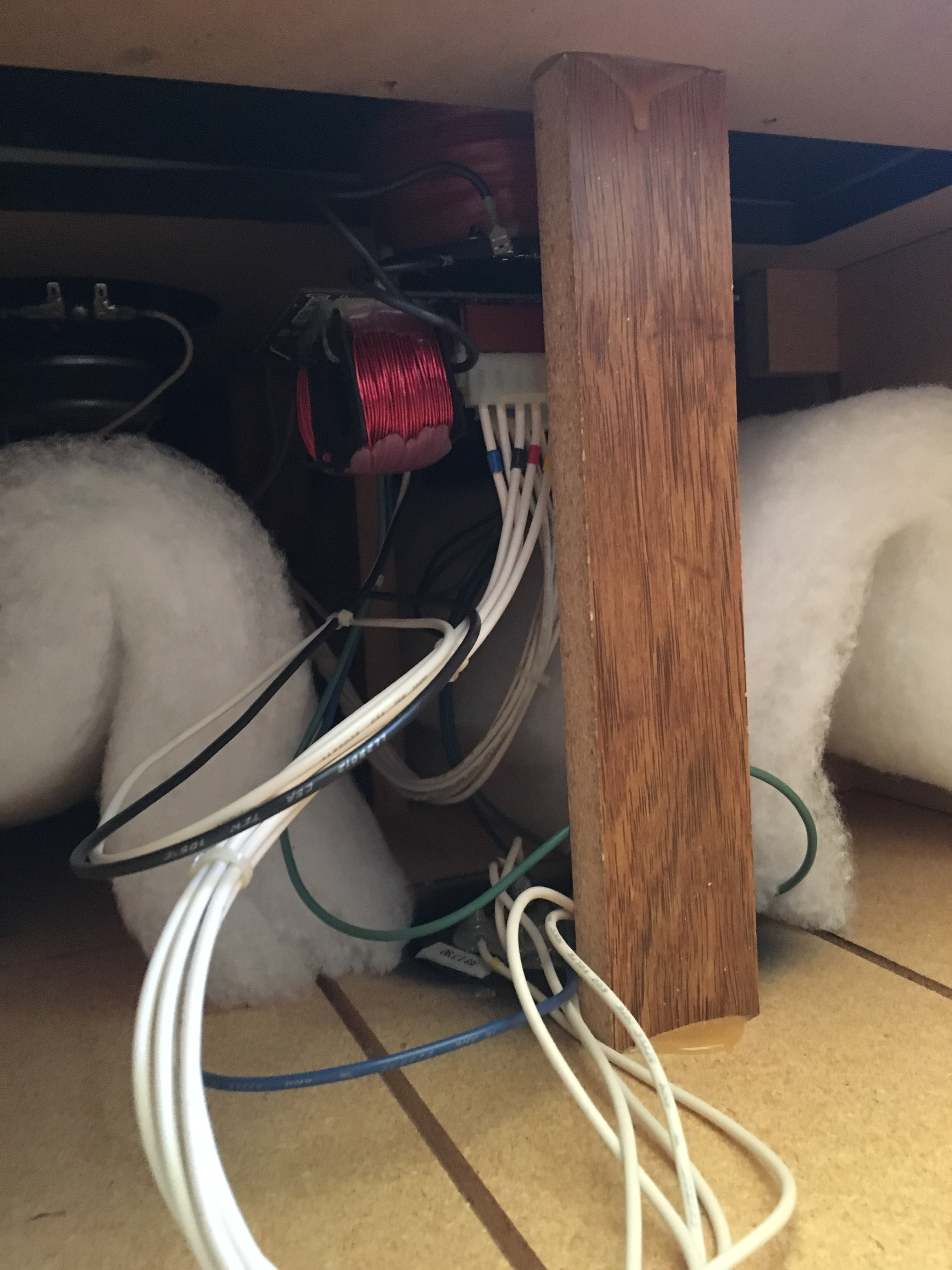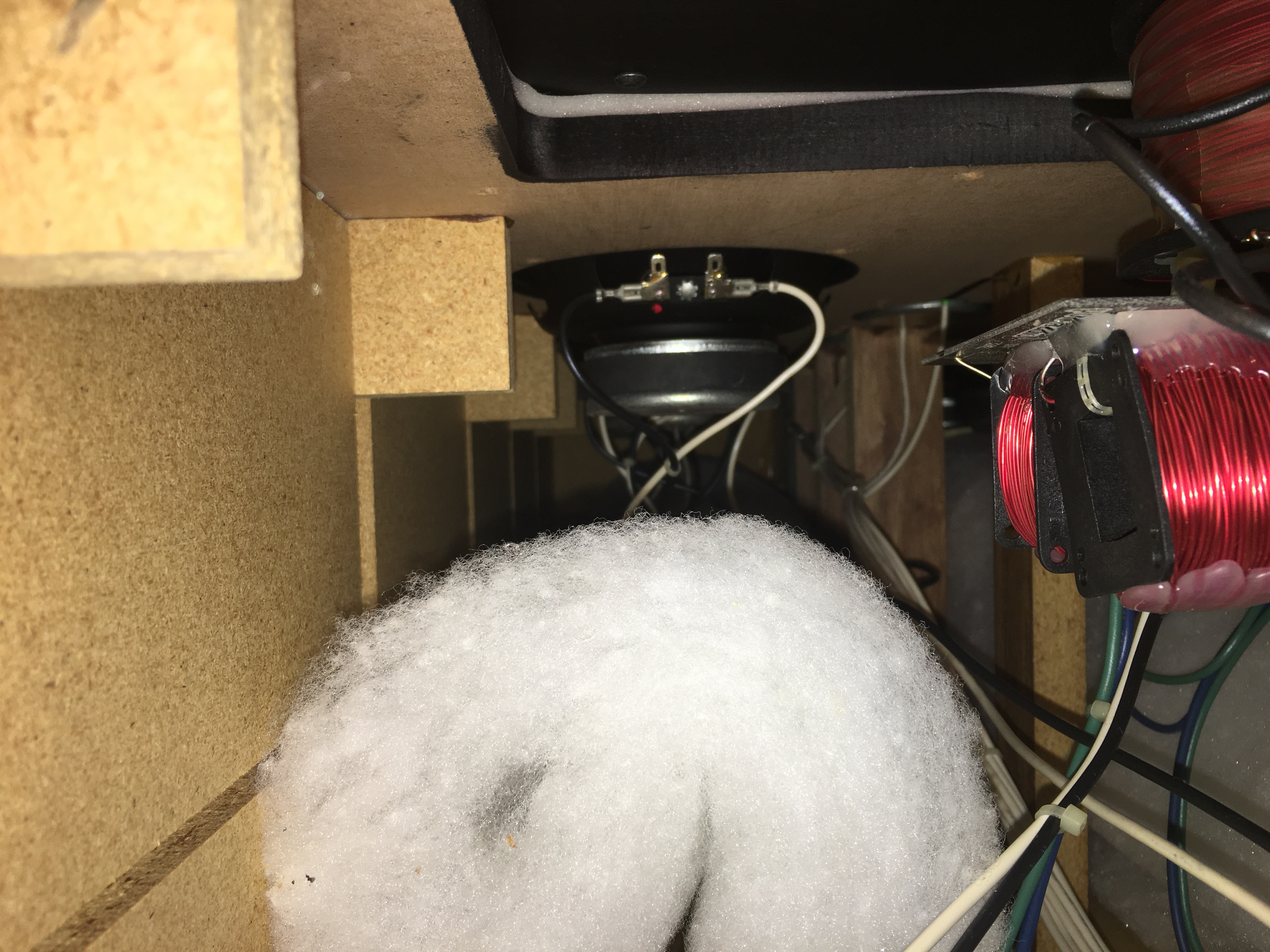 All I can think of is how did this water damage occur? They must have been sitting on a soaking wet carpet for a very long time.
So far nothing I cant address. I'm going to removed the bottom plank from the left speaker now to see if it has any hidden water damage as well.
HT
Adcom GFP-565 Pre-amp, Adcom GFA-565 Mono Block Amps (Front), Adcom GFA-585 Amp (Side), Adcom GFA-555 Amp (Rear), Adcom ACE-515, Pioneer CLD-3070 Laserdisc, Sony CDP-605esD, Sony BluRay BDP BX59, Samsung 50" Plasma, Polk Audio SDA SRS 1.2TL Front (Walnut), Polk Audio SDA SRS Side (Walnut), Polk Audio SDA SRS Rear (Walnut).
2 Channel (Living Room)
Adcom GFP-565 Pre-amp (w/Big Sky Audio Upgrades), Adcom GFA-565 Mono Block Amps (w/Big Sky Audio Upgrades), Adcom ACE-515, Sony CDP-705esD, Magnum Dynalab FT-101A Etude, Polk Audio SDA SRS 2.3TL (Walnut), Polk Audio SDA SRS 2 (Walnut), STAX SR34 Electret Earspeaker System.
2 Channel (Office)
Adcom GFP-555 Pre-amp, Adcom GFA-555 Amp, Sony CDP-605esD, Adcom GFT-555 Tuner, Polk Audio SDA 1C (Walnut).
2 Channel (Garage)
Hafler DH-110 Pre-amp, Hafler DH-220 Amp, Sony CDP-505esD, Hafler DH-330 Tuner, Polk Audio SDA 2B (Walnut).
Comments