Bryston BDA-3 DAC Review

Introduction
I initially planned to forego the increased spatiality and realism of DSA (SACD) recordings in my office rig, but you know how it goes in the rabbit hole. My previous office system DAC, a Cary Audio DAC-100 ($2,495), does not accept DSD input and it does not have an AES input. Although it offers optical and coaxial inputs, the DAC-100 is optimized for USB input. I began looking for a DAC that would work well with my Bryston BDP-2 digital player and that offered coax, AES, and USB inputs, and that accepts DSD input. The Bryston BDA-3 ($3,495) met all those criteria.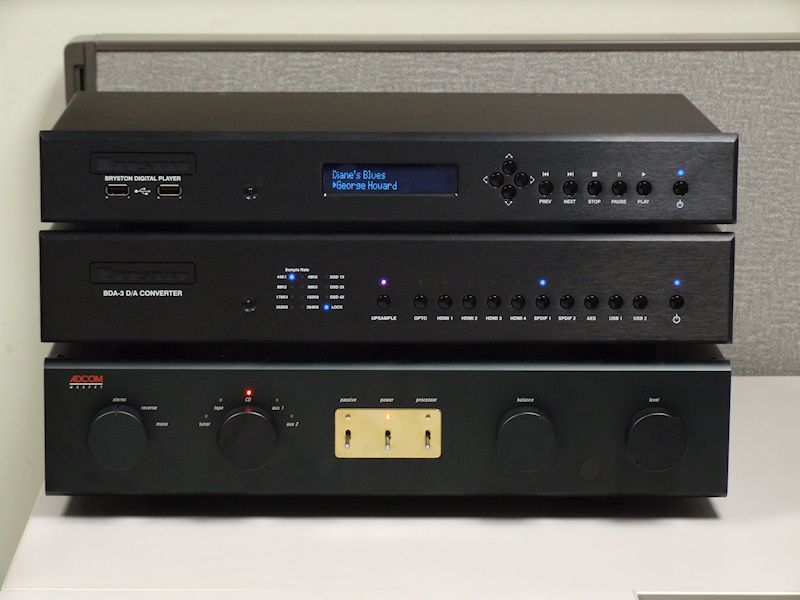 Figure 1. Top to bottom: Bryston BDP-2 digital player, Bryston BDA-3 DAC, Adcom GFP-750 preamplifier.Preliminaries
My stereo listening evaluation methodology is based on mapping the locations of sound images laterally and aerially, making notes of the character of the individual sounds in the sound stage and making notes of the tactile sensations produced.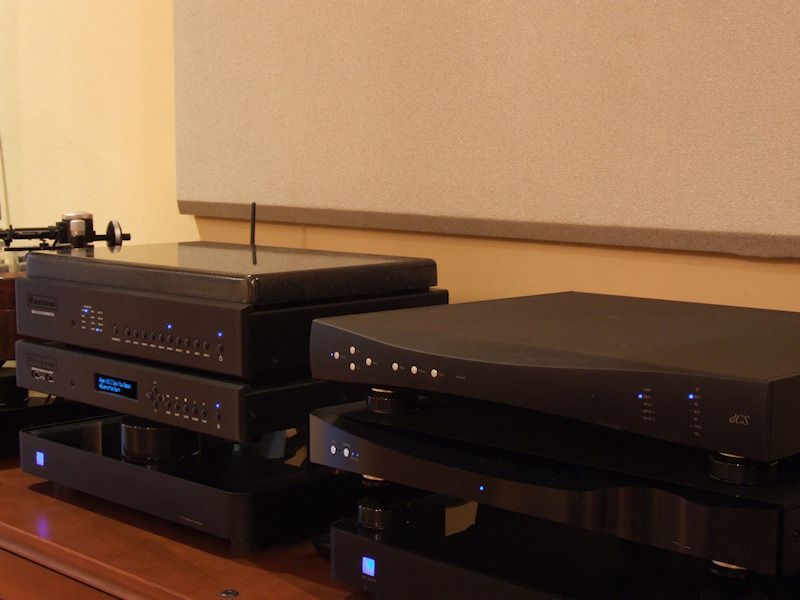 Figure 2. The BDA-3 goes up against the dCS Debussy DAC ($11,500), which is over three times the BDA-3's price.
The BDA-3 sounded great out of the box, and even better after 24 hours of continuous play. The BDA-3 was connected to my Pass Labs XP-30 preamp via AudioQuest Sky (Gen. 2) XLR interconnects. It was connected to the PS Audio P10 AC regenerator with a PS Audio AC 12 power cord. The Debussy DAC also used AudioQuest Sky (Gen. 2) XLR interconnects and a PS Audio AC 12 power cord.
The BDP-2 digital player has one each of coaxial, AES, and USB outputs. The BDP-2's USB output cannot be used because it is connected via USB connection to a dCS Puccini word clock, which will not allow another USB output connection. Therefore, turns were taken comparing the BDA-3 via coaxial connection vs. the Debussy via AES connection and then the BDA-3 via AES connection vs. the Debussy via coaxial connection. Digital interconnect cables were the latest version Prophecy Cryo-Silver coaxial and AES cables from Revelation Audio Labs.
Listening tests were done by switching between the preamp's Debussy and BDA-3 inputs and then by carefully mapping the location of sound images in the sound stages generated by each DAC. The character of each sound image along with tactile sensations, was also noted. The BDA-3's sound stage was the same width and height as the Debussy's, but half as deep (dropping from 10' to 5').
The BDA-3 did not generate the high level of
palpable
three dimensional holography, tactile sensation, overall clarity and detail, and ambient sounds as the Debussy.
But I digress, the BDA-3 was not designed to compete with five figure DACs and was not designed to "fit in" with six figure stereo systems. After a brief visit to the "tweak shop", and two more listening sessions, the BDA-3 was taken to its new home in my office rig.
Tweaks
Some of my digital gear have benefitted from audio grade power line fuses and Dynamat Xtreme vibration damping applied to the case.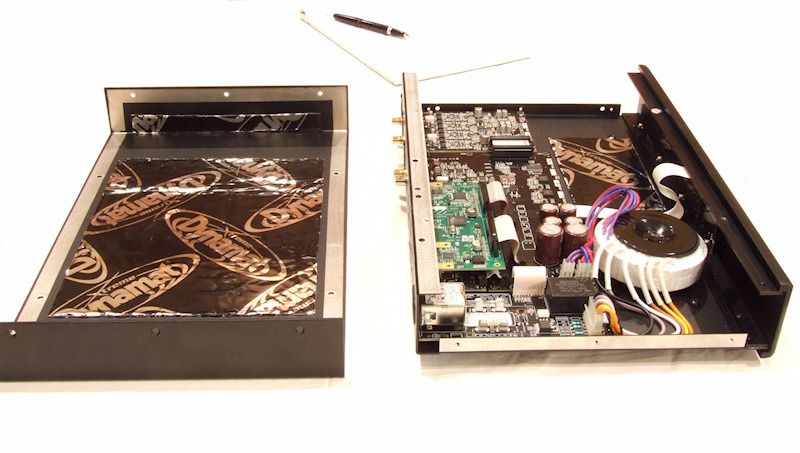 Figure 3. Unlike many "chip" DACs, the BDA-3's chassis is 90% full of "stuff".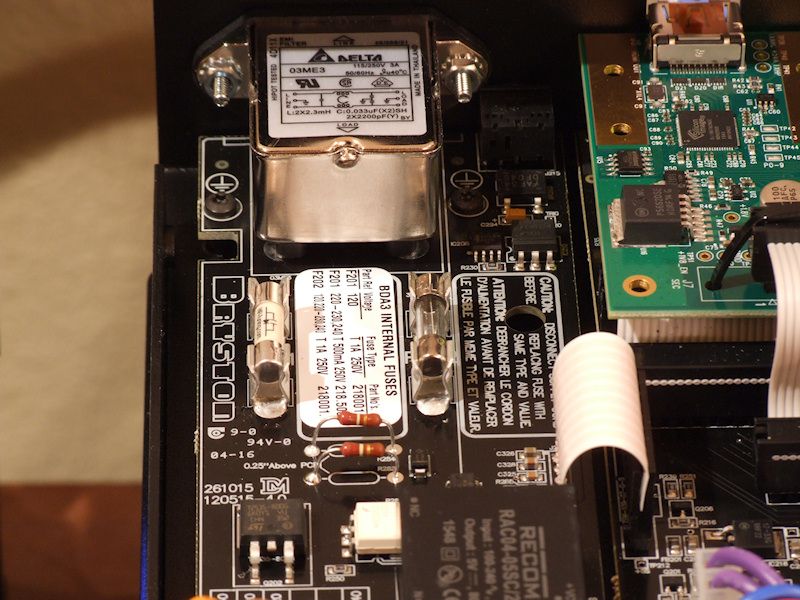 Figure 4. The power line fuse, at left, was replaced with an audio grade Hifi Tuning Silver Star fuse. Current enters the fuse receptacle at the clips nearest the rear panel, therefore the fuse arrow was oriented pointing to the front of the unit.
I did not perceive a sonic improvement after the application of Dynamat. It did stop the case from ringing after being "thumped". There was a small improvement in clarity and detail after the fuse upgrade.
Worklife Rewards
Critical listening was done after 144 hours of continuous playback. The BDA-2 offers the option of upsampling 44.1 kHz and 88.2 kHz files to 176.4 kHz and upsampling 48 kHz and 96 kHz files to 192 kHz. Upsampling works on the coaxial, optical, and AES inputs. Music files were 44.1 kHz FLAC files ripped from CD. Upsampled mode sounded better than native mode, therefore comparative listening between coaxial, AES, and USB was done with upsampling engaged.
Figure 5. No setup issues whatsoever. I plugged the BDP-2's digital outputs into the BDA-3 and the BDA-3 was instantly recognized by the BDP-2.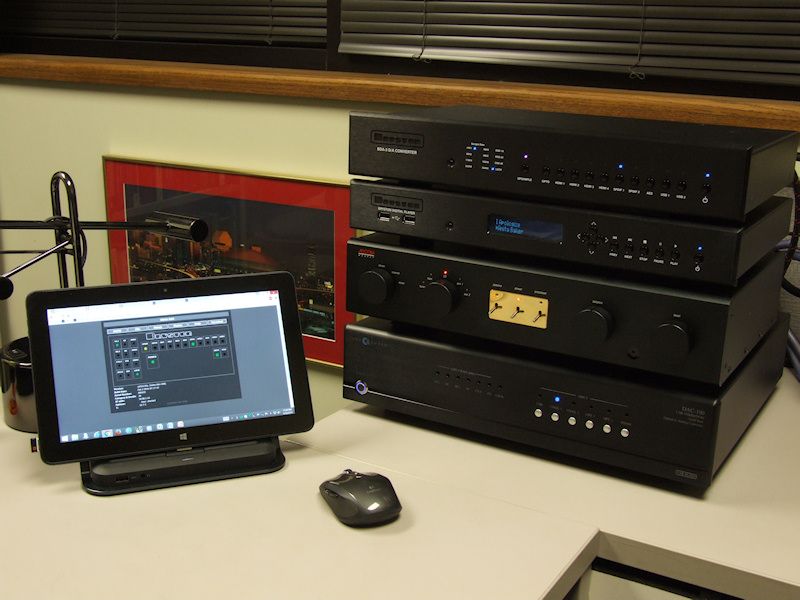 Figure 6. Top to bottom: BDA-3 DAC, BDP-2 digital player, GFP-750 preamp, DAC-100. This too, was an unfair comparison, the BDA-3 is in a class above the DAC-100.
The BDA-3 and DAC-100 were compared using the same coax/AES alternating scheme that was used in the BDA-3/Debussy comparisons. Since the GFP-750 preamp only has one set of XLR inputs, the BDA-3 and the DAC-100 were connected to the '750's Aux1 and Aux2 inputs via Signal Cable Analog 2 single-ended interconnects. Digital cables were Signal Cable coaxial and AES.
The BDA-3 generated a deeper (by 3' rearward), more detailed sound stage with more image weight and image density. Whereas image density with the DAC-100 was highest in the center and trailed off toward the sides, the BDA-3's image density was consistent across the width of the stage. Images at the far left and far right of the stage moved forward 2 feet.
Figure 7. All I was really after was to be able to play ALL of my digital file formats, but I ended up with

Such Good Sound

that I sometimes find myself working later. The music sometimes causes me to lose track of time...sort of like being in a "bubble" where time stands still.

The BDA-3 can be controlled three ways:

1. By computer via the BDA-3's web-based interface ( I use a docked Dell Venue Pro 11 7140 tablet).

2. With a Bryston BR-2 multiproduct remote control ($375).

3. With a universal remote programmed with (free) codes available from Bryston.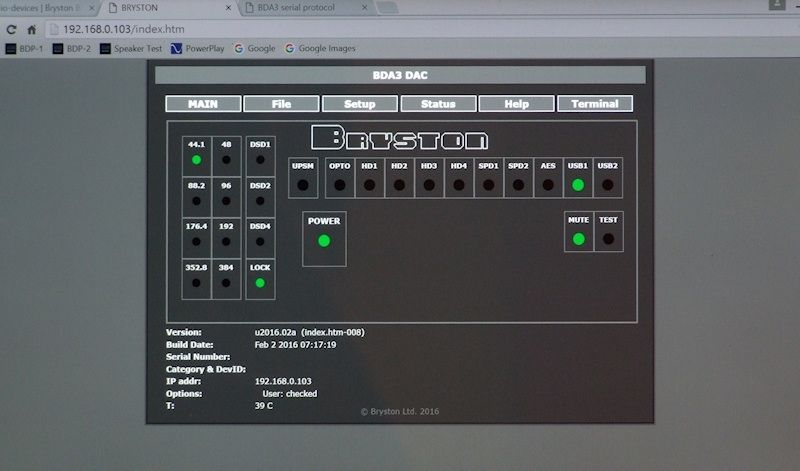 Figure 8. BDA-3 web-based control interface.Cable Trials
Once I had gained an understanding of the stereophonic performance differences between the DAC-100 and the BDA-3, in this system, in this room, I moved on to more extensive cable trials.
It is commonly thought that a digital signal is just "ones and zeros", therefore there is no way that there could be audible differences in digital cables that meet transmission specifications. Actually, there is no such thing as a "digital" signal that only varies between two discrete voltage values. If you look at a "digital" signal on an oscilloscope, you find that it ramps up to a nominal maximum high voltage level, overshoots that by a bit, then fluctuates closely around the nominal maximum level, then ramps down to a nominal minimum low voltage level, undershoots that by a bit, then fluctuates closely around the nominal minimum level, then the process repeats. In this regard, a "digital" signal is continuously varying with time
JUST LIKE ANY OTHER ANALOG SIGNAL
. Therefore, a "digital" signal is subject to SOME of the same noise effects as any other
ANALOG
signal.
Again, music files were 44.1 kHz FLAC ripped from CD. AES and coaxial listening was done with upsampling (to 176.4 kHz) engaged.
"So hot it
burns
Mice
!"~DK
---
"Polk SDA-SRSs are hopelessly out of date both sonically and technologically... I see no value whatsoever in older SDA speakers."~Audio Asylum Member
---
"Knowledge, without understanding, is a path to failure."~DK
---
"Those who irrationally rail against something or someone that is no threat to them, actually desire (or desire to be like) the thing or person they are railing against."~DK
Comments