Bryston BDP-2 Digital Player - Review

Introduction
Bryston says that, for most people, there will not be an audible difference between the BDP-2 and the BDP-1. The BDP-2 has a different processor and motherboard with 8 times the memory and 3 times the file handling speed of the BDP-1. The BDP-2 also has a significantly improved power supply. Both players use the same
[email protected]
sound card.
Even if the BDP-2 offered no sonic performance advantage over the BDP-1, I still wanted a BDP-2 for these features:
1. The ability to more efficiently handle large music libraries.
2. The option to mount a solid state drive internally.
3. An eSata port (which is faster than USB) for connecting external drives.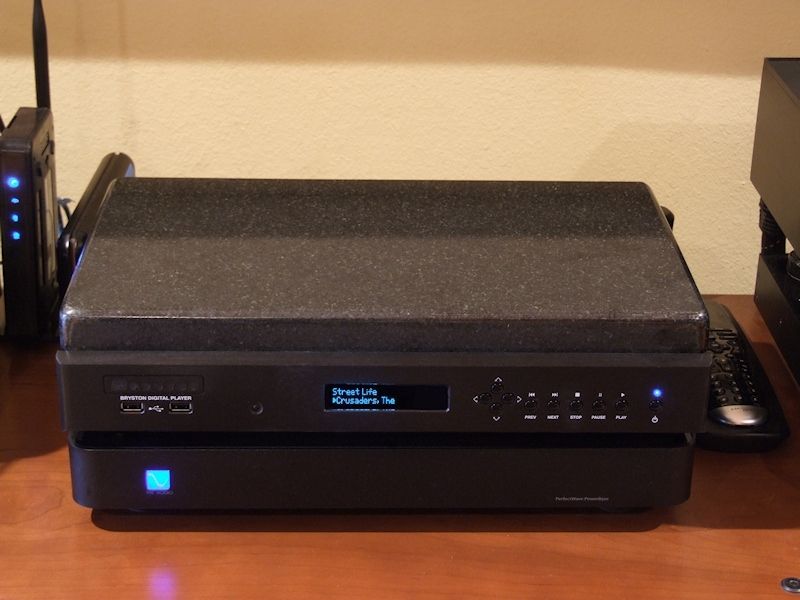 Figure 1. My BDP-2 is sandwiched between a 22 pound slab of black granite and a PS Audio PowerBase isolation platform.
In my system, the differences between the BDP-2 and BDP-1 were immediately obvious. I began taking listening notes immediately after installation, but the first formal critical listening session did not occur until after 500 hours of continuous play, with short breaks when cables were changed or external drives were connected or disconnected. I love it when a new piece of gear sounds great right out of the box and gets better with burn in.
Figure 2. The sonic difference's between the BDP-2 and BDP-1 were immediately apparent.
Figure 3. The BDP-2 impressed from the very first note.
The BDP-2 paints a sonic landscape with more depth, more holographic imaging, more clarity, more detail, more tactile sensation, and more image weight. One of the most striking things was the way ambient information was rendered. There was a more clearly defined sense of echoes and decays travelling in a specific direction and being reflected from a specific direction. The acoustic envelope of drum sounds that originated at the rear of the sound stage maintained sharp definition as they traveled toward me and naturally died off.
The BDP-1 has been installed in my home theater system. I am strongly considering acquiring another BDP-2 (and a DAC) for my system at work. This would enable me to have my entire music collection at work.
The digital cables used were Signal Cable BNC-RCA digital coax and Signal Cable AES/EBU (XLR), Hosa AES/EBU (XLR), Hosa BNC-RCA digital coax, Acoustic Research digital coax, and Revelation Audio Labs Prophecy CryoSilver digital RCA-RCA coax. With the RAL cable, I had to use a BNC-RCA female adapter (Radio Shack part number 278-303). The RAL cable was significantly better sounding than the other digital cables. I did not hear differences among the other digital cables.
Like the BDP-1, there is a difference in the sound quality among the BDP-2's AES and coax outputs, with coax sounding best, then AES. I could not compare the sound of the BDP-1's and BDP-2's USB outputs because I do not currently have a DAC with a USB input. During the BDP-1's evaluation in October-November of 2014, the BDP-1's USB output was the third best.
My DAC is the DAC section of a Cary Audio CD 306 Pro Version SACD player. Listening comparisons were done with the BDP-2 put at a disadvantage: The BDP-1 was connected to the Cary through its best sounding coax input and the BDP-2 was connected to the Cary through its second best AES/EBU output. The BDP-2's AES output sounded better than the BDP-1's coax output. In other words, the BDP-2's second best output sounded better than the BDP-1's best output.
Look Inside
Figure 4. BDP-2 on left. No wonder it sounds better. It has more stuff inside.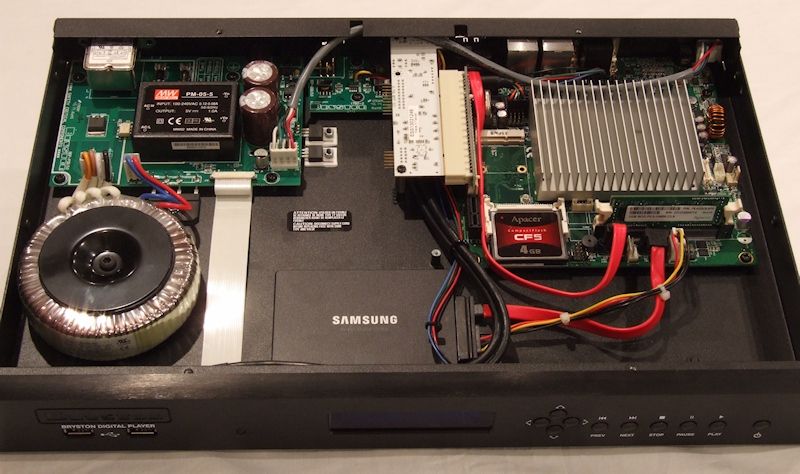 Figure 5. The BDP-2 offers the option of mounting a solid state drive inside the player
My favorite music files (141 GB) are stored on a 500 GB Samsung 850 EVO solid state drive mounted internally in the BDP-2. I did not hear a difference or notice a file access time difference between mounting the drive inside the BDP-2 or attaching it to one of the USB ports with a cable.
Quality of Life Improvements Via Computer Audio
The enjoyment of high quality music playback is a huge part of my leisure activities. A computer audio setup consisting of the BDP-2 digital player, CD 306 Pro Version DAC/SACD player, and Venue Pro 11 talblet has significantly enhanced my music enjoyment experience from an interface convienience aspect and from a sound quality aspect:
1. I have the ability to store my entire digital music collection in a very small (and portable) space.
2. I am able to manage and access that my digital music collection from any computer or smart phone in my home.
3. Ripped CDs sound better than their disc-bound counterparts,
My entire CD and SACD library comprises 645 GB and fits on a 1 TB Samsung EVO solid state drive which is contained in a Vantec NexStar CX aluminum enclosure measuring 1.5" x 4.75" x 8.5". The enclosure is connected to the BDP-2 via an eSATA cable.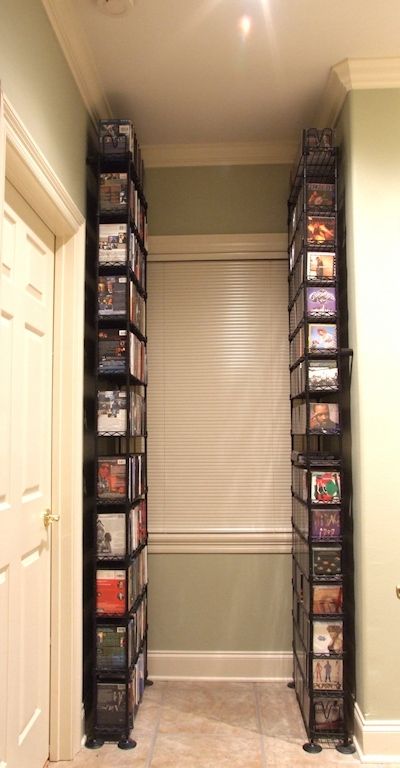 Figure 6. Most of my CDs and SACDs were stored in the 8 foot tall rack at the right (DVDs and Blu-rays are in the left rack). The vacated CD/SACD rack was reallocated to DVDs and Blu-rays.
I was about to run out of space in the video disc rack. I only had space for ten more titles. My video collection will eventually be transferred to a video server, but I am not in a rush to do it since movie watching is an occasional activity.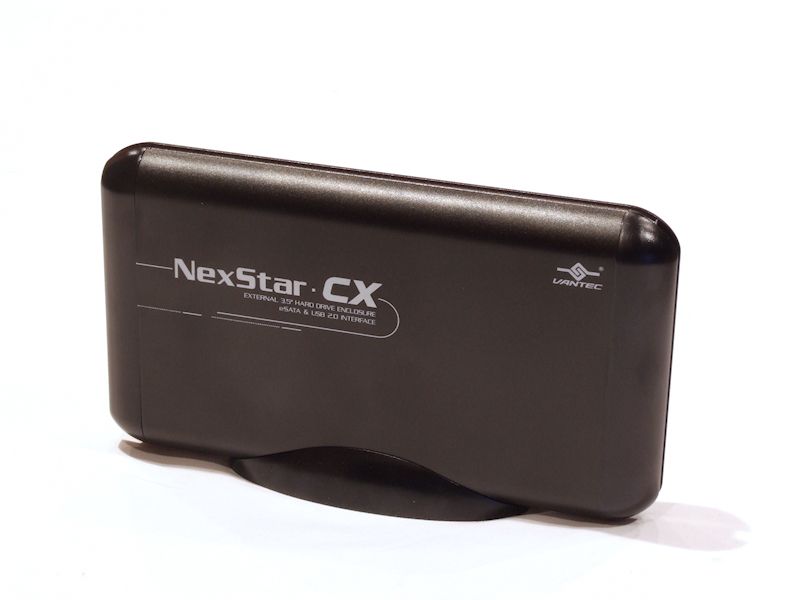 Figure 7. Vantec NexStar CX enclosure for Samsung solid state drive. My entire digital music collection, comprising over 1000 discs, only took up 645 GB of a 1 TB solid state drive that can fit in my pocket.
It took 3 minutes-15 seconds for the BDP-2 to scan and catalog the 12,933 files on the 1 TB external solid state drive.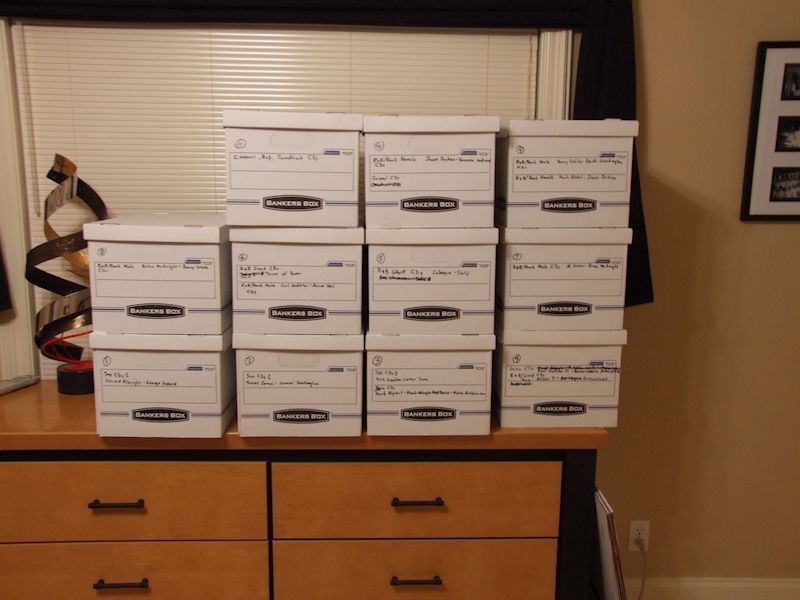 Figure 8. Most of my CD's are in storage in the attic.
Figure 9. The BDP-2 is controlled by a Dell Venue Pro 11 tablet computer.
All of my playlists from the BDP-1 were copied to the BDP-2's user/playlists folder. I had to change the extension of the playlist files from "m3u" to "txt" so that I could do a batch edit of the name of the solid state drive in the song file paths. The extension was changed back to "m3u" after editing.
Proud and loyal citizen of the Digital Domain and Solid State Country!
Comments