External LSiM703 crossover modification
blehmbo
Posts: 180
I've learned so much from this forum and this is an attempt to contribute a little back, a few photos follow the lengthy write up.
I started planning this project over a year ago and I barely finished about a week ago (life happened). I've done internal crossover mods for four other speaker models, but after seeing VR3's LSiM703 internal mod I decided it would be best to go external due to the capacitor and inductor component count. I decided to fabricate my own enclosure for cost and size flexibility. Fabricating and painting the enclosure took up nearly 90% of my build time since I haven't worked on a wood project since middle school, this was my first time working with MDF, and I initially did not have all of the tools needed to complete the project the way I wanted it.​ Tools that I acquired to complete this project: router, drill press, bar clamps, 90 degree corner clamps, LCR meter, and 4wire low ohm meter.
Neotech OCC copper in Teflon insulation was used for all wiring. 18ga wire was used inside the crossover enclosures. 16ga wire was used inside the speakers and terminated with gold plated copper fastons/quick disconnects. 4 pole speakon connectors, with litz braided 16ga wire, were used to attach the crossovers to the speakers. Vampire gold plated copper binding posts were used.
Metalized polypropylene capacitors were used all around: Sonicaps in the highs and mids (exception of a larger value Erse cap that was placed in an LCR filter). In the woofer section a Dayton capacitor was used due to size. The woofer capacitor would have been from Erse, but they removed the cap from my order (without notifying me) since they were out of stock of the desired value, and would remain out of stock for a while.
Air core inductors from Erse and Jantzen were used in all positions. Some needed to be unwound to closely match stock values. Care was taken to keep the inductors at 90 degree angles or to keep them distant, in the case of the smallest inductors. Measurements were made with an LCR meter and a low ohm meter.
Run of the mill Mills non-inductive resistors were used all around. One of the resistor leads had a faulty weld and snapped off when it was slightly bent to be in line with the body, the deviation was only 10 degrees or so. The good folks at Sonicraft replaced it free of charge! They said they've only heard of it happening one other time.
Crossover components were mounted with zip ties and silicone to a 0.25 inch lacquer coated MDF board. Standoffs were made with cut pieces of half inch oak with brass threaded inserts, threaded with glue. The enclosure was made of 0.5 inch MDF, held together with butt joints and Titebond II. External edges were shaped using a 1/8th inch router bit. Rear panels for the crossover enclosures and speakers were made of 0.25 inch oak panels, A 1/4 inch round over bit was used on the four corners of the panels, the panels were then sprayed with lacquer. Recesses for the panels in the crossover enclosures were created with a 1/2 inch router bit. The lid was secured in a similar way as the crossover board, MDF pieces were glued to the top internal corners with threaded inserts for the lid fastening screws.
The original paint/finish for the enclosures was high gloss black lacquer. The edges were filled with Titebond II and sanded smooth, surfaces coated with multiple layers of Rustoleum filler primer, with sanding in between, resulted in a smooth surface with few imperfections. Rustoleum gloss lacquer in the spray can was then applied with unfavorable results. I was unable to attain a consistent smooth glossy finish throughout using the Rustoleum lacquer. I ended up sanding down to bare wood and just moving to a hammered finish (I become impatient). The hammered finish turned out pretty well. It required very little prep, just a coat of primer and two coats of paint. Surface imperfections and joint seams disappeared, it is to be determined if they will show through when the weather changes.
All screws, nuts, washers, and threaded inserts were non-magnetic (brass and stainless steel).
Since completion they have been burning in with my new amplifier and LSiM706c (it dwarfs the LSiC it replaced, it even dwarfs my LSiM703s). I have a little over 215 hours on the modded LSiM703s now, but I still haven't done any critical listening yet, but I am definitely happy with what I have heard so far (even prior to the amplifier change). I would have to do a side by side with the stock crossovers for a true comparison.
With stock crossovers flash and no flash photos:
With the lids in place:
The rear speaker panels, sitting in the recesses for the original binding post plates, with my DIY speakon cables are in place:
My cluttered suboptimal set up, excuse the mess. The LSiM706c's cloth bag is under the speaker, for the time being, until I place proper feet: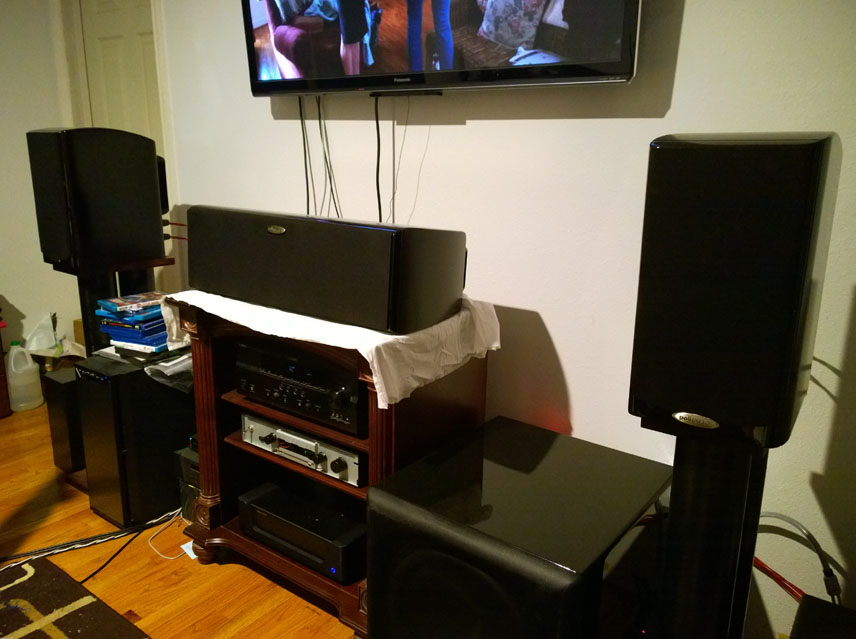 Without grills:
Next project, new speaker stands sized for the LSiM703s.