Further Vibration Abatement For The Cary Audio CD 306 Pro Version SACD Player

Introduction
Since I already had my Dynamat Xtreme and tools out (after applying Dynamat to my power amps), I thought it was a good time to stick a little of the old "
black magic
" into my Cary Audio CD 306 Professional Version SACD player in order to deal with internal vibrations caused by the transport. I had already implemented an effective regimen against external vibrations as shown in figure 1.
Cary Audio did pay due regard to vibration abatement. The chassis is a thick aluminum box with copper bar bracing and thick aluminum cone feet. A thick aluminum plate covers the transport assembly and the disc tray is a single piece of machined aluminum. All circuit boards are braced well-supported to diminish vibration. However, Cary got it all wrong with the placement of the cone feet. Rather than a foot at each corner, there should have been a foot under the transport motor, another foot under the power supply, and a third foot in the rear opposite the foot under power supply. Cary's oversight actually worked out for the best. The Black Diamond Racing carbon fiber cone/pit system is a better solution than aluminum cones and I did not have the issue of permanently attached cone housings being in the way of the optimum placement locations.
Figure 1. Cary CD 306 Pro Version SACD player resting on Black Diamond Racing Mark 4 cones and Jumbo
Pits, and a PS Audio PowerBase isolation platform with power line filtration.Installation Procedure
Dynamat was applied to the transport cover, which is a thick 7/16" slab of aluminum, with an additional 1" thick aluminum bar over the disc spindle. The transport cover was fairly resistant to ringing, only producing a dull truncated ring when tapped. After Dynamat was applied, the transport cover produced a dull "thump" sound similar to that of a thick hardcover book when tapped with a finger.
Dynamat was also applied to the sides and rear of the plastic transport housing, the plastic crossbar which houses the spindle cap, and the sides of the copper walls on either side of the transport..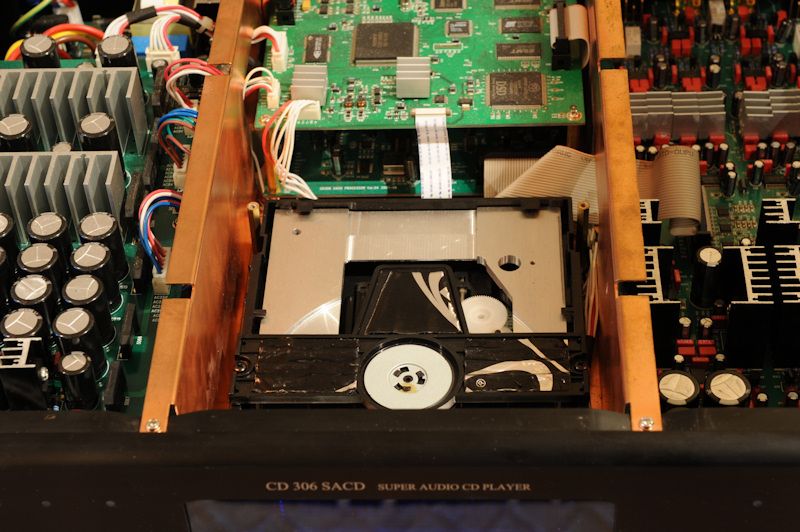 Figure 2. Tight space! The disc tray is aluminum, but the transport housing is all plastic. There was only
1/4" clearance between the sides of the transport and the copper walls. I used a tool to assist in applying
Dynamat in those narrow spaces.
Figure 3. This thingamajig, which was made from a wire clothes hanger to assist in pulling drivers from a
speaker cabinet, has proven useful in lifting off the snug-fitting covers of my X600.5 power amps and in
spreading strips of Dynamat in tight places.
Figure 4. Dynamat was applied to the opposite sides of the copper walls adjacent to the transport.
Figure 5. The transport cover draped in Dynamat.
Figure 6. Dynamated transport cover installed.
I received my first bit of sonic satisfaction before the first post-installation disc was played. The disc drawer made a solid sounding "clunk" sound when it closed. Before, it closed with a metallic "clack". I would have put Dynamat under the disc tray had there been room.
Test Procedure
Measurements of a 50 Hz square wave were taken at the right channel XLR output with an oscilloscope before and after Dynamat application. A 4 foot length Signal Cable Silver Resolution XLR interconnect was inserted into CD306's the right output. The oscilloscope's probe was attached to the signal and ground pins of the interconnect with alligator clips. I would have preferred to attach the probe directly to the player's output pins, but I would have had to move the player out of its normal position to easily access the rear panel, and I did not want to do that.
Measurements were taken prior to the listening evaluation, but the results were not reviewed and analyzed until after the listening evaluation.
Test Apparatus:
1. Tektronix TDS 2013 Digital Oscilloscope.
2. Signal Cable Silver Resolution XLR interconnect, 4 foot length.
3. Autosound 2000 Test Disc #101, Track 8, 50 Hz square wave test signal.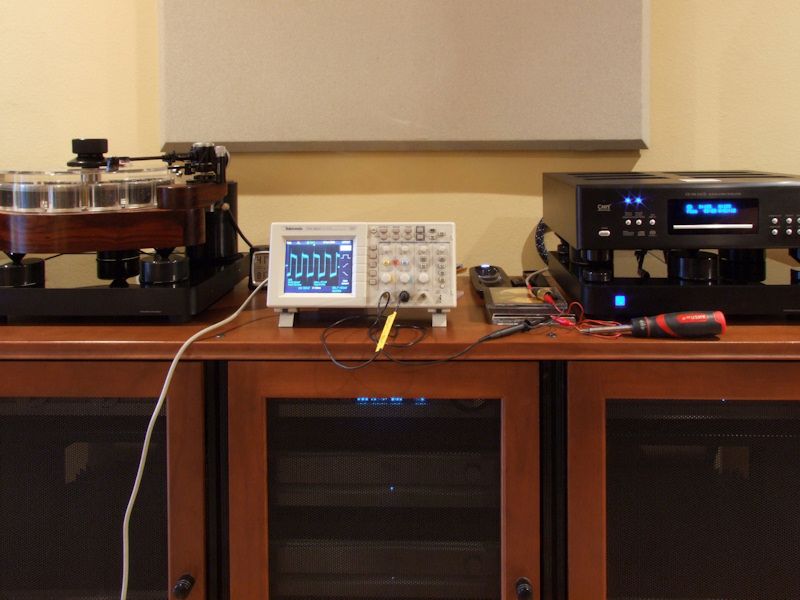 Figure 7. Test signal measurement setup.
Figures 8-15 show the pre and post Dynamat test signal measurements. The damping effect of the Dynamat resulted in an overall cleaner signal with less overshoot and 3% faster response time.
Figure 8. Square wave pulse train pre-Dynamat.
Figure 9. Square wave pulse train post-Dynamat.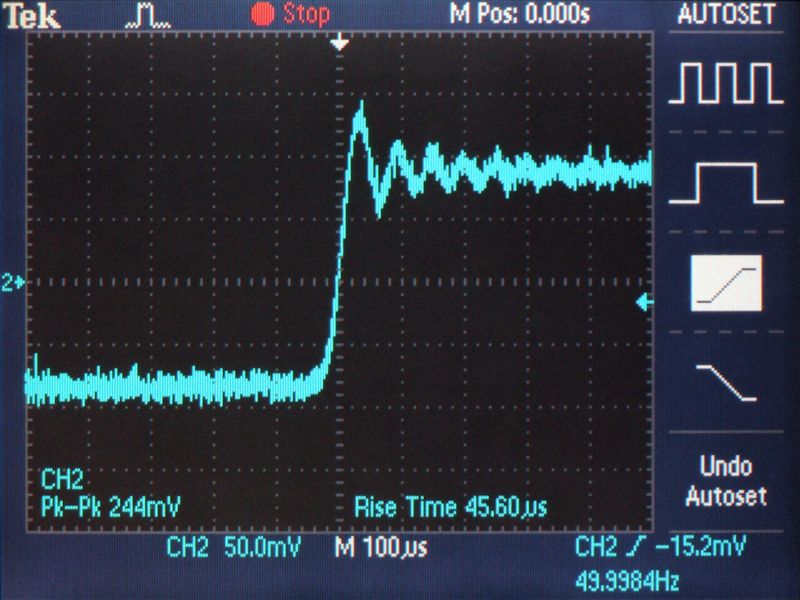 Figure 10. Square wave pulse rising edge pre-Dynamat.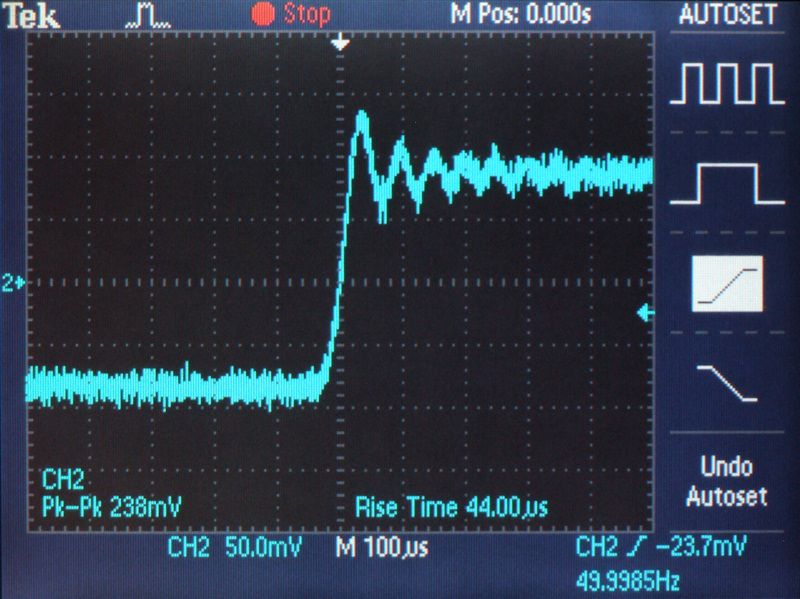 Figure 11. Square wave pulse rising edge post-Dynamat.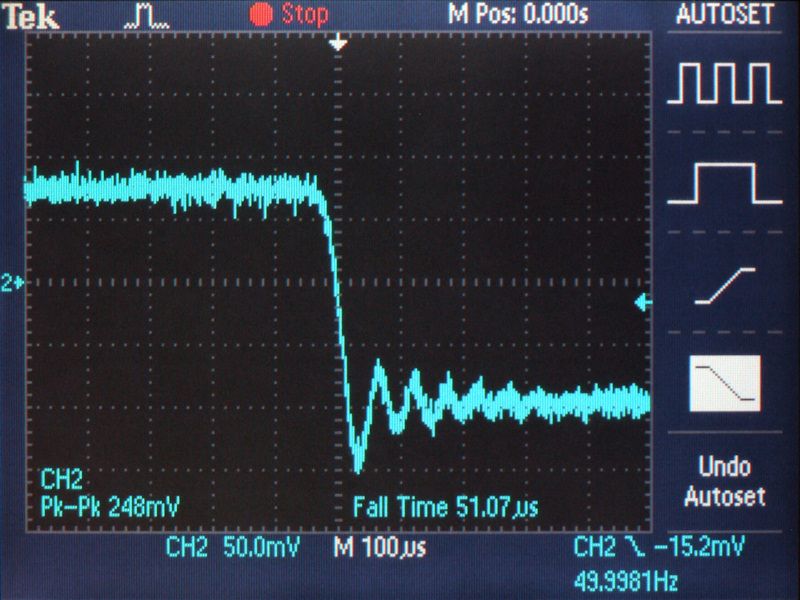 Figure 12. Square wave pulse falling edge pre-Dynamat.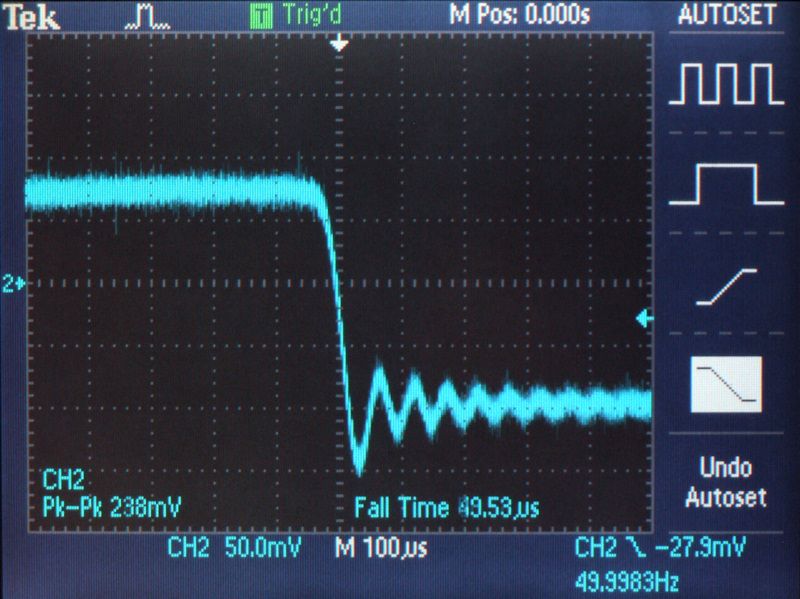 Figure 13. Square wave pulse falling edge post-Dynamat.Listening Evaluation
Listening evaluations were done with familiar, high quality recordings. Aerial and lateral spatial maps were made of stereophonic sound images and the descriptive attributes of those sound images were documented. Those notes and maps were compared to notes and maps of the same recordings taken during previous listening sessions.
Even without comparing notes, the increase in midrange and high frequency detail was immediately apparent. I could hear more of a singer's articulations and some percussion sounds that I thought were new, turned out to be louder and more clearly defined when compared to past notes. There was a small increase in depth on some recordings, as if the drum set had been moved 1 or 2 feet back. On Dave Brubeck's "Take Five", his piano seemed to be turned toward me about 30 degrees more than previous.
There was more tactile sensation and image weight, but I was very disappointed that bass detail, bass speed and bass articulation was noticeably diminished. I did not know if this was something permanent or if it was a matter of the player needing to "re-settle" or "re-break in". The late D. J. Kasser informed me that components usually need to re-settle or break in all over again once their mechanical vibration environment is changed. I was prepared to wait a couple of days to see if the bass improved, otherwise, the Dynamat was coming off. The bass aberrations went away after 5 hours of play time and bass performance was improved over the non-Dynamat performance after 10 hours of play time.
"So hot it
burns
Mice
!"~DK
---
"Polk SDA-SRSs are hopelessly out of date both sonically and technologically... I see no value whatsoever in older SDA speakers."~Audio Asylum Member
---
"Knowledge, without understanding, is a path to failure."~DK
---
"Those who irrationally rail against something or someone that is no threat to them, actually desire (or desire to be like) the thing or person they are railing against."~DK
Post edited by DarqueKnight on
Comments