Three way USB cable shootout

Clipdat
Posts: 6,478
I recently spent several months evaluating three different USB cables on my PC audio rig, and I figured I'd post up my thoughts and impressions. It was a great experience, and I learned a lot about the sound signatures of these cables!
I used my Topping D10 DAC with a variety of WAV and FLAC files in Winamp 5.666, with the Maiko WASAPI plugin for bit perfect playback. With each cable I tested, I listened to it for a few weeks, and then swapped in the next cable, and let it break in for about 20 hours before making a final observation/judgement. I went through this cycle twice to ensure that I got a lot of time listening to each cable.
First up is the
Oyaide "Neo d+ Series Class B"
USB Cable - 1M - $29.95.
Conductor: Silver plated Oxygen Free Copper / power : AWG21 / signal : AWG25
Structure: Flat (Inverted concentric structure)
Shield: Double shielding w/individually shielded pairs
Insulator: Polyolefin
Outer: Flexible PVC
Terminals: Gold plated bronze alloy
Body: PBT + Glass Fiber 30% with PVC
This cable seems to be marketed toward DJ/professional use, but Oyaide's website has a lot to say, boasting about it's HiFi performance as well. I actually used this cable the longest, as it was my first foray into aftermarket USB cables. So I had previously logged some time on this cable using previous USB DACs that I owned.
Using my insight and experienced gained from the other two cables I tested, I can now share some detailed listening impressions about the sonic signature that this cable brings to the table. Simply put, it artificially boosts and accents the upper midrange and lower highs, yet at the same time rolls off the upper highs. Additionally, it's low end is lacking - bass is very anemic.
This cable might be good for listening to classical, small acoustic ensembles, or solo vocalists, where you want as much focus on the upper midrange as possible. In a way, it allows you to "see" more into that section of the music. However, because it's so accented, I perceive the sound to lack body and have a thin characteristic to it. This characteristic, combined with the anemic bass makes me unlikely to use this cable for critical listening.
In a way, this is somewhat like the "Generic 14ga OFC" speaker cable of USB cables. It might sound fine, until you try something better.
Next up, is the
Audioquest Forest USB
- 1.5m - $39.95.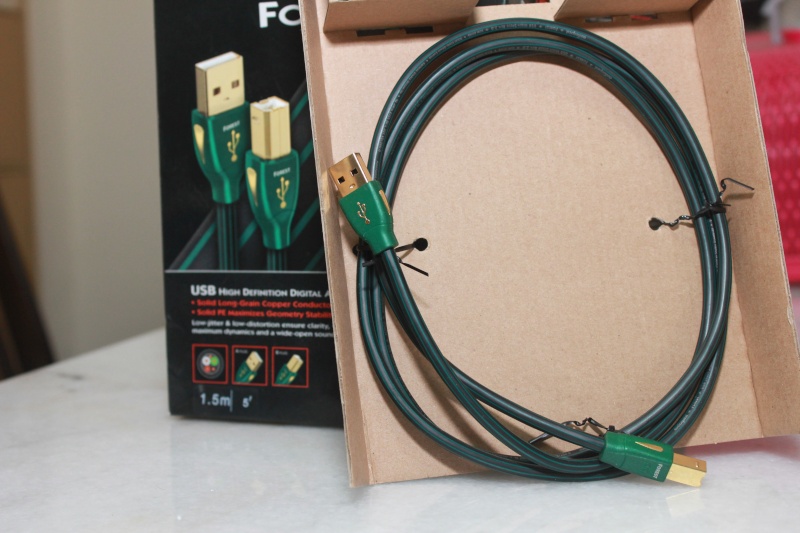 - Solid 0.5% Silver Conductors
- Solid Long-Grain Copper (LGC)
- polyethylene insulation
- triple shielded (foil/mylar/braided copper)
I'm sure everyone reading this is familiar with this popular best seller from Audioquest. It seems to have a lot going for it, with it's quality materials and entry level price! It's also garnered several positive reviews from various HiFi publications.
Just like how Audioquest's entry level "Type 2" speaker cable is an improvement versus generic stranded wire, I believe this Forest cable offers some easily heard improvements over a typical USB cable.
Top to bottom, the sound is a lot more balanced and neutral versus the Oyaide cable. I don't detect any boosted or rolled off frequencies. Musicality and smoothness are increased, with a more detailed upper frequency presentation. When I say "more detailed", I don't mean to imply that the highs are bright or in any way strident. Bass is present and accurate, with several layers of depth. Overall, the cable has a slightly warm presentation to it that works well for a variety of music.
I think this is a great "daily driver" type of cable for those looking to get something a little nicer. I would recommended it, especially considering the price.
Lastly, we have the
Audioquest Carbon USB
- 1.5m - $169.95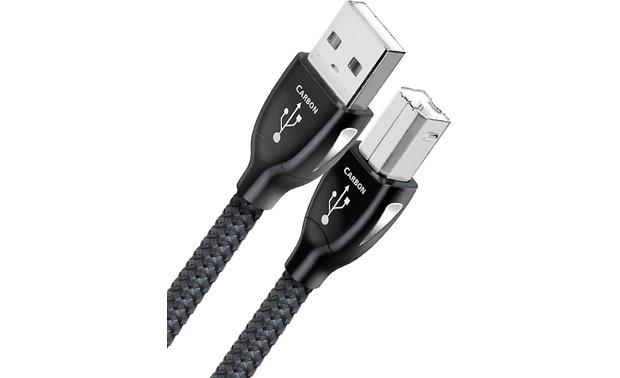 - Solid 5% Silver Conductors
- triple shielded (foil/mylar/braided copper)
- Hard-Cell Foam Insulation
- Solid Long-Grain Copper (LGC)
Again, I'm sure everyone knows about Audioquest's Carbon line of cables. It felt a little strange spending $170 for a 1.5m USB cord. Not a cheap cable by any means! Especially since my DAC only costs $90! (But, performs well above this price, in my opinion!)
The very first time I tried out the Carbon, I didn't know what to expect, and I was skeptical that it would offer any noticeable improvements over the Forest. Fortunately, my fears were quickly dismissed after logging a few hours with it! This cable definitely has a different sound signature than the Forest!
One of the first things I noticed was that high frequency information like cymbals, high hats, higher guitar notes, higher pitched singing, etc. all seemed to have an unpleasant harshness or glare to them. I tried a variety of music and I kept experiencing this unpleasant aural sensation of harshness to the treble that resulted in a physically fatiguing sensation in my ears.
I decided to break the cable in by playing music through it for 50-60 hours. After that, I'm happy to report that the harshness and glare was completely gone, and what was left is an abundance of detail. That might be the best way to describe this cable, detailed. Additionally, the soundstage shifted slightly forward and more between the two speakers. The sound was less localized to each individual speaker, and had a much more coherent presentation than the other two cables.
All of the musical information was there, top to bottom, with exquisite detail. As with the Forest, I didn't detect any boosting or enhancement of certain frequency ranges. However, since there was now so much more detail being presented, low frequency information was much more present, defined, and had more depth to it. Instead of just hearing a simple bassline, I could now hear several elements within the bassline.
For the bass heavy electronic music that I love, this was fantastic. But also for more traditional music, the advantage was immediately apparent. For example, with "Steely Dan - Peg", it was difficult to discern the great bass guitar riff when listening on the Oyaide cable. With the Carbon, the bassline was easily heard and really helped to bolster the song as it should.
Throughout my listening tests with the Carbon, I had three special moments where I just took a moment and thought to myself "I
love
the way this sounds!". It was a subconscious emotional reaction that I had to the music, and the way it was being presented. I did not experience this emotional sensation when listening to the Oyaide or the Forest cable.
In conclusion, I believe the additional detail, top to bottom coherent presentation, and overall musicality of the Carbon USB cable help to achieve a more emotionally involving connection to the music. Highly recommended trying this cable out for yourself, albeit after a thorough break-in! Fantastic performance!
"Electronic music is human sound adapting to indulge technology, and for some, it feels like the signature sound of energy. New and abstract sounds over hypnotic rhythms can conjure vast soundscapes for escape, pleasure, and transcendence."