Mass Loading "Ultimate Foundations" Stands
Hermitism
Posts: 2,583
And so it begins...
New in box/old stock UF30 stands ✔
50 pounds play sand ✔
50 pounds lead shot ✔
Cardboard/plastic for floor ✔
Used toilet paper rolls ✔
Radiator funnel ✔
Various sized plastic cups ✔
Small Bucket ✔
Painter's tape ✔
Vibrating device ✔
Scrap wood ✔
Rubber gloves ✔
(It took me longer to figure out how to make a check mark than it did to type this)
Part 1:
If you want to know how to fill speaker stands, msg made a great thread on the subject with pictures and video. I can't beat that, but I'm a lot cooler than he is, so if you want to know how the "cool crowd" fills their stands, I'm your guy!
First, I'm reminded of a test question I had in elementary school. Which weighs more, fifty pounds of sand, fifty pounds of lead, or fifty pounds of feathers? Think about it.
The size of a 50 pound bag of sand compared to the size of two 25 pound bags of lead speaks for itself. Those are flat bags of shot and a heaping bag of sand that the camera angle doesn't pick up!
note: First thing I did before bringing the sand into the house was to put the sand bag into a garbage bag to prevent any sand from getting on the floor when bringing it inside. Bag after bag at Home Depot had small punctures and leaking sand. Also there is a small flap at the top of the bag that can hold loose sand from other leaking bags.
The installation instructions have no written words, it uses pictures only. So I got out my trusted Egyptian hieroglyphs decoder book and found that the picture above, for example, means "install bolt, don't tighten".
Both ends of the columns are vented for filling. The manufacturer's website specifically says "Pillars can be filled with shot for added mass".
I expected one end to be closed and the other to be completely open with a welded bar in the center separating the cylinder containing the bolt receiver. Not so much. It looks like the sheet metal inside the vent holes is meant to collapse over the holes when on the bottom of the stands when filled, sealing off the vents preventing leakage.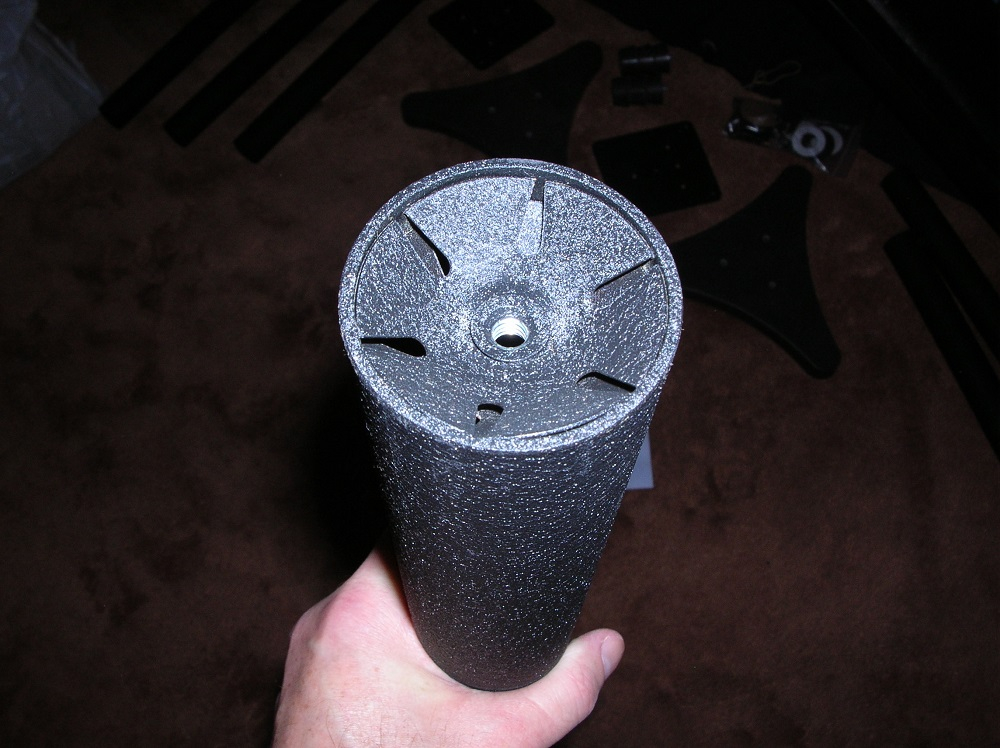 Fast forward...I got the stands put together. Used blue Loctite on the bottom bolts attaching pillars to base. (Thanks Scott)
The shot arrived shortly ago. A day late. I'm going to wait until tomorrow night to fill the stands, allowing the shot to warm up. Putting ice cold lead in a 72 degree steel tube and sealing it up might (probably not) cause condensation. Since I'm going to all this trouble, waiting one more day isn't a big deal. Plus I've got some other things I need to do tonight. That's why I'm doing this indoors, instead of outside, the temperature change possibly creating moisture for the sand to absorb. But I've got all the stuff I need now from the garage and grabbed a
vibrator
massager from the dungeon. A vibrating finishing sander without the sandpaper would also work to vibrate and pack down the fill and work the fine sand into the open spaces between the round shot. I plan on premixing the sand/shot in the bucket and then vibrating the columns. Also, I recommend getting some scrap wood and placing the stands on the wood before filling. These carpet spikes are like daggers and once weighted, they'll poke holes through your carpet. Anyone with short pile carpet may see the holes left by the stands.
By the way, I welcome constructive criticism. When finished, if anyone would have done it differently, please feel free to comment. You guys are never shy about pointing out someone's wrongdoings.
When doing research on stands, I found this little gem:
http://forum.polkaudio.com/discussion/146630/lsim-703s-and-sanus-ultimates/p1
I got some good chuckles out of that one!
2.0/3.0 - Marantz: PM8005 w/HT Bypass, NA8005 | Polk: LSiM703, LSiM706c | PS Audio: Duet, Power Port Classic, PerfectWave AC5 x3 PC | Wireworld Equinox 7 IC | AudioPrism Quietline MkIII x7 | Sanus UF30 | Acoustic Panels, GIK Soffit Traps

6.1 - Pioneer Elite SC-05 | Pio BDP-51FD | Polk: RTi8, CSi5, F/Xi3, CSi3 | HSU Research VTF-2 MK4 | PS Audio: Quintet, Power Port Classic | DCF124BW x3 SC | Pangea: AC-9SE x2, 14SE, 14 PC | AQ Chocolate x2 HDMI | M850SW | Acoustic Panels, GIK Soffit Traps