The Hard Goodbye Pt. 5 - PS Audio PowerBase

DarqueKnight
Posts: 6,431
Introduction
This report discusses the evaluation of isolation devices, PS Audio PowerBases, in my two channel audio system. My first evaluations of isolation devices done in 2009 are discussed
here.
The PerfectWave PowerBase consists of a 20 pound steel platform floating on Sorbothane supports which diffuse vibrational energy between 3 Hz and 30 Hz. A one-way power line noise gate is also included which filters incoming power and blocks noise from the connected component from entering the power line. The PowerBase addresses microphonics noise that is induced through the air from loudspeaker vibrations and it addresses electrical noise from the power line and from the audio component. The PowerBase offers 40 dB rejection of common and differential mode noise. Two pieces of equipment, up to a combined weight of 100 pounds, can be supported. MSRP: $995, with 30-day fully refundable in-house trial with return shipping paid by PS Audio.
First Day Evaluations
I obtained good results with the PowerBase straight out of the box on day one. With both my turntable and SACD player, I heard more musical details, more image weight, more bass growl and articulation, more overall clarity, enhanced spatiality (more sound stage width and depth and enhanced sense of space between images) and more tactile sensation. On some recordings, there was an enhanced "thunderous" quality to bass notes.
Prior to the PowerBase, both my turntable and SACD player were placed on Black Diamond Racing carbon fiber vibration abatement products. The SACD player rested on three BDR Jumbo Pits which had a Mark 4 Cone (pointing downward) resting on top. A Pit/Cone combination was placed at the rear left under the power supply, at the middle front under the disc transport and at the rear right. The turntable's standard feet were three BDR Mark 4 cones, to which I added a BDR Jumbo Pit.
Placing the SACD player on its own feet on the PowerBase resulted in diminished sound quality. The combination of Black Diamond Racing cones
and pits on top of the PowerBase resulted in improved sound over using the cones and pits alone.
I found the PowerBase to be very sensitive to power cords. As I went up in power cord quality, on both the incoming and outgoing sides, better
sound quality resulted. For the SACD player, I have a Premier SC power cord between the P10 AC regenerator and another Premier SC between the
PowerBase and the SACD player. The power chain is as follows:
1. Dedicated 20 amp AC circuit.
2. PS Audio Soloist Premier SE in-wall conditioner.
3. PS Audio AC-12 power cord.
4. PS Audio P10 AC regenerator.
5. PS Audio Premier SC power cords from P10 to source components and preamplifiers.
Each Parasound JC 1 monoblock power amp is on a dedicated 20 amp AC circuit terminated by a PS Audio Soloist SC and AC-12 power cord. The P10 and all other electronics have HiFi Tuning Supreme power line fuses.
The Teres Audio Model 255 turntable rested on three Black Diamond Racing Jumbo Pit/Mark 4 Cone combinations. I thought (hoped) I might be able to get away with using the PowerBase only as an isolation platform. Running the turntable motor power supply from the PowerBase resulted further improvements (image weight, increased space between images, more articulate bass) over just running the power supply from the P10. A Premier SC power cord ran from the P10 to the PowerBase and a Statement SC power cord ran from the PowerBase to the turntable motor power supply.
Figure 1. Two channel audio system. The equipment cabinet is a Salamander Triple 30. The floor is
hardwood glued to concrete slab.
Figure 2. Two channel audio system electronics.
Figure 3. Cary Audio CD 306 Pro Version CD/SACD player on PowerBase. This did not work.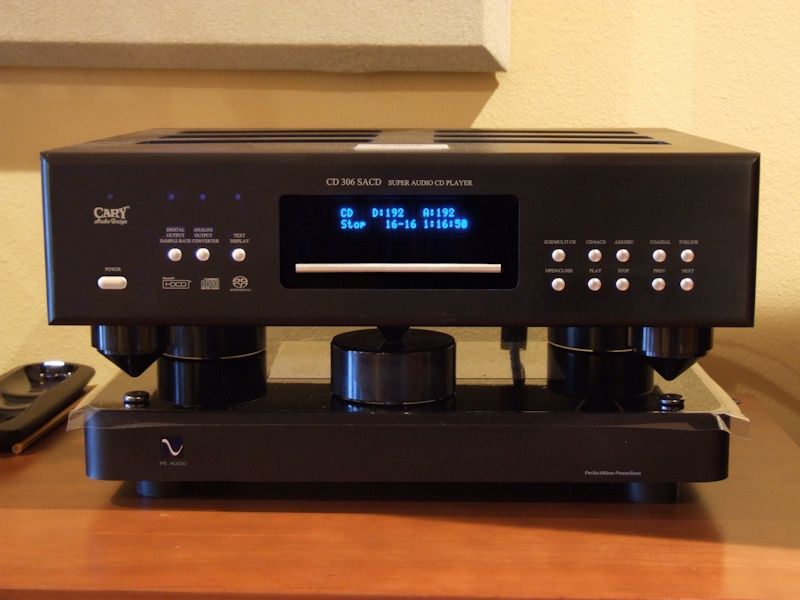 Figure 4. Cary Audio CD 306 Pro Version CD/SACD player on PowerBase and Black Diamond Racing cones
and pits. This combination was outstanding.
Figure 5. Teres Audio Model 255 turntable on PowerBase. I needed to raise the motor 1 inch. A 5" x 5" x
1.25" marble sample worked perfectly. The rough side provided excellent grip for the motor's feet. I later
found that using the BDR pitss between the turntable and PowerBase provided additional improvement.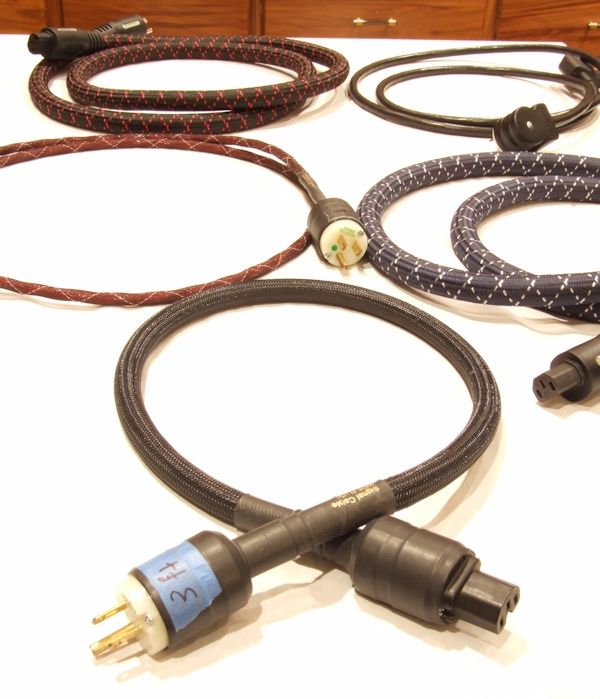 Figure 6. A variety of power cords were used. Clockwise from bottom: Signal Cable MagicPower
($59, 3 ft., 10 AWG), Signal Cable Digital Reference ($124, 6 ft., 12 AWG), PS Audio Statement SC
($659, 2m, 8 AWG), Volex 14 ($50, 6 ft., 14 AWG), PS Audio Premier SC ($1793, 2m, 7 AWG).
Figure 7. Oscilloscope Fast Fourier Transform plot of the power signal noise spectrum out of the Premier SC
power cord connected to the P10.
Figure 8. Oscilloscope Fast Fourier Transform plot of the power signal noise spectrum out of the PowerBase
connected to the P10. The noise is lower in density and amplitude around 60 Hz (large spike).
Figure 9. The included 8.5" 14 AWG power cord was way too short...on both length and sound.
Associated Equipment
Pass Labs X0.2 Line Level Preamplifiers
Pass Labs XP-25 Phono Preamplifiers
Parasound Halo JC 1 Monoblock Power Amplifiers
Teres Audio Model 255 Turntable with Reference II Motor
Graham Phantom B-44 Tonearm
Ortofon MC Windfeld Phono Cartridge
Cary Audio CD 306 Professional Version CD/SACD Player
PS Audio P10 AC Regenerator
Polk Audio SDA SRS 1.2TL Loudspeakers (Hotrodded)
PS Audio AC-12 Power Cords for P10 and Power Amplifiers
PS Audio Premier SC Power Cords for Source Components and Preamplifiers
AudioQuest Sky XLR Interconnects
AudioQuest Everest Speaker Cables
PowerBase Break In
The PowerBase manual does not recommend a specific number of hours of break in. It only says wait a week before doing critical listening. Since 2009, I have used an Audiodharma Cable Cooker to accelerate audio component break in. The rule of thumb is 1 hour on the Cooker is roughly equal to 3 hours of actual use. The recommended break in time for the Soloist Premier SE was 200 to 500 hours, depending on who at PS Audio answered your phone call or email. PS Audio has been consistent in their recommendation of 300 hours of break in for power cables.
For power and speaker cables, the Cable Cooker uses a 12 volt, 1.88 amp (22 watts rms) conditioning signal that consists of a sweeping square wave (0 to 40 kHz). For interconnects, the Cooker uses a 12 volt 120 mA (1.44 watts rms).
Figure 10. I made a Y-adapter so that I could pull current through both outlets of a duplex receptacle.
However, break in takes twice as long because the current is split between receptacles.
Figure 11. Since only one component will be used with this PowerBase, there was no need to break in both
outlets because only one component will be plugged in to each of my PowerBases.
The PowerBases provided
Such Good Sound
for my turntable and SACD player that I wanted to try a PowerBase under my P10 AC regenerator. However, as can be seen in figure 2, I did not have room to accommodate the 2.75" height of the PowerBase and still provide adequate air circulation space above the P10 and the other components above it. The P10 did benefit from three aluminum cones, as noted
here
.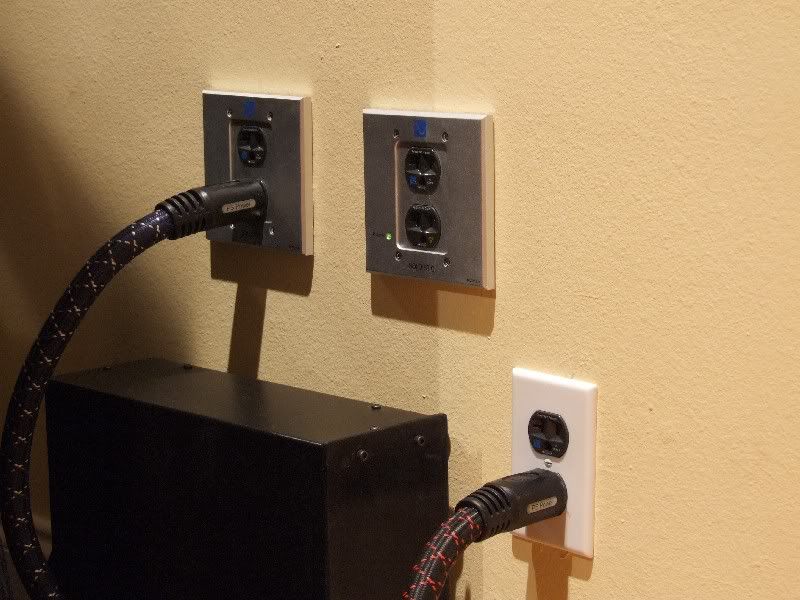 Figure 12. Two of three Soloist Premier SE in-wall conditioners behind the two channel equipment cabinet
and a Power Port Premier below them.
One might think that, since duplex receptacles have both outlets wired in parallel, there is no need to break in both outlets. You need to pull current through each outlet. The plastic body surrounding the blade receptacles in each outlet has dielectric properties and it requires conditioning to reduce the effects of absorption and spurious release of energy from and to the power signal. Figure 12 shows two Soloist Premier SE in-wall conditioners, each with a Power Port Premier receptacle. Another Power Port Premier receptacle replaced the ordinary receptacle at the lower right. In each of the three receptacles in figure 12, the lower outlet is broken in and the upper outlet is not. The difference between the broken in and unbroken in outlet of each receptacle is easily heard, as is the difference between the Soloist SE and the "naked" Power Port Premier installed in the wall.
"So hot it
burns
Mice
!"~DK
---
"Polk SDA-SRSs are hopelessly out of date both sonically and technologically... I see no value whatsoever in older SDA speakers."~Audio Asylum Member
---
"Knowledge, without understanding, is a path to failure."~DK
---
"Those who irrationally rail against something or someone that is no threat to them, actually desire (or desire to be like) the thing or person they are railing against."~DK
Post edited by DarqueKnight on