Home Cookin': The Audiodharma Cable Cooker

Introduction
The Audiodharma Cable Cooker is a cable conditioning device that is claimed to greatly improve the sound quality of all forms of interconnect, speaker cabling, and power cabling beyond any normal break-in cycle. The claimed benefits of conditioning with the Cooker are:
1. More transparency and dimensionality,
2. A deeper and wider sound stage,
3. Deeper & tighter bass information.
I realized all of the above with the exception of improved sound stage width. It must be noted that, due to the spatial rendering properties of my loudspeakers, my sound stage width was already exceptionally wide. The Cooker brought dramatic improvements in sound stage depth, three-dimensionality and image weight.
I had been considering acquiring a Cable Cooker since I became aware of them in 2003. The Cooker has been in continuous production since 1999 and comes in three versions: Standard ($789), Pro ($879) and Anniversary Edition ($999). I chose the Anniversary edition and an optional tonearm and phono cable adapter. The interested reader can read more about the Cooker's technology and version differences at the
Audioexcellenceaz.com
website. There are many (hundreds) of positive consumer reviews of and references to the Cooker online. The Cooker has also been favorably reviewed in several commercial audio publications. Tonearm manufacturer Triplanar uses the Cooker to break in their tonearm wiring and Blueberry Hill Audio uses the Cooker to break in their phono step-up transformers. The Cable Cooker comes with a two year fully transferable warranty.
Be advised that the Cable Cooker comes with a 15 amp switching power supply, but the user must supply their own IEC power cord. The manufacturer does not include a power cord due to the different power cord plugs that are used in the various countries the Cooker is shipped to. I used one of the stock throwaway 18/3 IEC cords that came with some of my other electronics.
I came very close to canceling my order due to the extended delivery date. The usual delivery time is two weeks from placement of order. It took 6-1/2 weeks to receive my Cooker due to parts shortages and the factory being closed to participation in an audio industry show.
Figure 1. The Cooker is a plain looking utilitarian device, but what it did for (most of) my cables was beautiful. The case measures 12" W
x 6" D x 4.75" H.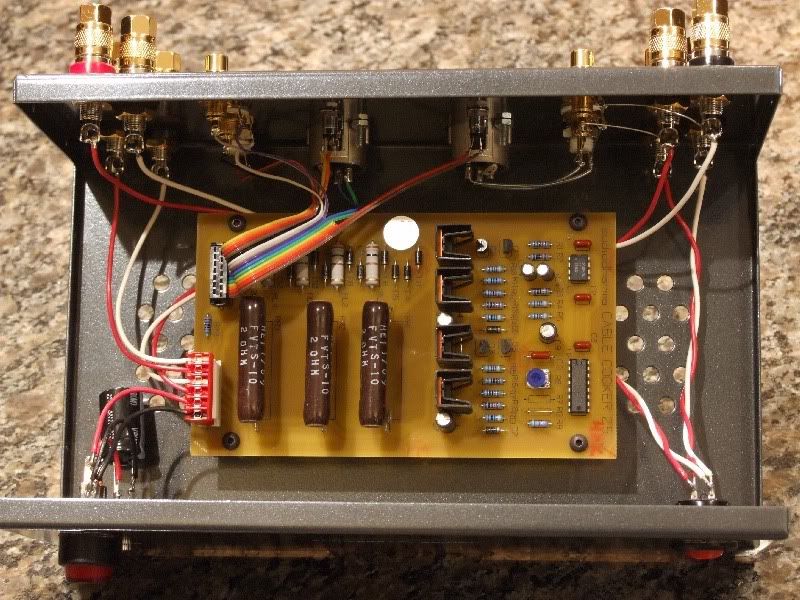 Figure 2. Inside the powder coated steel case is a croygenically treated circuit board.
Looking inside the Cooker's sparsely filled case,
some
might think that the 1 kilobuck price tag is excessive. However, within the context of performance audio and considering the benefits that the Cooker provides, the Cooker is a better long term value than many kilobuck (or more) phono cartridges, cables and other audiophile knick knacks. The parts cost of my
Dreadnought
custom isolation transformer project was close to $700, and it was just a transformer in an aluminum case with some cables attached.:)
I asked the manufacturer to explain the reason for cryo treating the circuit board even though it is used in a device that does not reproduce a music signal. This was the response:
"Your reasoning was my reasoning for so many years. I have been cryo-treating various electrical parts, cabling, and in-wall wiring for approx. 10 years.....even my line conditioner (and others) have been treated successfully, but I never tried this process with the Cooker on any level.

I mulled over the idea of cryo-treating the circuit board, and possibly the internal wiring and all connectors for quite some time, but didn't think it would be effective. After all, the Cooker is not producing music nor the same type of signal in a regular audio system. Was I wrong! I finally cryo-treated a new EFS (Extended Frequency Sweep) board this spring, then conditioned some identical cables (power cables and balanced interconnects) for exactly the same amount of time on a non-cryo'd board. I then performed blind listening tests for a few different people on two separate occasions. There was no contest, and the effects were immediately heard. The effect is quite similar to the EFS upgrade....greater clarity, more musical texture, tighter bass information, and greater overall musical information. It's a clear winner, and cumulative on top of the EFS upgrade introduced earlier this year. It was an easy decision, and I'm kicking myself for not doing this sooner."
Figure 3. Speaker, power and interconnect cables can be conditioned simultaneously. Cables of the same type can be daisy chained together using connection adapters. XLR cables can simply be connected end to end without adapters.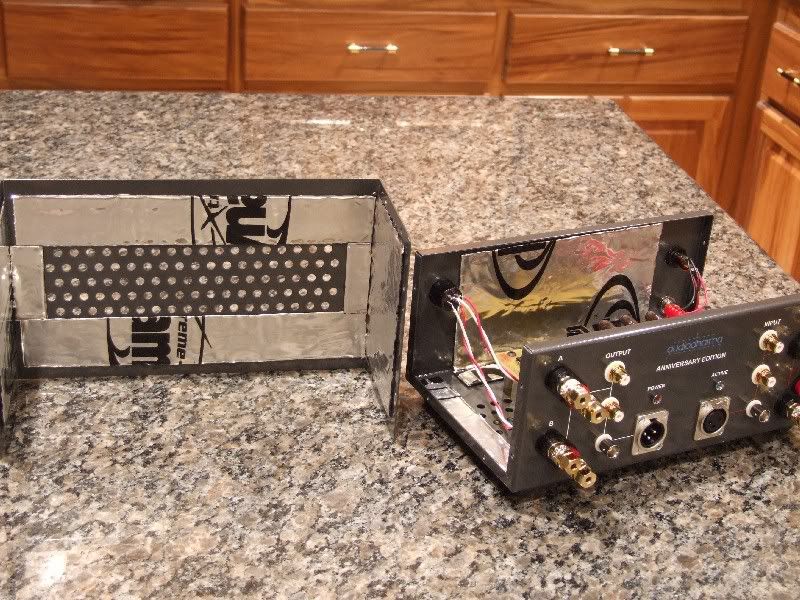 Figure 4. Dynamating the case top was not necessary. I just didn't like the annoying ringing that resulted whenever the case was handled. Thumping the case with my forefinger resulted in ringing that lasted for 3 seconds. The case would also ring just from handling it. The
case was quiet as a mouse in a tiger cage after damping treatment.
Figure 5. Phono cable and tonearm wiring adapter. A cap on the end to protect those fragile pins would have been appreciated.How Cables Are Cooked
The Cable Cooker is simple to operate and comes with four sheets of clear, concise instructions. Interconnect cables are conditioned with a 120 milliamp, 12 volt (peak to peak) signal. Power and speaker cables are conditioned with a 1.88 Amp, 20 volt (peak to peak) signal. The square wave conditioning signal continuously sweeps from 0 Hz to a little over 40 kHz.
Figure 6. Oscilloscope trace of the Cooker's interconnect cable conditioning signal.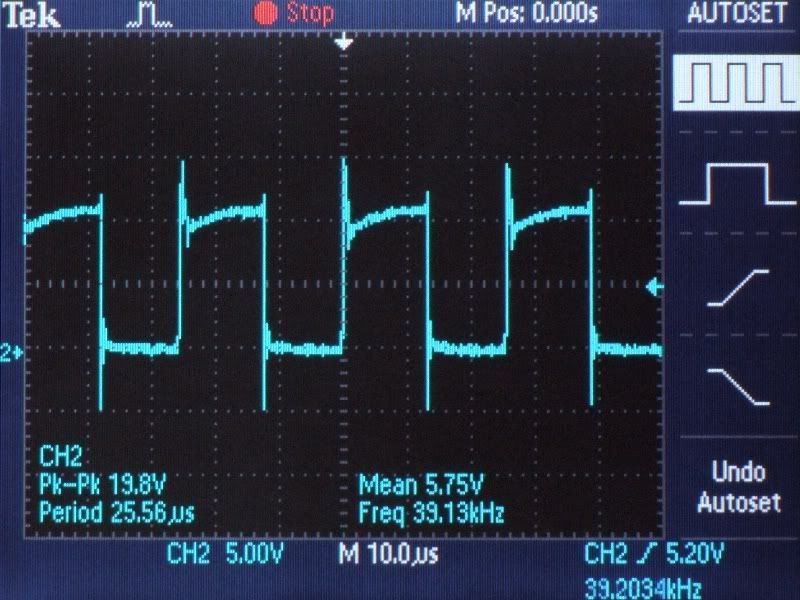 Figure 7. Oscilloscope trace of the Cooker's power cable and speaker cable conditioning signal.
The manufacturer offers these general guidelines for cable conditioning:
"Generally, for brand new cable, the suggested guidelines are 2 to 2 1/2 days for interconnects... 3 to 4 1/2 days for speaker cables... and 4 to 5 days for power cabling. Heavier-gauge designs, and those with more complex wiring geometries usually require more conditioning time than what the above guidelines show. Many customers have determined that "more is more" in these cases, performing additional conditioning in incremental stages. Periodic Cooking-and-listening tests are essential to determine the optimal conditioning time for each design.

For instance, if you Cook a new interconnect for 24 hours, listen, and then repeat the listening tests after every 6 to 8 hours on the Cooker, you will find the optimal time for that model. When you find little or no improvement from the previous listening test, the cable is probably fully conditioned.

Cables that have been in a system for quite some time usually need only 24 to 36 hours on the Cooker to improve greatly... with speaker cables and power cables, sometimes a bit more. Again, this is determined by the (heavier) gauge of the conductors and complexity of design."
Fortunately, there is a way to tell when cables have been over-cooked:
"Over-Cooking can reduce the performance, at least temporarily. The characteristics of this are a reduced or diminished sound stage and a dull, lifeless quality to the music. If this situation occurs, merely letting the cables physically rest, and settle, then putting them back in the music system to play for a few hours brings them back to their optimal performance level. Over-Cooking does NOT do any damage to the cabling whatsoever. Again, incremental Cooking-and-listening tests are highly recommended to avoid over-Cooking one's cables.
I found four references from AudioQuest DBS cable owners who informed that they had realized performance improvements by using the Cable Cooker on their DBS cables for 48 hours. AudioQuest's DBS (Dielectric Bias System) conditions (breaks in) cables by applying a static electric field over the cable's dielectric material, thereby conditioning it against contributing noise to the audio signal by absorbing and releasing energy.
"So hot it
burns
Mice
!"~DK
---
"Polk SDA-SRSs are hopelessly out of date both sonically and technologically... I see no value whatsoever in older SDA speakers."~Audio Asylum Member
---
"Knowledge, without understanding, is a path to failure."~DK
---
"Those who irrationally rail against something or someone that is no threat to them, actually desire (or desire to be like) the thing or person they are railing against."~DK
Post edited by DarqueKnight on
Comments