Emotiva UMC 1 Preamp Processor
VR3
Posts: 23,870
Front shows well, top shows some issues - tested and works well.
$250 shipped with paypal
On the back you've got 5 HDMI inputs, 3 component video inputs and three composite/S-video inputs. That's enough to handle up to 11 video sources, not counting your integrated tuner and of course any dedicated audio-only sources like CD or Aux. For connectivity to an amplifier, the UMC-1 has unbalanced 7.1 analogue outputs and even a balanced subwoofer output.
Decoding support for Dolby Digital, Dolby Digital EX, Dolby Digital Plus, Dolby Digital True HD, Dolby PLIIx, DTS, DTSES, DTS HD, DTS Master Audio, DTS Neo 6, S/PDIF, PCM 8 channel (note: some audio formats are only supported via HDMI)

Multi-channel Dolby Volume
Genesis/ST Torino high performance scaling engine - featuring a full implementation of the Faroudja DCDi image processing suite
Intuitive, full color graphical OSD with adjustable transparency presented over live video, including HDMI
Emo-Q automatic multi-channel room correction and loudspeaker setup. Calibrated measurement microphone included.
Quadruple bass manager with independently selectable high and low pass frequencies from 40Hz – 250Hz, in 5 or 10Hz increments (depending on frequency)
Selectable 12db or 24db per octave high pass and low pass filters by channel groupings
Independent 11-band graphic EQ with global bass and treble controls by channel groupings
Balanced subwoofer output
All legacy video inputs can be scaled and output over HDMI at up to 1080p
1080p/24 fps video support
Video pass-through mode with 12 bit compatibility
HDMI sources can be format converted to component video up to 1080i (subject to Macrovision guidelines)
HDMI 1.3a Deep Color compliant (not 3D-ready)
All inputs are assignable and feature input labeling, selectable decode modes, selectable triggers, etc.
0.5dB level trims on all channels
High voltage, low impedance main analog outputs for uncompromised dynamic headroom
CONNECTIVITY:
5 - HDMI inputs and 1 HDMI output.
3 - composite video inputs (RCA)
3 - S-video inputs (S-video mini DIN)
3 - component video inputs (RCA)
1 - component video output (RCA)
4 - stereo analog audio inputs (RCA)
1 - 7.1 analog input set (RCA)
1 - 7.1 analog output set (RCA)
4 - coaxial digital inputs, (RCA)
3 - optical digital inputs (Toslink)
1- coax digital audio output (RCA)
1- optical digital audio output (Toslink)
1 - Stereo or 2 channel analog multi channel mix down output for fixed level monitoring (RCA)
1- stereo analog variable and independent Zone 2 output (RCA)
1 - stereo analog fixed level record output (RCA)
High performance AM/FM tuner with 24 FM and 6 AM presets
3 - assignable trigger outputs Movie/Music/Amp (3.5mm mini)
1- IR input (3.5mm mini)
1 - IR output (3.5mm mini)
1. Microphone input (3.5mm stereo mini)
1- USB data input (for software upgrades only)
Size:
Unboxed: 17" wide x 3 7/8" high x 13" deep
Boxed: 18" wide x 7" high x 23" deep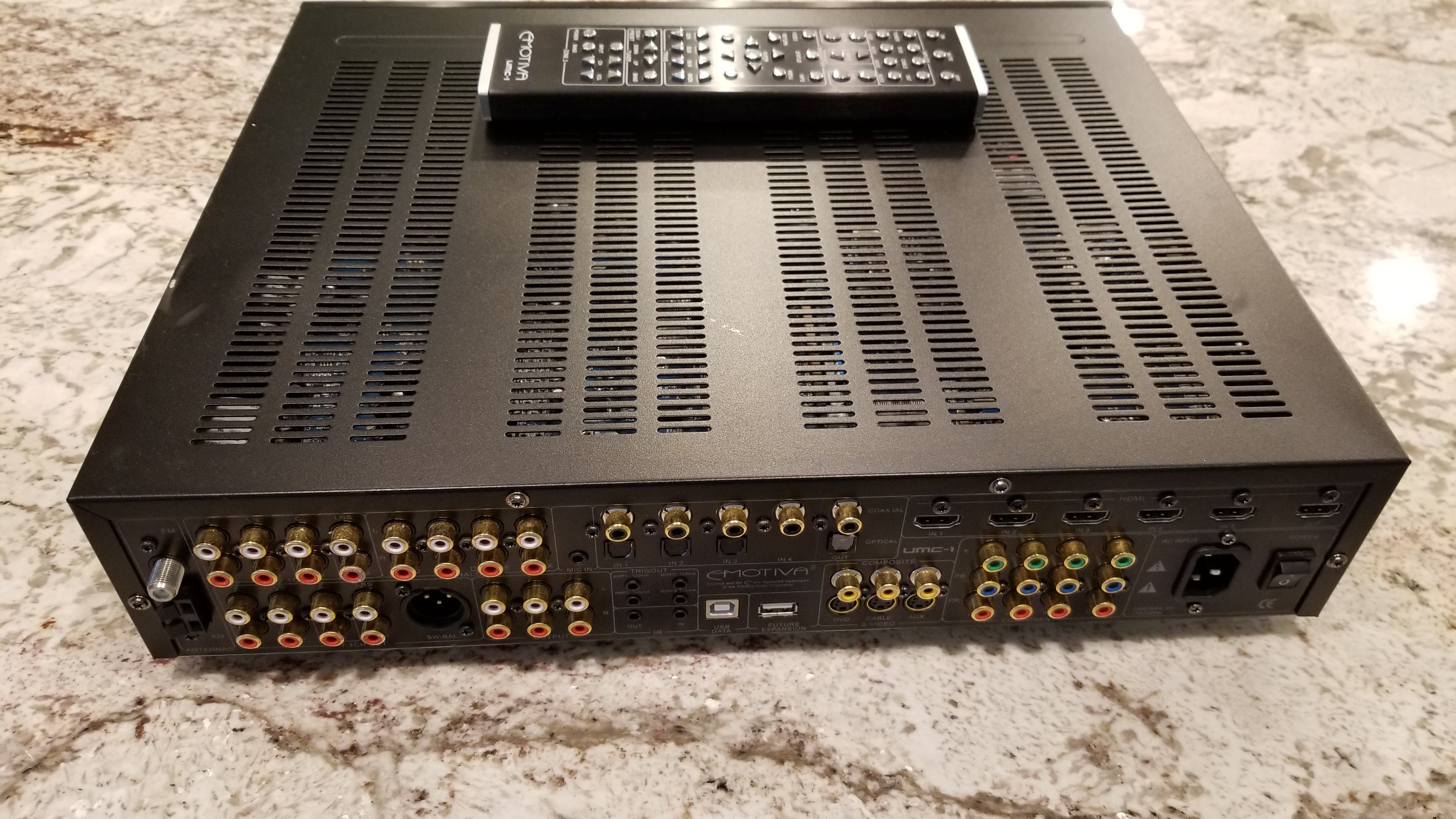 - Not Tom

"No, that's silly talk. Dude, you can't possibly be this audio dumb so quit the act." - Doro