Solidsteel S3-5 Audio Rack

Clipdat
Posts: 4,954
At last, the thread for my new Solidsteel S3-5 Audio Rack! Huge thanks again to Douglas Connection for the great deal. Anyone looking into a Solidsteel rack, please consider supporting our forum vendor and contacting
@helipilotdoug
!
The S3-5 retails for $999 and features some additional niceties over the entry level 5 shelf Solidsteel S2-5 model at $500. For the additional $500 you get thicker shelves with rounded corners, columns filled with a "damping material", and plastic discs that the columns sit against which "insulate" them from touching the shelves directly. While I don't have experience with the S2-5, the additional perks of the S3-5 are quite nice. The rounded corners and thicker shelves are visually more appealing, and the plastic discs aided in assembly. The pre-filled "damping material" could be a positive or negative, depending on your point of view. Yes, $500 more for only a few more features is a tough pill to swallow. However, I think it's important to mention that these racks are made in Italy, not China. So therefore your price points are obviously going to be higher.
Moving on to the assembly process and build quality. Everything arrived intact due to the excellent packaging layout. Even though the box had some distress from the shipping process and looked like it had been dropped a few times, everything inside was in perfect shape and free of any damage.
Opening the box, the first thing we see is the assembly instructions/manual and warranty info card, boasting a 5 year warranty against manufacturing defects.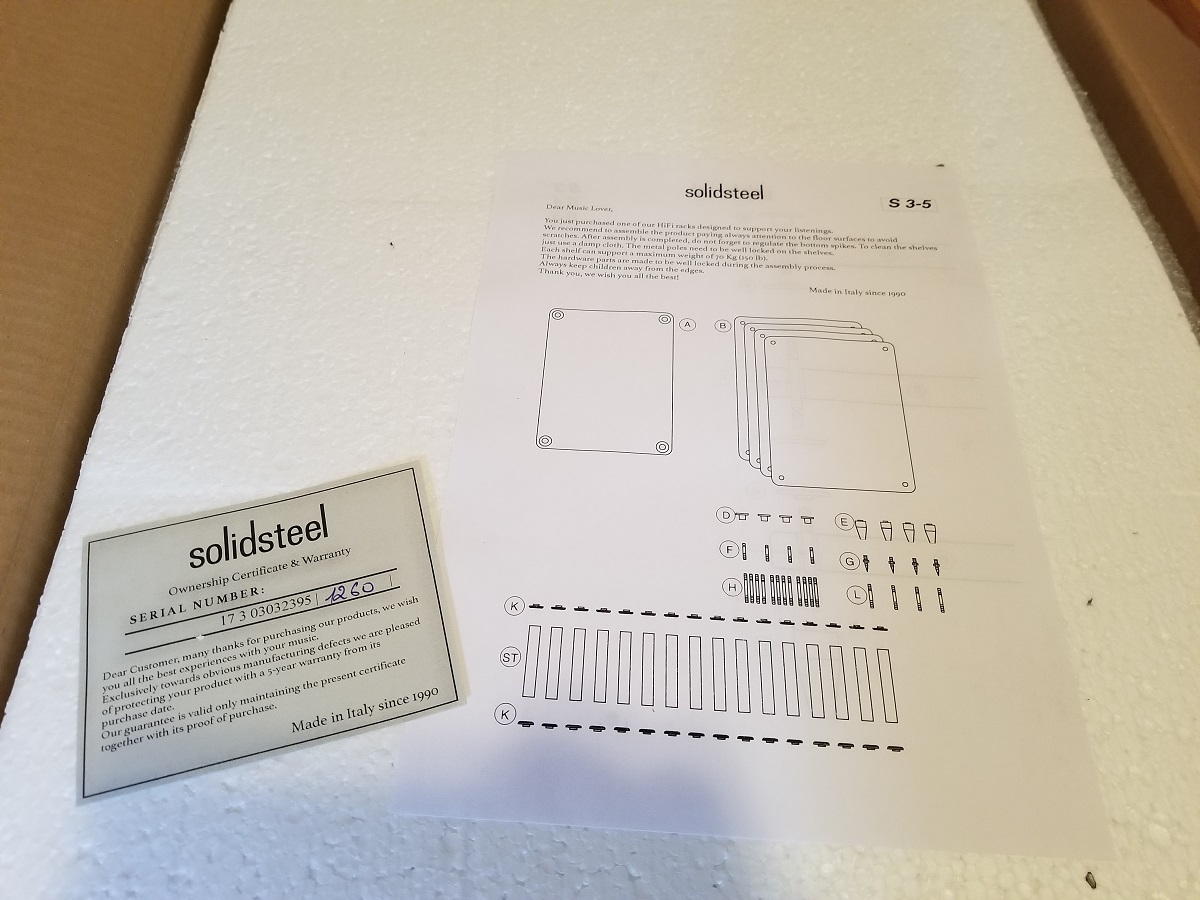 Underneath the top layer of foam, all of the hardware is nicely laid out and protected for transit.
Close up of the nice quality bolts used to link the columns together.
Close look at the female threaded sections of the upper and lower end caps/footers. Look Ma, no thread burrs! These all had a good weight to them and felt solid and high quality when handled. Very nice.
Taking a look at the end of one of the columns, we can again see the high quality threads and a glimpse at the "damping material" inside.
The damping material appears to be a closed cell foam product, not unlike the material used in the packaging to keep the hardware safe in transit. It doesn't appear to be a damping material that adds weight or mass, but rather one to reduce/eliminate unwanted aural resonances from occurring. This is where the pre-filled material could be considered unwanted or undesired. If you're looking to fill these with sand or lead shot, I don't believe that you'd be able to due to this foam material already being inside.
The columns themselves are quite light, and each MDF shelf is very heavy. Total assembled weight of the rack is roughly 75lbs empty.
Each shelf is individually bagged to prevent damage from friction during shipping. The wood has a nice textured laminate which is more robust than other forms of veneered MDF that I've seen. This surface should be resistant to scuffs/scratches and at the same time very easy to dust off in the future.
The assembly process is super straight forward. You basically assemble it upside down and then flip it over once you're finished. Each column gets held to the other, and to the shelf, by the double threaded metal bolts shown earlier. The plastic discs are valuable here, as they protect/insulate the columns from pressing directly into the MDF. This way you can tighten them down fairly aggressively with your hand and not worry about them marring the finish of the shelf, and at the same time making it difficult to over tighten. Any excessive pressure will be diffused through the plastic disc instead of directly into the wood. This made the assembly process really enjoyable and effortless.
It was not really possible to see this on the included visual Ikea style assembly instructions, but I noticed each bolt shaft has two different lengths of threads. I'm not sure it matters what orientation you use during assembly, but I would advise trying to keep it all uniform. I kept all of the shorter threads "up" and the longer threads down when I assembled it.
I've tried to illustrate the thread length difference here. It's subtle, but noticeable.
Longer side:
Shorter side:
After completing the assembly I flipped it upright and held it, while my wife helped position the Herbie's giant decoupling glider footers so that as I lowered it down, the spikes would rest into their respective cups. This part was definitely a two person job!
Then, I extended out each of the adjustable spikes so that they would be fully pressed into their cups. This was very easy to do by hand, and resulted in a level rack according to my bubble level.
Final position showing completed assembly. The process to put this rack together was very straightforward, and easily done in under an hour. All of the tolerances for the hardware, threads, pre-drilled holes, column uniformity, shelf quality, etc. were great. No quality control issues at all.