The Finished Install
So, I spent about 5 hours putting together ideas, and finally coming together with one that works. I did not bother to carpet though I wish I had, it would have looked so much nicer....but who is going to be seeing my trunk anyway?
So, I screwed the board into the metal by my rear speakers, tucked the board in between the seats. I grounded my amps where the spare tire was, still have ground noise no matter where I tried....I am thinking of getting some better quality cables RCAs...maybe that will help.
Anyway, the amps are all screwed in, and speakers all done up. Re calibrated and I hid every wire under my trunk carpet and it looks so much better than it did before. Well worth the effort.
Not as elaborate or decorative as most others but it is simple and does the job well.
I do plan on swapping out my sub-woofer amp and sub-woofers in a few weeks. The guy who plans on buying them will be picking them up within the end of this month.
What do we all think?
Capacitor (Not that it is really needed, but it serves as my distribution block for my power wires.)
Subwoofers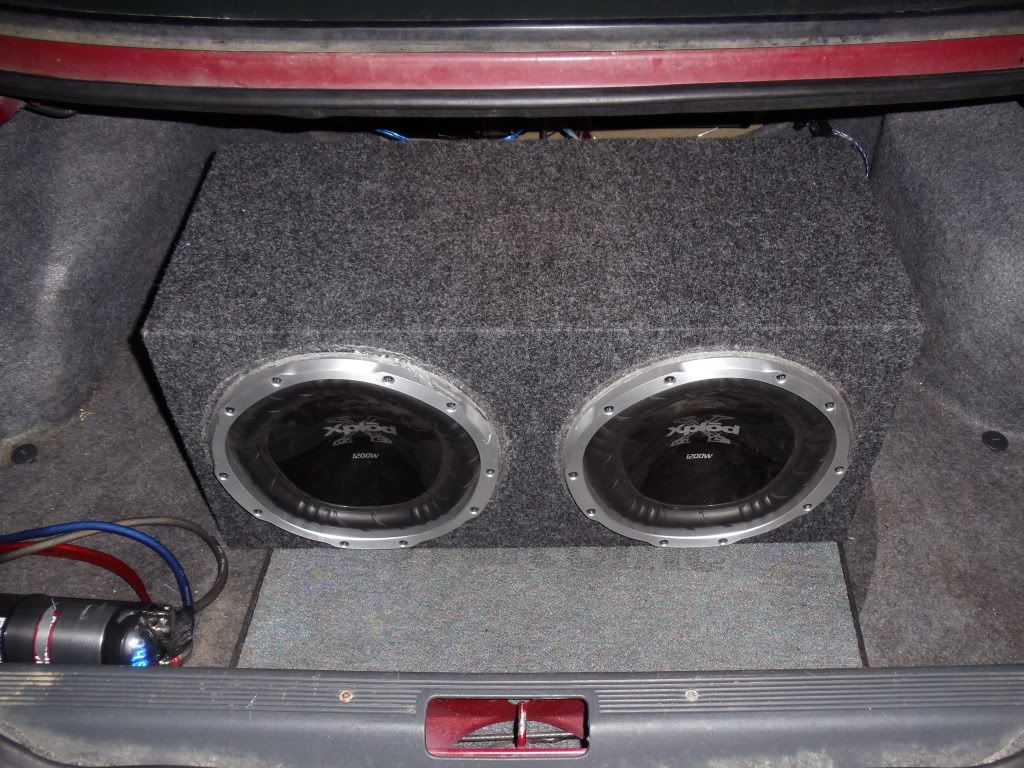 Kenwood Sub Amp 500watt Mono 8104D (With a little wire management, speaker level inputs)
Kicker 4 way ZX 200.4 (35x4) (I will be getting some more cable ties, to tie the speaker wires to the trunk a bit so they do not dangle)
Both of them mounted on the board. All in all this project cost me $4.10 and about 2.5 hours.
Receiver
Harman Kardon HK 3490
Speakers
Polk Audio Monitor 50s
Subwoofer
Klipsch KSW-100
Cables
AudioQuest Rocket 33s 10ft
AudioQuest Optilink1 2m
AudioQuest Alpha-Snake 25ft Interconnect
AudioQuest HDMI-1 2m

Alienware X51 R2
PS4
Samsung Smart TV 40" 1080p 3D
Post edited by PerfectCreature on
Comments