NC mini Polkfest

This will end up being a double post, both here in the Clubhouse and over in the Gatherings.
First of all thanks to Russ (lightman1) & Tom (treitz3) for allowing us to trash their homes in the name of good tunes and times. Thanks to Russ for the BBQ and floor space. Jason (jflail2) brought along a friend (Shaun or Sean) who left impressed I'm sure. Steve (wizzy) brought some good tunes to sample and a pair of little 10's that were quite a surprise especially when connected to the PSW1000 I aquired from Tom as a birthday present from my wonderful Mary. A friend of Russ' from around the way (Mike) stopped by to enjoy the festivities with an armload of MFSL's in tow. I couldn't help but take a few items to throw into the mix. A Jolida 801 fresh back from Jolida for upgrades and only 1 hour of time before I got there, a Parasound HCA 2200II, Acurus ACD-11, Rotel RC-1070, Luxman D-105U tube CDP, A pair of Acoustech monoblocks and my little iPod Thingy amp. Russ's SDA's handled almost all the speaker requirements for the most part. 2 sets were sampled as this was the first time some of the guys got a chance to sit down and listen to some SDA bliss. Tom brought along some cables & Carver gear to sample.
The beer flowed from early afternoon all thru the night. Some damn good BBQ was eaten like it was our last meals. And the mix of gear went on all day and night. This was also the first chance for some guys to listen to and mix and play with some tube gear. (NO RUSS! I WILL NEVER BRING THAT HIDEOUS STUFF INTO YOUR HOUSE AGAIN) (too hard to leave with the stuff when time to go....RUSS!) I took my set of Acoustech monoblocks and the first thing out of everyone's mouth was, "those work?". They were damaged beyond description by FedEx so free to me and look like hell but play oh so good. Jason brought me some really old box sets of albums. 3 boxes of album box sets, maybe 20 single albums and I don't know how many 45's. Problem was there was no TT. Russ' was way out of shape from not being used and nothing to use to set it up. The first time we fired the gear up and the SDA's came to life Jason was seen looking all around the room and behind him. Looking for other speakers that were in the mix. Russ was quick to point out that it was ONLY the SDA's playing. I love when this happens. The sweet spot was by appointment only. And yes stacked at times.
Trey (Vr3MxStyler2k3) stopped in just long enough to get razzed by everyone for not hanging around. He grabbed Tom and they headed over to Trey's to load Tom's new VMPS sub into his truck. It was like Christmas for Tom when he returned with the sub. Unloaded it with the help of Mike, carried into the house while stepping "over" Russ who managed to be the first MIA of the day. Yes....stepped OVER Russ....LOL! It was like Christmas I tell you. Tom had the sub unpacked from the box in the livingroom getting ready to hook it up to the gear and I was in the kitchen playing in the box and styrofoam. Did I mention we had lots of beer? Tom and I goofed around with the sub for a long time before coming to the drunken realization we needed a crossover to go with the bridged amps we tried. Back to the PSW1000 for now. Tom, Mike and I lasted to what must have been midnight listening to some good music and lying our asses off. Tom continued to adjust, tune, mix and work to find the perfect synergy for the gear we had on site. I think the final combo went something like this...Jolida 801, Acurus CDP, PSW1000, Russ' SDA's listening to Nora Jones at a moderate level. And it was so sweet.
Here are a few pics. I'll try and load lots more in the Showcase as soon as I'm done with all the doctors today.
In the beginning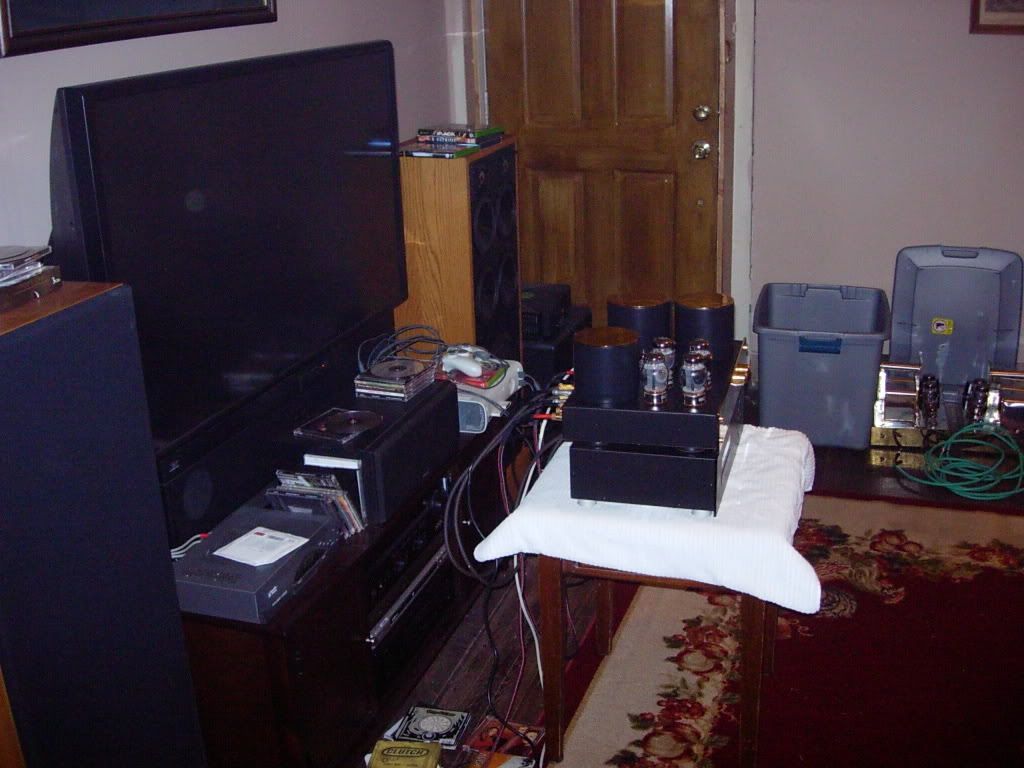 Jason up front & Steve behind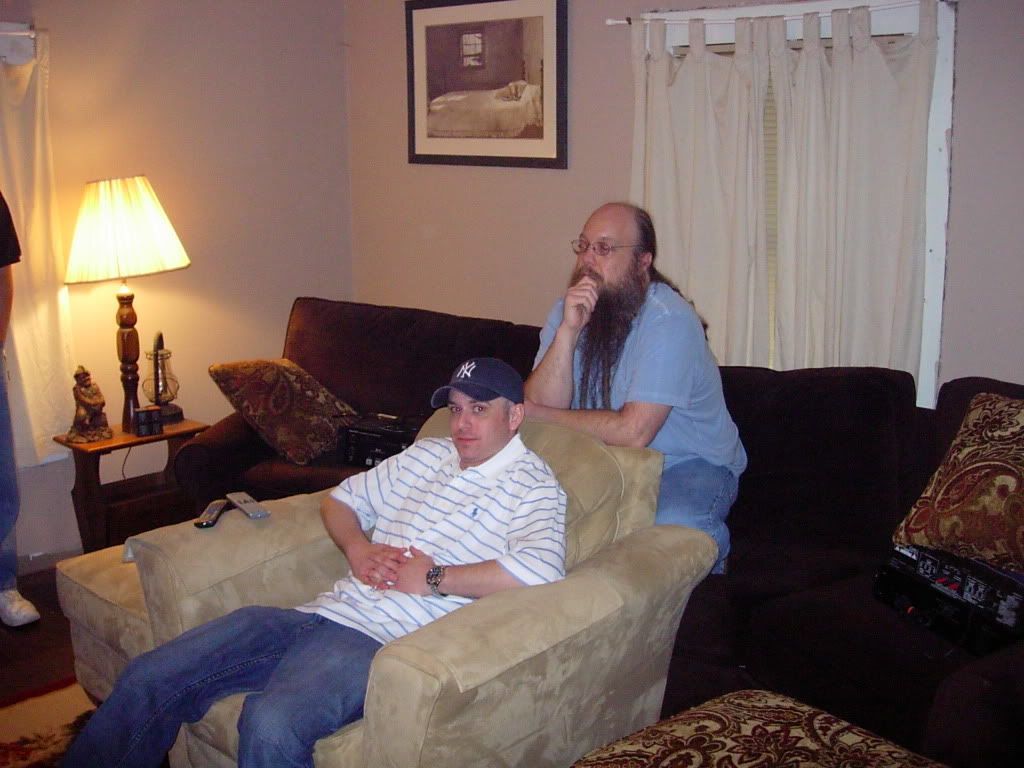 Tom threatening us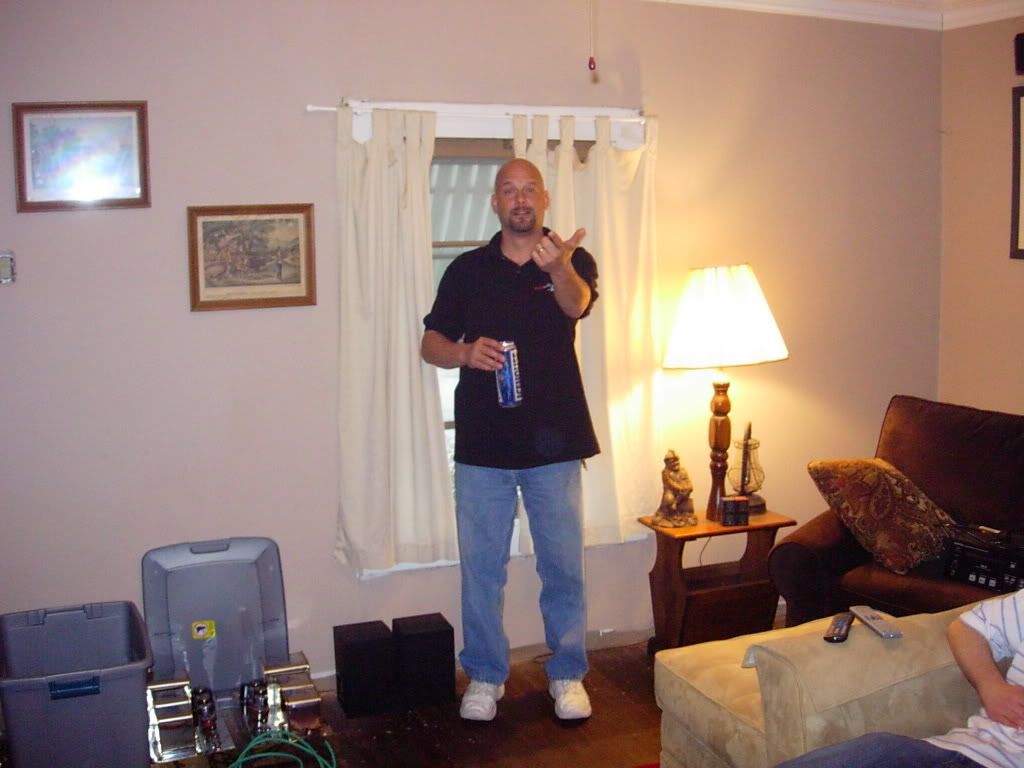 Sean, Steve & Tom. I think Steve is in his Zen state?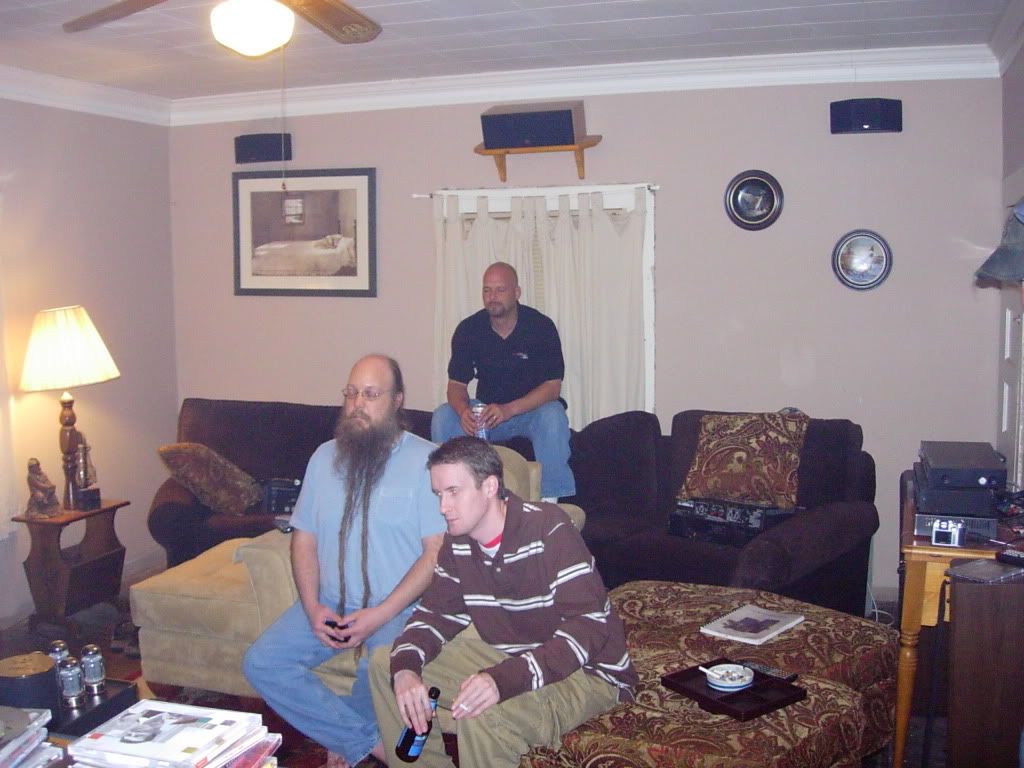 Mike & Russ
Yeah...thats a body on the floor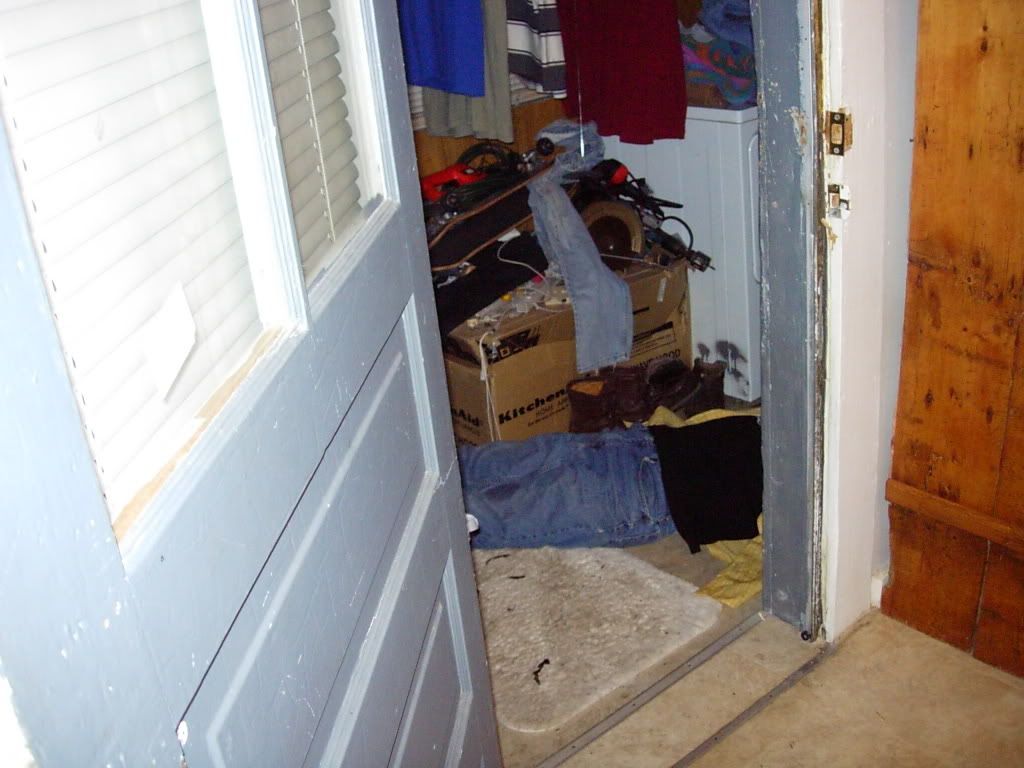 A few pieces of gear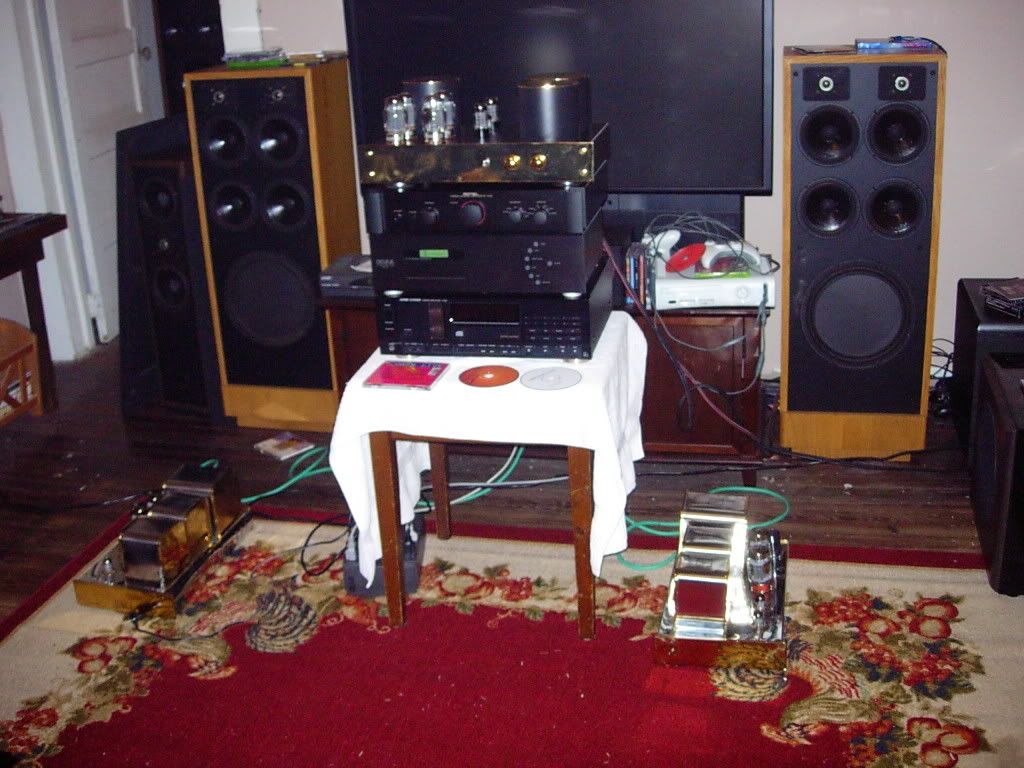 I'm sure Russ and Tom will be adding their 2 cents worth along with some more photos. If you guys want to add some to the Showcase let me know.
Chuck
Testing
Testing
Testing
Post edited by Unknown User on
Comments