My completed home theater budget build
Alright, I hope this is the right place. Figured I would post a few pictures from my home theater setup. When I started out I was replacing a 10 year old soundbar. I looked at upgrading to one of the higher end atmos soundbar when I started to do some more research on Home Theater setups. My goal ended up being trying to build a 5.1.2 home theater setup for the price of one of the high end soundbars so my budget was around $1500-$2000. This setup is in my basement which has an open layout with walkout sliding glass doors right next to the couch. So I had some limitations when placing the surround speakers and did what I think is the best I could.
For the receiver I purchased a refurbished Denon AVR-S950H. I also got an extra 2 year warranty on it for $30.
For the front speakers I opted for the Polk S50 and Polk S30 center. I wanted white and I lucked out that they were on clearance. Stock on a lot of stuff post holiday is pretty limited everywhere.
For the subwoofer I went with a SVS PB1000. Found an open box for a little cheaper and took a chance. Arrived with no blemishes or issues.
I started with this 3.1 setup to get going and test everything out. Sounded great so then I moved on to Surround and Atmos speakers.
Atmos were easy. I went with a pair of Polk IC60s. I have a drop ceiling and they were ridiculously easy to install. Took maybe 30 minutes to install each one.
I spent the most time looking for surrounds. I wanted something small, compact and would generally not stand out. Polk S10's were OOS in white and so I spent a lot of time checking out other options. I purchased a pair of SVS Satellite speakers in white and kept checking to see if Dali Spektors / Q Accoustic 3010's were in stock as well. I also looked at bipole options. Not very many in white these days but there were a few. At the same time I found an open box pair of Polk FXi3's in white on Amazon Warehouse and decided to give them a shot and compare against the SVS Satellites. The SVS Satellites were ok, but once I hooked up the FXi3's there was a clear difference with the immersive sound experience. I did try them both at different speaker distance settings and ran Audyssey but the FXi3's were clear winners. They were also half the price so I returned the SVS Satellites. I have no idea when they were discontinued and I can clearly say this is speaker is not for everyone. The description says that they are white, but they are clearly off white/eggshell and the speaker covers are white. A little odd but they fit exactly what I wanted.
Denon AVR-S950H - $479 + 30 = $510
Polk S50 (pair) - $300
Polk S30 - $150
SVS PB1000 - $440
Polk IC60 (pair) - $100
Polk FXi3 Bipole (pair) - $130.
Total: $1610
Cables /Speaker wire / banana plugs ran me another $100 ish
Testing:
The fun part. I downloaded some dolby audio test files and placed them on my synology diskstation to run speaker tests for placement/setup and everything sounded great. From there I searched forums for some good movies to test out.
Master and Commander was phenomenal. You could feel the cannon balls flying by you. There are also several low volume speaking points in the movie and I didn't need to adjust the volume.
Edge of Tomorrow - The opening sequence and whole movie sounded amazing.
Interstellar - Same thing.
I then started playing some movies for the kids. They love How to Train Your Dragon and let me tell you. The six minute opening sequence is a fantastic test for surround sound. Dragons flying around, flames and objects are being shot all around and behind you. Its amazing how detailed the sound is. The final battle scene is a great test for bass as well. I wont provide any spoilers there. The whole movie sounds great and its like watching a whole new movie all over again.
Overall I am happy with how everything turned out and how I came within budget for my original goal. Feel free to let me know your thoughts and offer any constructive criticisms.
Thanks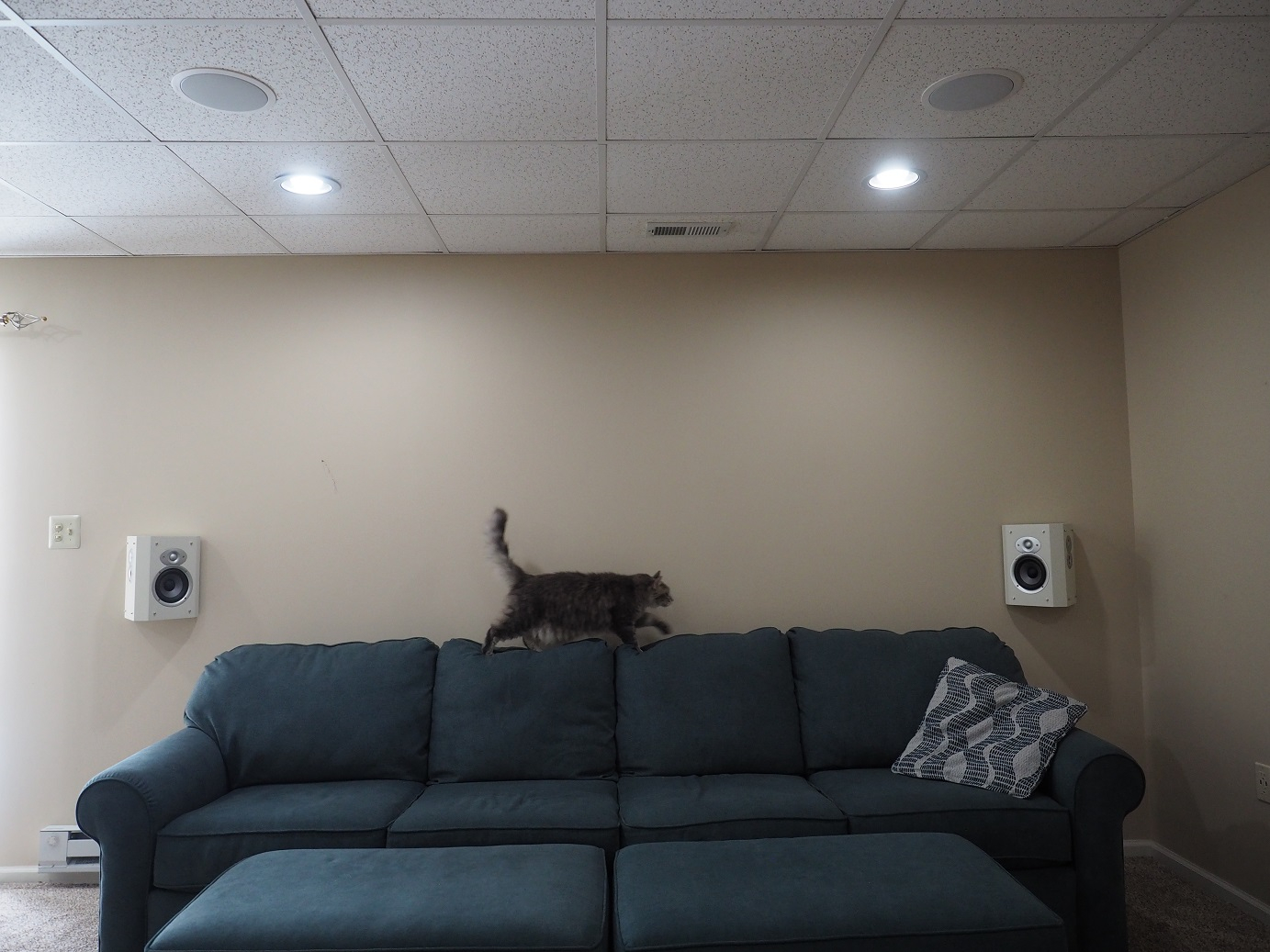 Comments