Lawn Maintenance
Mikey081057
Posts: 5,703
With Summer upon us and that it rains in the afternoons at least 5 out of 7 days here through September it gets a little tough to keep up with the rate of growth of your lawn here in SWFL.
Now I have someone who does mow and trim, but the amount of rain and sun we get this time of year can still be too much for them to keep up with... So getting to your grass every 5th through 8th day is sometimes not possible.
I don't mind that if on the 3rd or 4th day giving it a cut when weather permits .... Now I can mow as good as anybody but have always been jealous of the way the pros can edge with a string trimmer and I have a LOT of edging to do with the curbed landscape beds.
So I picked up this little gadget called the Edgit Pro which is simple device that just siimply replaces the guard on your trimmer.
http://www.forestry-suppliers.com/product_pages/products.php?mi=74591&itemnum=80105&redir=Y
Works like a champ and is a real time saver...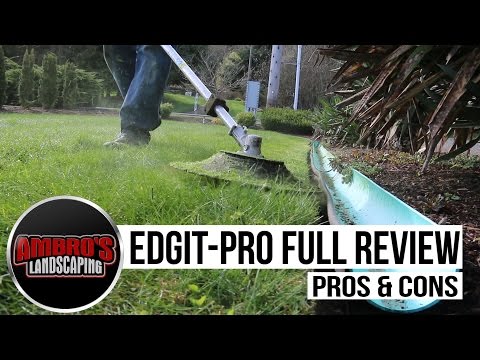 The only negative I have seen is that it can fling rocks, but so can using your string trimmer at 90* angles. but my edges are clean and free of rocks.
Pretty sweet
HT:Polk LSiM 706 LSiM 705's VR3 LSiM 703's LSiM 702's| Marantz AV7702 | Sunfire TGA-7401 | Oppo BDP-103D | Sony PS4 | Directv Genie HD DVR | Samsung 64" Plasma | SVS PB13 Ultra | MIT EXP 2's (Fronts & Center)

ManCave: Parasound Halo A21 | Parsound Halo A52+ | Marantz AV7004 AV PrePro | Usher Dancer Mini-x DMD's | Usher BE-616 Center | SVS Ultra Surrounds | SVS SB4000 Sub |Oppo UDP 203 | MIT Shotgun S3's | Marantz SA8004 SACD | Music Hall MMF 5.3se TT w/ Soundsmith Carmen | Mytek Brooklyn DAC+ | HP Elite Slice PC | Samsung 50" SUHD TV | Sony PS4 Pro

Patio Polk Atrium 8's |Marantz 2252B |

Office Bluesound Node2 | Polk SDA SRS 2.3 | Marantz 2385 |

Bedroom Peactree Nova 125SE | Focal 905's | Bluesound Node | SVS SB2000 Sub

Garage Yamaha R-N303BL | Polk Monitor 5B's

Closet Yamaha M80 | 2 Polk MP2K subs| Yaqin MC100B with Shuguang Treasures KT 88's & CV181Z's | Tesla E83CC's |