New improved loft setup

EndersShadow
Posts: 16,075
Not a ton changed besides the looks. All my associated gear is below. I will be posting some more pics after I finish the rack tweaks.
Gear:
TV: Insignia 43"
AVR: Anthem MRX-500 (thanks to Scubalab's Karma)
Power: 2m PS Audio AC-3
Amp: Mitsubishi DA-A30 (on load from Lightman1)
Sources:
--Custom HTPC Running Plex w 9TB of Movies
---Power: 1m Signal Cable Digital Reference (thanks to MrBuhl)
--Roku
--Pioneer LDS-1 (thanks to DaddyJT years ago)
---Component cable: Audioquest
--Netgear ReadyNas Plus (purchased from JohnMegaDeath) loaded with 2 2TB HGST mirrored drives
Misc Gear:
--APC H15
---Power: 2m PS Audio AC-3
--Linksys Switch
--Carver C-1
--Technics SL-B3 (thanks to TNHandyman)
Speakers: AV123 ELT535T
Speaker Cables: Furez 14/2 w Monster Quick Connects (temp till I can afford better)
Sub: Polk Micropro 2000 (got in trade with ZLTFUL)
LFE Cable: BJC LC-1
Power: 2m PS Audio AC-3
Rack: Salamander Synergy Triple 30 w doors and casters & Salamander Synergy S30
And here go the pictures! Can't find any good before that have my current speakers, but have a
bunch of pictures here of the old paint/decorations
.
Panoramic pictures: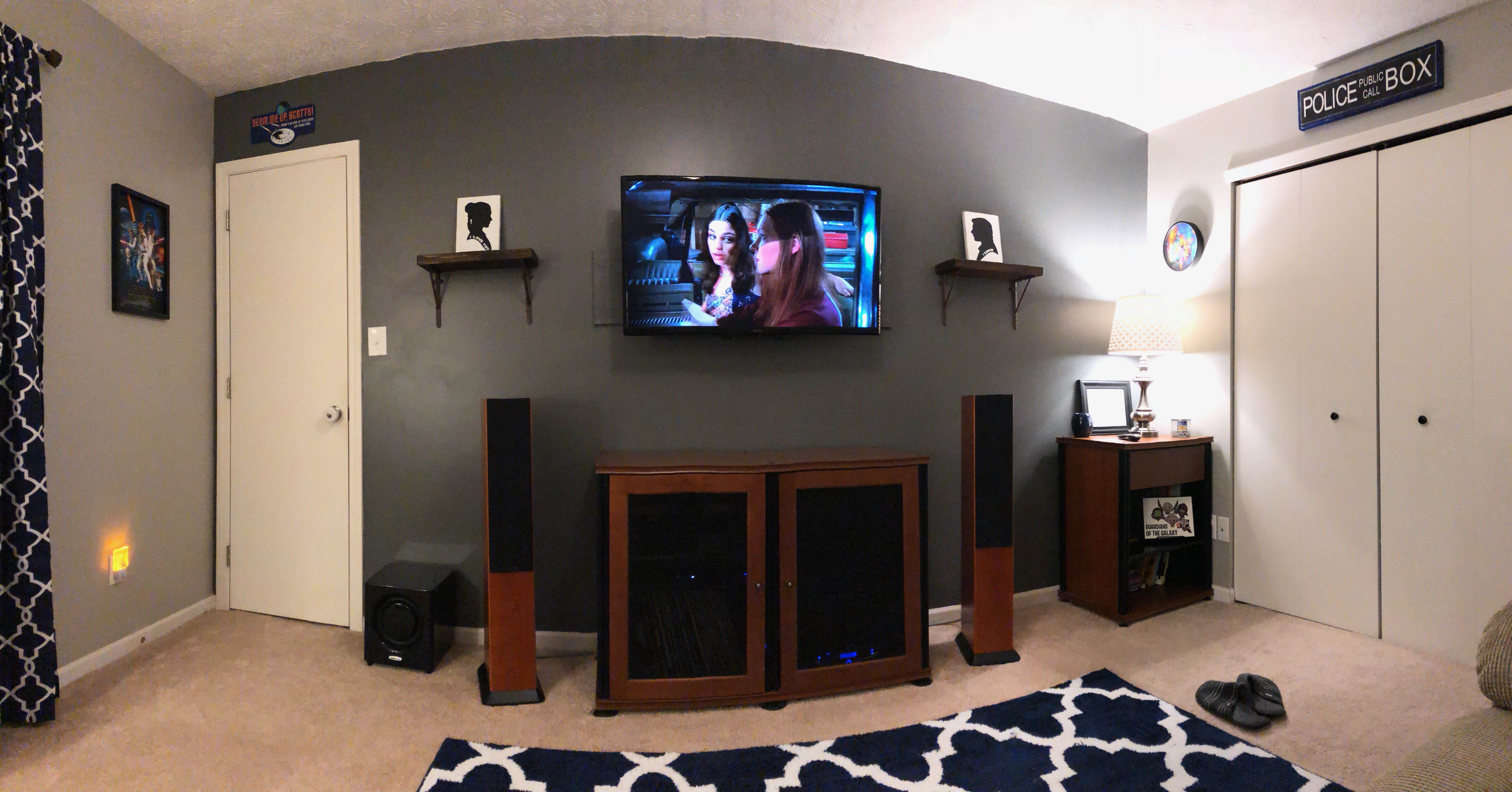 Decorations:
"....not everything that can be counted counts, and not everything that counts can be counted." William Bruce Cameron, Informal Sociology: A Casual Introduction to Sociological Thinking (1963)