My SRS update
crashb4
Posts: 197
I have been talking about updating my gen1 SRS for some time. I intended to do it this spring, but a new house, kitchen and bath remodel has taken all of my time and cash. I was reading Darqueknight's thread and commented to my wife that i wanted to do the same. I had left the thread open on my laptop, and my wife took the component values and vendor list and ordered the items covertly. I came home Friday night to a mystery box on my chair. when i opened it, there were all the goodies for the rebuild. She was quite excited to give it to me, so i didn't have the heart to tell her that I would have used some different components.
Disassembly consisted of removing each driver and carefully marking each wire for position and polarity to eliminate errors when reassembling. When I removed the left crossover plate, it was hanging on by one standoff. I'm surprised it didn't fall off.
Then out to the laboratory.
You can see the Mills .05 ohm resister that replaced the original poly switch. Crappy job, but i knew i would be back in there and i just wanted it to work. also, it's not easy to do with the assembly still wired and resting on your knee.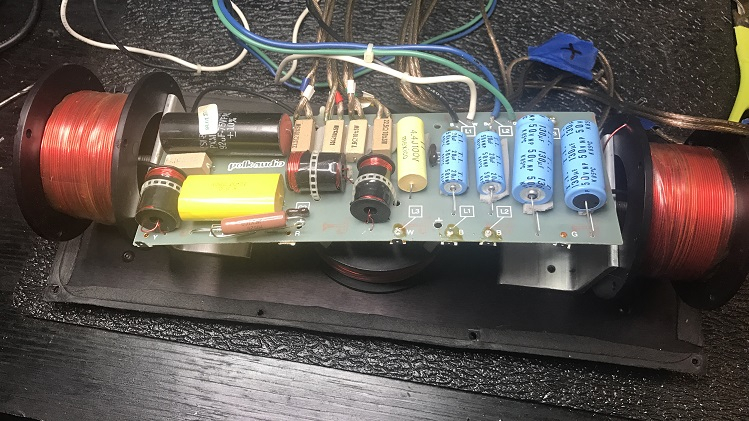 Here is the goodness that will help resurrect these monsters.
I will replace the high pass caps a bit down the road. My choice would have been Sonicap but I can't look a gift horse in the mouth. Plus I didn't want to come off as unappreciative. Not many wives would undertake this task. Mine is different and I appreciate the hell out of it.
I reworked all wires that were soldered to the board. 1.5 inches were removed from each wire to eliminate the oxidation from the years. You can't see just how bad they were from the photo, but it was the right thing to do.
I was able to fit most of the caps on the board except for the 130uF that were huge.
I pondered over where to put them for a while. I wanted to retain the relatively compact form factor of the crossover unit and ultimately decided on this.
We'll see if the current through them affects the inductors or not. As you can see, it makes for a compact installation. I would be interested to hear if anyone has experienced any negative effects from a similar positioning. I could move them to a daughter board with little effort, but I like where they are.
I got these binding plates from Trey some time ago. Time to put them to use.
The work was simple. You need patience, focus, time and a good soldering iron. I now have about 3 hours on the new components. Initially, the sound stage was much reduced from before the work. It is coming back a bit and will undoubtedly take some time. The overall sound is much improved. The attack and decay of notes is much more accurate. I immediately said to myself "wow, the snare actually sounds like a snare should". The background is pitch black and the booming bass is gone. I can still shake the house, but bass is much cleaner, tighter and more accurate. The work and expense were well worth it to me. I expect these to sweeten up over time. I currently have the system running constantly to get some hours in. Next will be inductors, and then the SDA 1A.
Rotel: RSP-1068, RMB-1075, RT-1080 RLC-1040.
Oppo: DV-980H
Polk: Monitor-10B, SDA-1A, SDA-SRS

To know the road ahead, ask those coming back. --Chinese Proverb